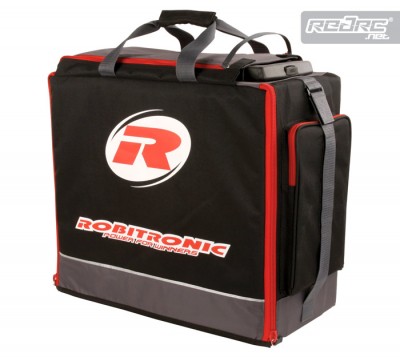 Manufactured from a combination of high quality materials, Robitronic's new 1/10 bag becomes the perfect storage for an 1/10th scale touring car together with accessories like tyres, tools, setup-gauges and a starter box. The transport bag's five trays are made from tough plastic and its coating is especially easy to clean. The outside features handy pockets for manuals, setup-tools, accessories and many other things you'll want to have quick access to. A telescopic handle and 2 ball raced wheels allow for easy transport, while handles and straps allow for easy handling of the bag.
Friday, September 17, 2010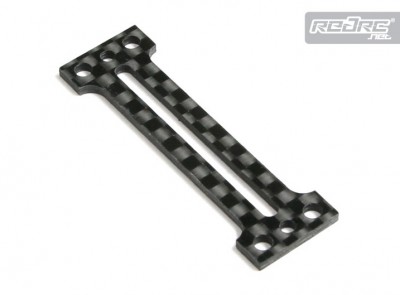 Shepherd's new Velox V10 gearshaft brace is CNC-machined from German top-grade 2mm graphite. Similar to the one used for the Velox V8 it connects the gearbox bulkheads to stiffen up this area. This prevents binding the the axle bearings and results in a smoother transmission especially under high load.
Click here to see brace in action
Friday, September 17, 2010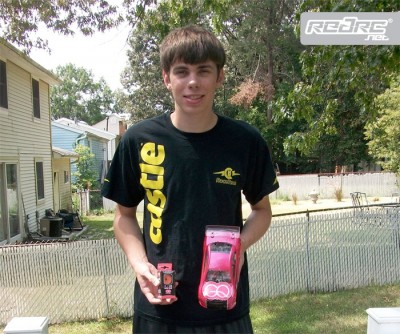 TMA Motorsports have announced the signing of Mike Gee to Team GQ Racing Tires for 2010 and 2011. Mike is a young driver showing excellent talent in 1:10th Nitro Sedan and superb ability to wheel Micro Mod Touring cars. Mike was TQ and placed first at this years East Coast Race Of Champions in 1:10th Nitro Sedan and last year was second at the Micro Nationals Mod Touring. Mike had the following the say about his new deal:
I am really excited about the upcoming racing season. I have used GQ tires the past 3 years with excellent results. GQ has always been about quality and high performance products. Because of this and I look forward in helping GQ America and TMA Motosports getting this message to racers.
Source: TMA Motorsports [tma-motorsports.com]
Friday, September 17, 2010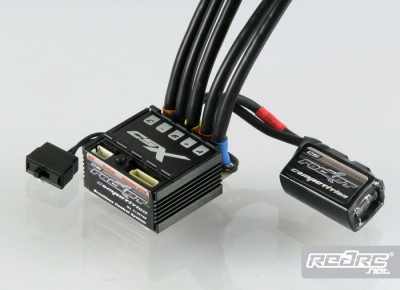 CS Electronic's new Competition CSX stock spec speed controller is a highly updated version of their 2009 World Championship winning CS Rocket speedo. Especially designed for stock racing classes the new controller offers special power programs and a 9.5T motor limit. Smaller dimensions and lower weight as well as a modular design make for an easier installation in the car. Depending on weather conditions, or the motor used, the heat sink or fan can be added to the CSX to lower operating temperatures. The three power capacitors now reside on a separate board for easier installation and exchange. New solder tabs for the power wires makes changing them a breeze. Software-wise the speedo offers 6 modified programs, 4 'outlaw' stock power programs and 4 'legal' stock programs. Usable with both sensor and sensorless motors CS Electronic's new controller also offers a PC interface for easy update and storage ability.
Source: CS Electronic [cs-shop.de]
Friday, September 17, 2010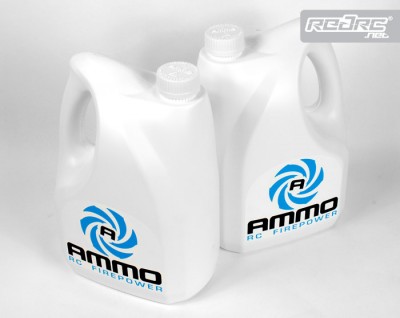 RC Disco have announced the launch of a new fuel brand that we've been working on for the last year or more called Ammo. Currently only available in 30% nitro, it offers a great product at a great price for all the racers out there, so much so they are offering a money back guarantee for racers to give it a try.
Source: Ammo [ammo-rc.com]
Friday, September 17, 2010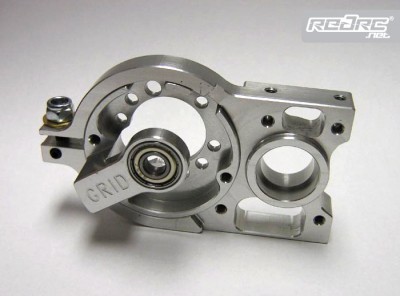 Team Grid RC have released this new motor mount for the RC8Be, RC8Te and SC8e designed with racers in mind. One of the visual things you will notice is an integrated pinion support for the motor shaft. By placing the pinion support at the end of the pinion gear, the motor can now withstand the punishing loads it is subject to during intensive racing conditions.  By machining the pinion support into a single unit, the mount is precise and very durable. For added performance, the Grid motor mount has incorporated multiple mounting holes to utilize more than two mounting screws. If you currently run Tekin motors, the Grid motor mount will use 5 of the available 6 holes. If you use the Neu/Castle motors, the Grid motor mount will use 3 of the 4 available holes. By adding more mounting screws, it is strengthening the setup and reducing the chance of any motor coming loose during hard racing conditions. Instead of using a sliding mesh setup, Team Grid has opted for a cam style mount, which provides a more precise mesh adjustment, and once set, the mesh will hold until you need to change it. Team Grid will also be releasing motor mounts for Losi, Mugen, Xray and others.
View more images of the mount here
Friday, September 17, 2010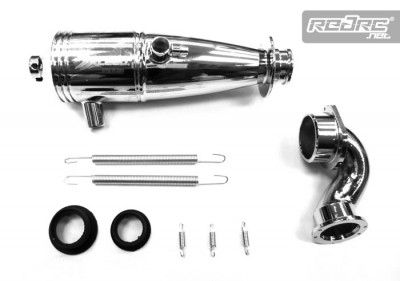 New from Xceed is this Masterfix .12 pipe set, a very short machined inline pipe made of full aluminium bar. A super strong EFRA legal pipe (2663) with great performance, it helps improve torque and mid-range, while retaining good top-end and improving fuel-efficiency. It can be used with the header pipe included in the set or if you want more top-end it can be partnered up with a .21 inline header. This set comes complete with header, springs and silicone rubber seals and has been tested and successfully raced with Novarossi, Max, Sirio, Mega and Picco engines.
Source: Xceed [xceedrc.com]
Thursday, September 16, 2010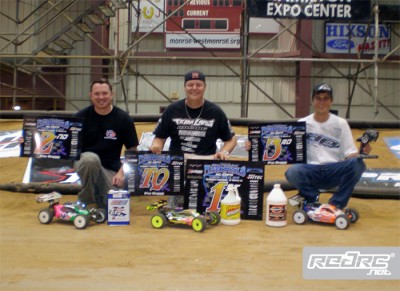 Team Losi/Novarossi driver Adam Drake attended the Inaugural Southern Nationals and RC Expo in West Monroe, Louisiana held inside the Ike Hamilton Expo Center.  The track was one of the largest indoor facilities in the world with great ventilation and air conditioning and is equipped with 150 full service RV hookups, pit stalls with lockable gates and the hotel was directly across the street and within walking distance. The Southern Nationals had an area for manufacturers to display product and answer question for consumers and spectators and attracted 260+ entries and sold nearly 700 tickets for spectators.
Continue reading the report here
Thursday, September 16, 2010