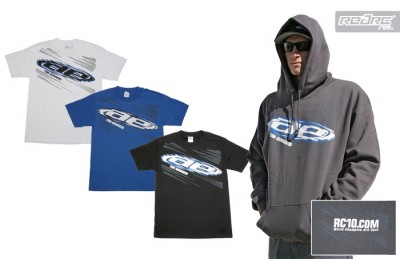 Team Associated have revamped their apparel line for 2010 with the new Vertigo design. The new line incorporates a new grey hoodie, as well as 3 new tees in white, blue and black with all sporting the new design across the front, with the hoodie also having RC10.com on the back. Available in all the usual sizes.
Source: Associated [rc10.com]
Thursday, March 18, 2010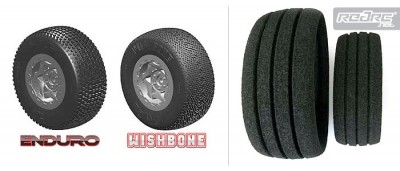 AKA have announced the release of the Enduro and Wishbone tires, designed specifically for 1/10 short course trucks and to fit the stock wheels from all the popular brands. Gil Losi, Jr. and Mark Pavidis designed these tires which feature 2.2"/3" bead design and an inner carcass design made to perfectly fit the industry standard AKA closed cell foams. This results in a much more controlled outer sidewall for more consistent handling and tread wear meaning no more cranking in tons of camber to keep the tire patch flat on the ground. The AKA Enduro tread pattern is an all round good tire for just about any surface condition, while the Wishbone is suited to high bite blue grooved clay tracks or indoor clay tracks. AKA have also released of their next generation of tire foams. Based on the original industry standard closed cell foam insert, their new grooved insert is designed to take advantage of the radial ribs the carcass of their Wishbone and Enduro tires while still providing great performance in the other treads. This new grooved insert design is replacing our original non-grooved insert.
Source: AKA [raceaka.com]
Thursday, March 18, 2010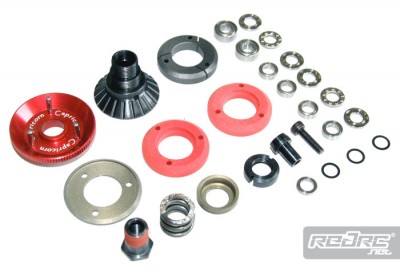 Following the success of the new NT1 WC edition clutch at the 200mm Pre Worlds, where it was used by Ralph Burch, Capricorn RC have announced the availability of this product. Supplied with the new 0.9 gram lighter clutch bell, it is able to fit the originals Xray pinion gears. The set also includes an extra light spring stay, 2 red shoes, 2 thrust bearings and 2 full sets of ball bearings. Capricorn also released their newly homologated EFRA 2662 muffler, which offer increased performance on the Q12 engine and especially with the new Novarossi based Capricorn engine line that is coming soon.
Thursday, March 18, 2010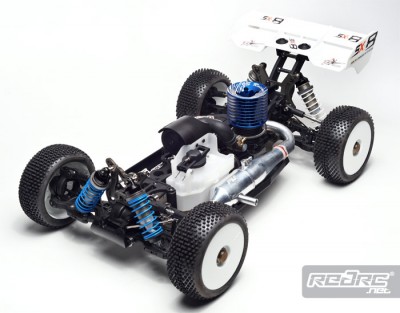 TQ Racing have released details on their newest competitor in the 1/8 scale pro market, the SX8 Evolution Team Spec race roller. The buggy sports a narrowed chassis for better weight balance and cornering and optimized gear ratio for US style tracks and jumps. The car features lightweight differentials, titanium hinge pins, turnbuckles & diff cross pins, as well as captured hinge pins and captured hub bearings.
Click here for more images of the buggy
Thursday, March 18, 2010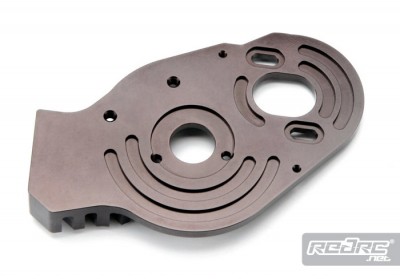 HPI Racing have released a number of new items for their Short course truck, the Blitz. This heatsink motor plate is precision machined from high strength 4mm 7075S aircraft grade aluminium for extreme durability and anodized brown to match other BLITZ aluminum option parts. The plate uses heat sink fins to draw heat away from the motor to keep it running cool, for longer run time and extended motor life. A new lightweight mud flap set helps you save critical weight and still keep the authentic short course look. There is also new aluminium step screws that are approximately 70% lighter than the stock steel screws. They are sold in sets of 10 and available in brown, orange and silver. Other lightweight parts include new aluminium thin lock nuts, a replacement parts for Z663 steel M3 lock nuts. Again sold in packs of 10 and available in orange and silver. Finally there are two new aluminium ball studs, 4.8x12mm and 4.8x15mm, which are sold in packs of 10 and offer 70% weight savings over the stock steel part. Most of these parts are also suitable for the E-Firestorm truck.
Click here to see the other option parts
Thursday, March 18, 2010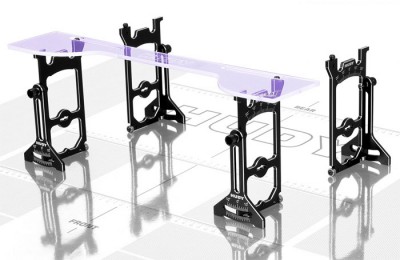 Hudy have released a set-up system for 1/10 off-road buggies with 4.7mm wheel axles, with both pin and hex drive wheel adapters. Used for super-precise measurement and setting of front/rear camber, toe, steering throw and caster, its wobble-free mounting of the fully ball-bearing equipped set-up stands gives ultra-smooth, ultra-precise movement and operation. The set-up stands are CNC-machined, hard coated high-grade aluminium, while the toe/steering plate is CNC-machined, tough acrylic plastic. All components feature precision engraving for instant, reliable readings. Also new from Hudy are a set of four CNC-machined alu nuts for quick and easy use with the 1/10 off-road set-up system stands. Each end of the nut has a different thread with one side M4, while the other side is 8-32 UNF thread (for American cars).
Thursday, March 18, 2010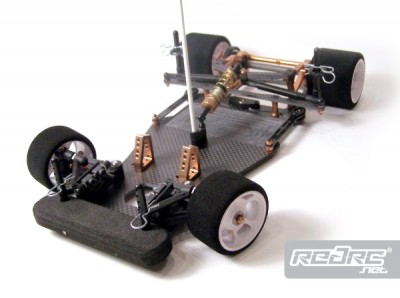 BMI Racing have released their new LiPo ready pan cars, the Copperhead 12 and Copperhead 10, the latest upgrade to BMI´s well known DB12RR LiPo and DB10R. Both cars come with a newly designed LiPo only chassis as well as the newest upgrade to the company's flex link suspension. Just like the DB12 and DB10 series the Copperhead has the BMI powerpod and front suspension, with an optional upgraded front suspension in the works. Finally the cars get their name from the new copper anodised aluminium parts, which replace the previous grey colour.
Click here for more images of both chassis'
Thursday, March 18, 2010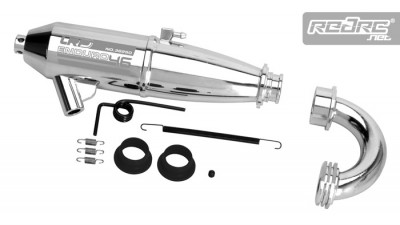 LRP have introduced the Enduro 46 1/8th buggy exhaust system. EFRA legal (#2076) it offers considerably longer run time compared to all previously available systems as well as high power and top speed. Improved efficiency combined with robust and solid pipe construction such as stinger support, to prevent the stinger getting bent during a crash, the set includes pipe, header, exhaust seals and mounting hardware.
Source: LRP [lrp.cc]
Thursday, March 18, 2010