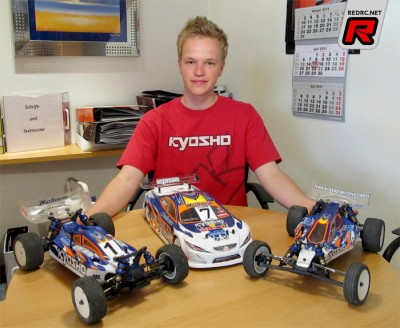 Front running German electric 1/10 scale touring car and off-road driver Christopher Krapp got in touch to tell us that he extend his deal with Japanese manufacturer Kyosho by another year. The 4th placed driver of last year's electric touring car World Championships and winner of the recent 2011 European Championships warmup race has the following to say about his deal:
I am really happy to announce that I made a one year extension with Kyosho Japan. I had a really good season and I look forward to make it even better this and next year. I will compete at the 1/10 on-road and off-road European and World Championships with the Kyosho TF6, Lazer ZX-5 FS 2 and the RB-5 SP2. I am happy to represent Kyosho's product range at the tracks and looking forward to a good time.
Tuesday, June 14, 2011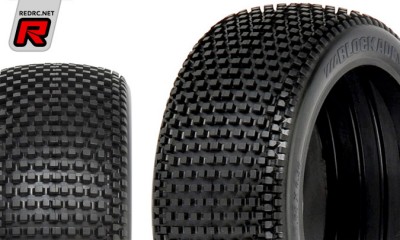 Having brought you the exclusive first photos of the new Blockade tire from Pro-Line, the California based company have officially announced the new ROAR National title winning tire. The tread design features large lugs for class leading tread life, perfectly balanced tread spacing for maximum forward bite and uniquely blended side tread that reduces the edginess found in other race tires. This tire will give you qualifying speed with tread life capable of handling hour long A-mains.
Source: Pro-Line [prolineracing.com]
Tuesday, June 14, 2011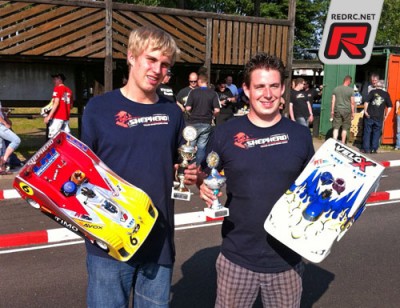 Team Shepherd driver Lars Hoppe won the second round of the Northern german regionals at the tight Tüttendorf track near Kiel. He also claimed TQ by setting the fastest three consecutive laps with his Novarossi powered Velox V8 '11 in qualifying followed by Serpent driver Jens Stark, Shepherd's Timo Schröder and Serpent's Merlin Depta. In the following semi final Hoppe defended his first place and finished three laps ahead of Timo Schröder. The 30 minutes main final saw a clear start with Hoppe pulling away from the rest of the field finishing six laps ahead of Marcel Henriksen (Kyosho) in second, Marcell Sledz (Serpent) in third and Timo Schröder in fourth position.
Source: Shepherd [team-shepherd.com]
Tuesday, June 14, 2011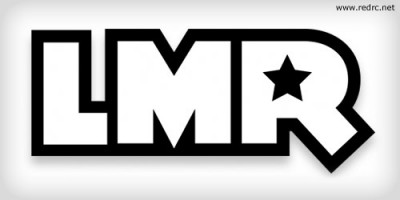 Double European Champion and winner of the World's warmup race Lee Martin has announced that he has begun a new venture called LMR. The factory Tamiya driver aiming to introduce new and exciting products into the world of RC, innovative ideas, useful new solutions and advice. With products expected to be announced any day now, Lee had this to say, "For years I have had many ideas on how I can improve my performance both on and off the track. I am hoping that once these products have materialised it also can help to do the same for you."
Source: LMR [l-m-racing.co.uk]
Tuesday, June 14, 2011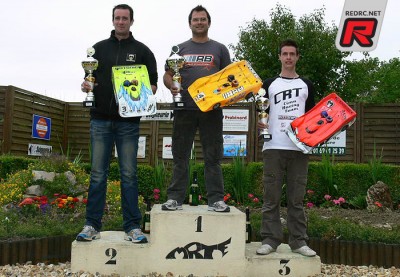 Last week-end the third round of the French 1/8 scale on-road national championship was held in Evry/France near Paris. The track which held the European Championships many years ago saw close racing in the Promotion and Elite classes. In the Promotion class called "national" in France, Damien Thirion claimed the TQ spot with Jeremy Cassagne and Vincent Nousse in second and third place respectively. It also was Damien who drove his RB-powered Xray RX8 to the first place in the finals with Gregory Tassencourt in second and Stephane Bertrand in third place after the finals. The Elite class was led by Christophe Aygon after qualification with Stephane Bouche and Christophe Louis in second and third place. Come the finals things turned for the better for eight placed Stephane Riccobono who won the 45 minute finals with his RB-powered RX8 in front of the two Motonica drivers Stephane Bouche and Arnaud Mathieu.
Click here to view the Promotion podium and two videos of the Elite class
Tuesday, June 14, 2011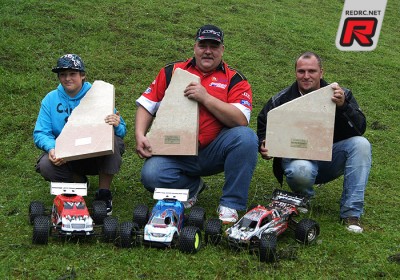 Michael Klauser sen. won the recent X-RC.org RC Hillclimbing World Games at the Hacksteiner-Hills in Faistenau/Austria. Despite the bad weather many drivers attended the meeting to conquer the 65 metres long up-hill track. The first driver who successfully made the whole track was Christian Brachmaier who took 15.5 seconds with his .30 OS-powered HPI Trophy Truggy. The second driver who managed the track was Michael Klausner sen. with his Novarossi-powered Mugen MBX-6T who needed 17.8 seconds. These two drivers have been the only ones during qualification who made the "Full Hill". Come the finals it was again Michael Klausner sen. who outperformed his competitors by tackling the challenging track three times in front of local hero Rene Rinnerthaler with his SH .28-powered HongNor X2T and TQ Christian Brachmaier. Roland Winklhofer who was on 3rd spot after the qualifying wasn't able to hold that position as his 2WD FG large scale Beetle struggled in the wet and soapy conditions.
Click here to view the final result
Tuesday, June 14, 2011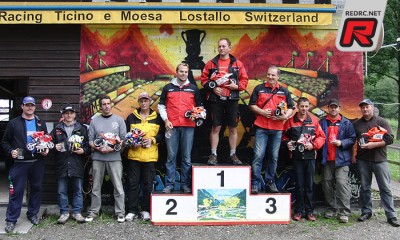 The electric bike World Championship warm-up race took place at the first week of June at the famous Lostallo track in Switzerland. The contestants had been faced with mixed weather conditions making setup of the bikes difficult. In the Stock Bike class, that doesn't allow for front brakes and calls for a minimum weight of 1900g and 17.5T brushless motors, it was Andrea Selva who claimed TQ followed by 13-years old Antoine Brunet and Thomas Feilner from Germany. In the Super Bike Class Oliver Wäckerle from Germany was able to grab himself the top spot followed by Andy Spiess from Switzerland and Soren Jorgensen from Denmark. Come the final day rain started poring down heavily making the finals very challenging some with with the better end for young Antoine Brunet taking the first place in the Stock Bike class ahead of TQ Andrea Selva and Thomas Feilner. The Super Bikes where dominated by Edi Winter from Austria who won in front of Marc Lutz from Germany and San Marino based Gianni Zonzini.
Click here to view the Stock Bike podium
Tuesday, June 14, 2011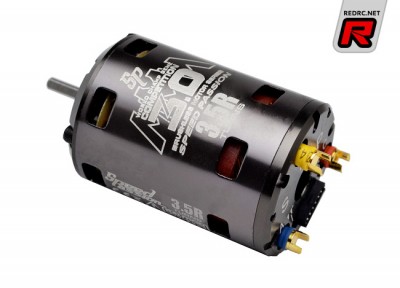 Speed Passion have been in touch to announce their all new MMM V3 Competition motor series. MMM simply means More torque, More power and More speed. It is based off the successful V3.0 Competition Motor Series that took the TC World Title in 2010 and many other wins around the world. Having gathered all this winning information plus driver input they are going one step further. Featuring a totally new motor front plate and rear end bell design that uses stronger material ready for the most extreme conditions, it also sports a new and improved sensor unit providing stronger sensor holding capability to withhold the most extreme racing condition. Also new on the MMM series is the advanced timing unit sensor (in degrees, 11-20 degrees, standard) of which multiple timing sensor units are available for a wide choice of adjustability to meet all racing needs. The new stator from the MMM series will improve the power band output by the 10% overall over the standard V3 Competition series motor and finally the new motor is 5 grams lighter than its predecessor.
View more images of the motor here
Tuesday, June 14, 2011