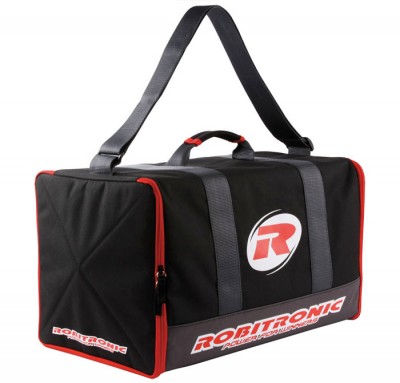 Robitronic have released their new heavy duty Transport Bag, which is supplied with 2 internal storage boxes. Perfect for comfortably carrying any manner of items to the track safely within the 2 thick heavy cardboard internal boxes. The padded case material is hard wearing and can be easily wiped, while the base of the bag features an anti-slip material. Supplied in black with red highlights, it sports Robitronic branding on all sides.
Click here for another image of the bag
Friday, December 4, 2009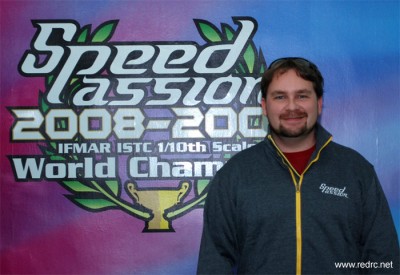 Following their recent search, Speed Passion announced Josh Cyrul as their North American Sales and Technical Manager starting from December 1st, 2009. Josh has over 23 years of R/C racing experience along with 29 ROAR National Championships, multiple IFMAR World Championship A-Finals as well as being an IFMAR World Championship Top Qualifier in 2003 and will provide the best sales and technical information support to North American customers. Josh Cyrul can be contacted for any product information and support at joshcyrul@king-golden.com or you can telephone him at 1-800-721-7850.
Source: Speed Passion [speedpassion.net]
Friday, December 4, 2009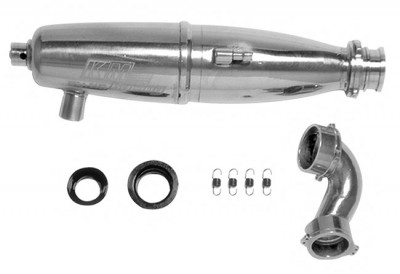 KM Racing have released their new 1/10 2.1cc Tune Pipe & Manifold. This EFRA homologated (#2653) pipe has been made in Italy and offers great fuel consumption as well as great power throughout the rev range. Made from durable materials, it is suitable for use with more .12 engines on the market. Set is supplied with pipe, manifold, rubber seals and mounting springs.
Source: KM Racing [km-rc.com]
Friday, December 4, 2009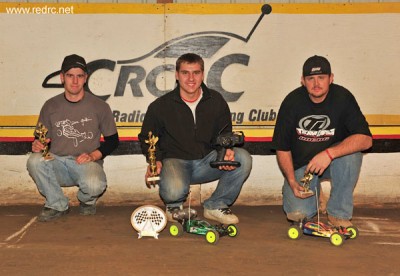 Last weekend's Thanksgiving Bash took place at CRCRC Raceway in Columbus, Ohio. CRCRC boasts some of the toughest competition in the Mid West, with factory drivers from Associated, Kyosho, X-Factory and Losi in attendance, and so this was a great test for TQ Racing's new SX102W buggy. JP Richards TQ'd every round and went on to win the 2wd class with the SX102W ahead of X-Factory driver Dan Griffin in 2nd and Team Losi driver Curtis May in 3rd.
Source: TQ Racing [tqracing.net]
Friday, December 4, 2009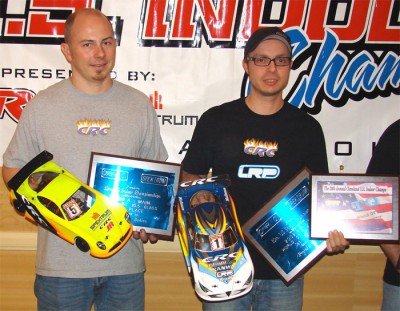 Calandra Racing Concepts drivers Hupo Honigl and Aaron Buran finished 1-2 at the 30th Annual U.S. Indoor Championship in Cleveland, Ohio. Both drivers used the CRC Gen-X 10 car to take a convincing win in the hotly contested World GT division. From pole position, Hupo led every lap and was not pressured until very late in the run when a charging Buran really started to close in. Buran worked through traffic and found himself hot on the heels of the T.Q. driver Honigl by the end of the race.
Source: CRC [teamcrc.com]
Thursday, December 3, 2009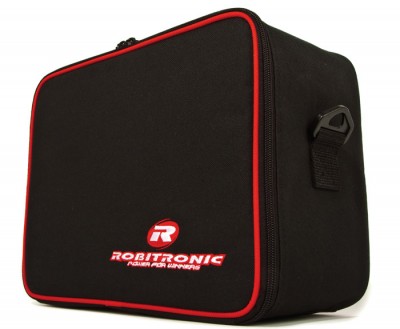 Robitronic's new transmitter bag offers great protection for your high-tech rc-gear. Particularly during transport your transmitter is subject to high stresses that could damage its internals, so keep it safe with this new bag. Sports a precisely molded foam insert for your Spektrum DX3S or Spektrum DX3R and it comes supplied with an adjustable shoulder strap.
Click here to see the bag internals
Thursday, December 3, 2009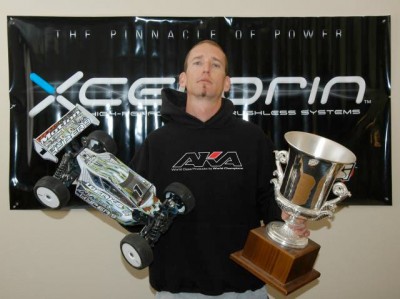 This past weekend, the first ever ROAR Electric 1:8 Off Road Nationals were held at Revelation Raceway in Pomona California, the truggy results from which we already brought you. There were approximately 130 entries for this inaugural event with each of the major manufacturers being represented by their top guns. Notables in attendance were Ryan Maifield, Adam Drake, Travis Amezcua and Cody King just to name a few. In the 1:8 Buggy class after three hotly contested A mains, it was AKA factory driver Jeremy Kortz who came through for the win with his Losi Xcelorin powered HoBao 1:8 Electric Buggy. This win brings Jeremy's count of National Championship titles to an impressive 14 and counting.
Source: AKA [raceaka.com]
Thursday, December 3, 2009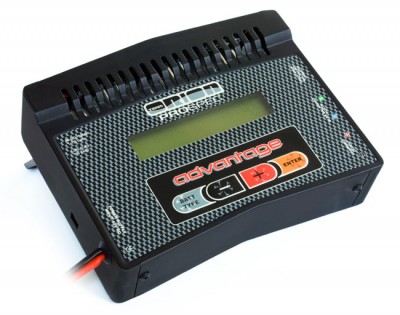 Team Orion have released the Pro Spec, the most powerful charger of their Advantage line. It is capable of charging LiPo and LiFe batteries with one to six cells and NiMH/NiCd batteries with up to 16 cells. Of course also the Pro Spec features Oscar Jansen's latest charging technology which reveals the real potential of your batteries. The Pro Spec is a real all rounder, use it to charge your car LiPos, your plane batteries or receiver packs, no matter which battery technology.
Click here for the full feature list
Thursday, December 3, 2009