American governing body ROAR have just approved the list of venues to host next year's various National Championships. The dates have yet to be decided, something that will be done at a later date, so here is a list of the different classes and their host venues.
8th Scale Electric – Off Road: Hobbytown HobbyPlex, Omaha NE
10th Scale Electric – Off Road: NorCal Hobbies, Union City, CA
Carpet Electric – On Road: Timezone Raceway, La Center, WA
Paved Electric – On Road: Jackson RC, Jackson, NJ
8th Scale Fuel – Off Road: Thunder Alley, Beaumont, CA
10th/8th Scale Fuel – On Road: Control Freakz, Chaplain, CT
Source: ROAR [roarracing.com]
Thursday, October 14, 2010
Serpent have released this video showing their offroad designer and team driver Billy Easton testing the new Cobra-T truggy. This was the first run for the new car and we can assume it is based on the S811 buggy, but we will bring you more information as we get it.
Source: Serpent [serpent.com]
Thursday, October 14, 2010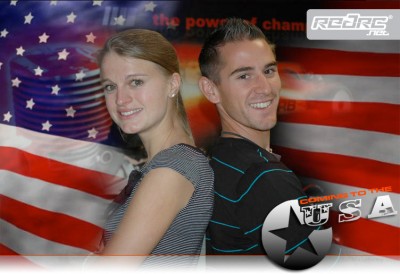 RB Products USA have announced the appointment of 3 time European Champion Renaud Savoya to their staff. Renaud is well known around the world for his accomplishments as a professional driver and will be dedicating his time at RB Products USA to the continuing promotion of the RB brand, as well as research and development and after sales technical support. Having just spent quite some time racing in Australia, he will now focus on competing on the grueling American racing circuit, aiming to take wins for the French engine brand. Julie Besson, Renaud's partner, will also join RB Products USA on the commercial side in order to provide the best service for US customers.
Source: RB [rbproducts.com]
Wednesday, October 13, 2010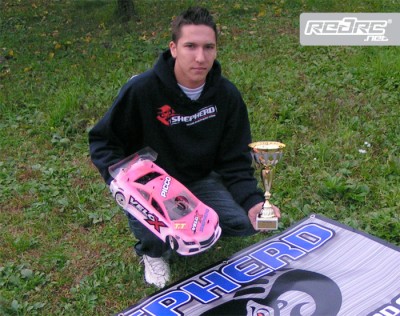 The last round of the Hungarian Nationals took place recently in Pécs under extremely wet conditions. Because of the bad weather a lot a drivers refused to race, and only those who still had chance for the title decided to compete. After winning the last two rounds it was Shepherd racer Simon Ciudan who had the best chances to claim this years title. The final was started on a wet track and Ciudan took over the lead. As the conditions were really bad, he was the only driver to finish the race, winning with a huge gap over László Kiss-Orbán on second place and Kovács Tamás finishing third. With this victory Ciudan had enough points to win the Hungarian 1/10th Scale Nitro Championship by 8 points over László Kiss-Orbán on second place.
Source: Shepherd [team-shepherd.com]
Wednesday, October 13, 2010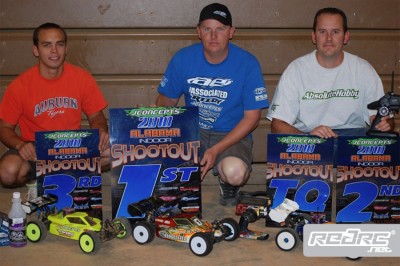 The JConcepts crew loaded up once again and headed out of town to attend the 2010 Alabama Indoor Shootout. With a fresh track layout and another new race event in the works Alabama has become a new home away from home for the JConcepts crew in 2010. The AIS crew constructed yet another outstanding track layout, design and with the incorporated elevation and super clay racing surface, consistency was second to none.
Continue reading the report here
Wednesday, October 13, 2010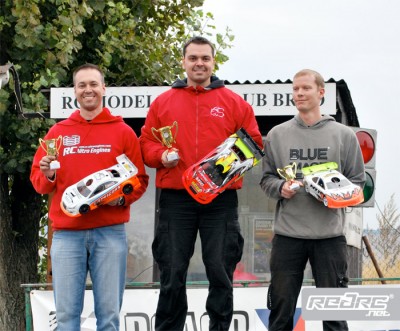 The final week of September saw the 6th and final round of the Czech 1/10th scale sedan Championship take place in Brno, Bosonohy. The track was well prepared by the organizer and it had very good grip from the very beginning.  Following qualifying it was Capricorn racer Michal Jansa who took the TQ spot ahead of his brother and team mate Pavel Jansa, with Michal Abrahámek in 3rd. The race saw Michal Jansa immediately pull away in the lead followed by his brother Pavel. Michal led the whole race and won ahead of Pavel in 2nd and Tomáš Cibulka in 3rd.
Source: Capricorn [capricornrc.com]
Wednesday, October 13, 2010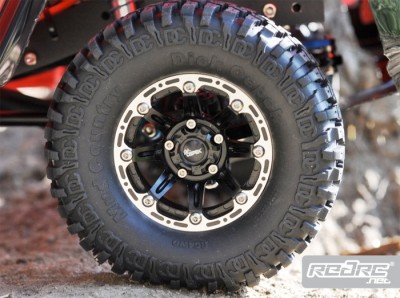 RC4wd have introduced the all new DC Torque wheel, officially licensed by Dick Cepek tires and wheels. Dick Cepek Torque wheels have a great style and look awesome in this new 1.9 size wheel. The wheel features an internal beadlock design, standard 12mm hex mount and a scale wheel nut cover with the DC logo.
Source: RC4wd [rc4wd.com]
Wednesday, October 13, 2010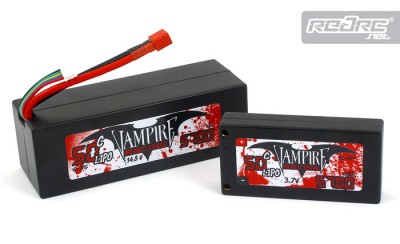 Vampire Racing have released two new sizes in their line of LiPo batteries. Especially for 1/12th scale and other pan car racing there is the new 1S 5700mAh battery with 50C, while for the growing 1/8th electric buggy class there is this huge 4S 5700mAh, 50C battery. Both batteries feature hard cases, with the 1S featuring connectors while the 4S is pre-wired with a deans connector.
Source: Vampire Racing [vampire-racing.com]
Tuesday, October 12, 2010