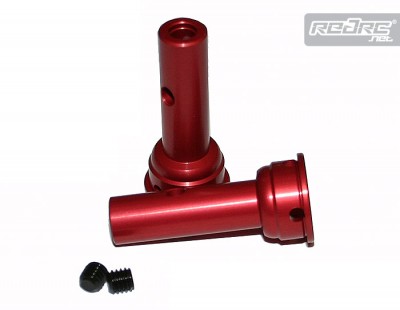 New from Answer-RC are these red anodised CNC machined 7075 Aero CVD axles for the Xray XB808 that claim to massively reduce rotating mass in the drive train of your vehicle, giving quicker spool up, reduced braking time and sharper handling. The Answer-RC CVD axles have been specially machined with additional CVD pin holes meaning that as the fit becomes sloppy they can simply be rotated round to the next set of holes.
Source: Answer RC [answer-rc.com]
Wednesday, April 21, 2010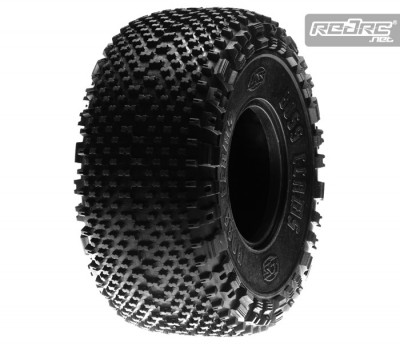 Team Losi have introduced their new 2.2 Boss Claws tires, which utilizes one of the most versatile tread patterns in 1/8-scale off-road racing, the Eclipse. This tread provides smooth and consistent traction on all crawling surface types, while the sidewalls feature Losi Comp Claws for superior construction and 'side hilling' abilities. The Boss Claws were prototyped by the Losi Crawling team for the World's competition then perfected by the engineers at Losi to provide the best possible traction on the most diversified ranged of surface types. Molded using the high traction Losi Red compound for impressive traction and long life, they come supplied with oversized memory foam inserts that provide extra support to assist the tire conforming to the surface.
Source: Losi [losi.com]
Wednesday, April 21, 2010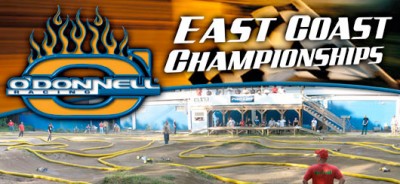 The O'Donnell Championship race has been a mainstay on the West Coast for years and now with the ever-growing O'Donnell Racing product line it's time to expand the O'Donnell Championship as well. This summer will mark the first annual O'Donnell East Coast Championship. The event will take place June 4-6 at one of the hottest facilities on the East Coast, RC Excitement. Located in Fitchburg, MA. RC Excitement is a state-of-the-art racing facility with indoor off-road, indoor carpet and outdoor off-road tracks. This race is sure to go down as one of the best on the East Coast. Several O'Donnell factory team drivers, and Steve O'Donnell himself, will be on hand to offer tips for setting up your model and plotting your race strategy around the demanding outdoor track. If that's not enough, winners of the sportsman classes have a chance to win their very own O'Donnell Z01-B or Z01-T.
See the O'Donnell website at the link below for all the details.
Wednesday, April 21, 2010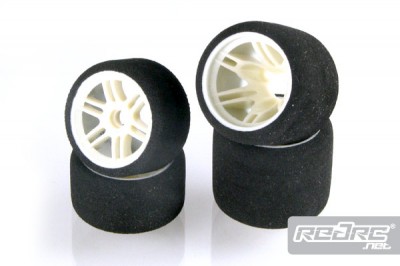 CS Factory have introduced their new line of 1/12th scale tires that come supplied pre glued on new Serpent rims which are EFRA and DMC legal. Another advantage of these new pre mounts is that the wheel is super light and stiff thus allowing higher corners speeds. Available in 40, 38 & 36 shore fronts and 36, 32 & X2 rears, they come pre trued to a race ready diameter.
Source: CS [cs-shop.de]
Wednesday, April 21, 2010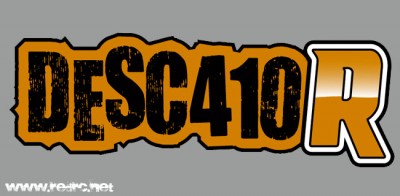 Team Durango have made a cryptic announcement today about their latest project in their cost effective 'R' line, the DESC410R. No other information was given except for that it is close to finalised, but the SC monicker would suggest a short course truck, while the rest of the name leads us to believe that it is an electric 4wd 1/10th scale. We can expect more details soon.
Source: Durango [team-durango.com]
Wednesday, April 21, 2010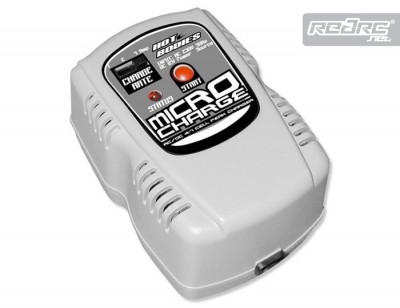 Hot Bodies have released this all around peak charger, the Micro Charge. Featuring selectable charge rate, output short circuit protection, the ability to charge 4-7 cells of Ni-Cd or Ni-MH at multiple charge rates and it is both AC and DC compatible. Your low cost solution for the park flyer or R/C car enthusiast, and also works great for charging the receiver pack in your nitro R/C vehicle.
Wednesday, April 21, 2010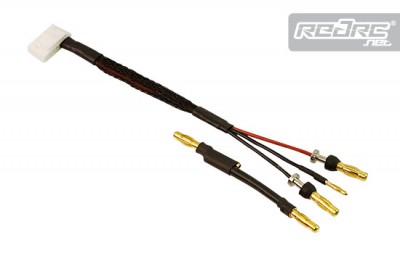 Much More have released this 2S2P cell balancer adapter cable set. Suitable for the Legend and Hybrid chargers, it makes charging your LiPo pack super simple, removing the need to use a balance adapter board. The bullet connectors feature an area that allows you to easily and safely connect crocodile clips and the set is supplied with an additional cable that allows you to balance charge saddle packs also.
Click here to see the cable in action
Wednesday, April 21, 2010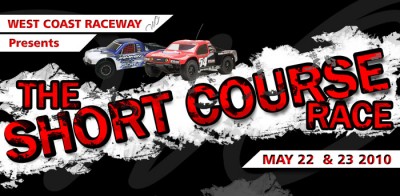 West Coast R/C Raceway and Hobby Garage in La Mirada, CA have announced their first race dedicated entirely to the Short Course truck genre. The two day event, which takes place on the 22nd and 23rd of May, includes 3 rounds of qualifying on Saturday with a final round on Sunday as well as the main events. Qualifying will be based on a point format, with drivers receiving points based on their finish in each round with their best two rounds going towards their qualifying score. Triple A-Mains will be utilized in all classes to maximize the battles in each division. The Short Course Race is about more than just stiff competition, it's also about family fun and friendly competition for drivers of all skill levels.  A quick glance at the entry form shows classes ranging from Beginner and Sportsman Spec, where drivers are required to use the majority of the low cost RTR parts and electronics, up to their Expert West Coast Unlimited division in which top tier drivers will battle with heavily modded machines to determine who is top dog with an electric trophy truck.

Rules and regulations as well as the entry form can be found here.
Wednesday, April 21, 2010