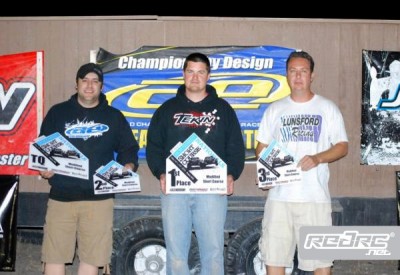 The 1st annual Northwest Short Course Nationals were held May 14-15th at TriCities RC Raceway in Pasco, WA and the race was a huge success with over 150 entries. Team Kyosho's Jesse Munn took the overall win in the Modified 2wd class with his Kyosho Ultima SC, winning the 2 mains of the triple A-Main format against a field of 44 entries. Jesse won a hard fought battle in A-Main 1 against Team Associated driver and TQ Chris Bridgewater, winning by just .7 seconds. The 2nd main Jesse came back and won by a comfortable 11 seconds to bring home the overall win for Kyosho. Jesse also TQ'd and won the Modified 4wd class with a second place in A-Main 1 and victories in both A-Main 2 and A-Main 3. Privateer driver Eyria Eatmon took the Stock SC class TQ and overall victory running his Kyosho Ultima SC as well.
Wednesday, May 19, 2010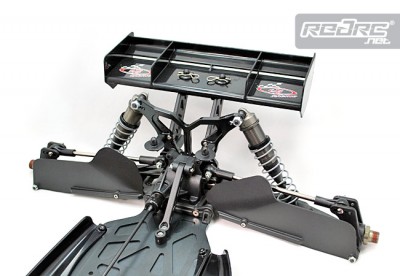 DE Racing have introduced new additions to their line of mud guards suitable for the Hot Bodies D8, Hot Bodies D8T, Losi 8ight-T 2.0 and Xray XB808. Engineered to be direct installation parts, with no additional body trimming or added holes to the suspension arms required, they install in minutes and will protect the rear suspension and drive train components from damage or contamination from rocks, dirt or mud. Proudly designed and manufactured in the U.S.A. from scuff resistant plastic, these mud guards will withstand much more abuse than a thin lexan, or carbon fiber plate and are the latest must have item for your buggy and truggy.
Source: DE Racing [deracing.net]
Wednesday, May 19, 2010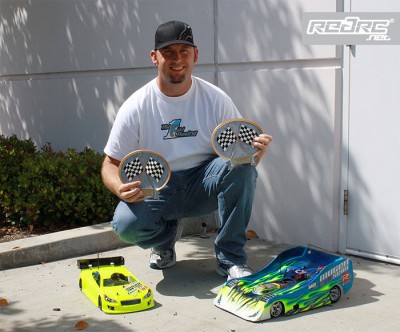 Protoform sent us a brief report on the recent Motonica Grand Prix in Las Vegas, where Mugen/Novarossi team driver Mike Swauger was able to TQ both the 200mm gas sedan class as well as the 1/8th on-road class. He then capped this performance with a big win in both categories as well, using the new P56 shell to great effect in the sedan class.
Wednesday, May 19, 2010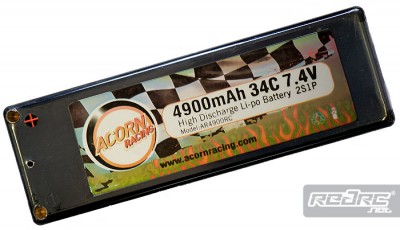 Acorn Racing have released their new 4900mAh 34C 2S1P 7.4V Carbon Edition Race LiPo. This new generation LiPo is equipped with 34C constant discharge and 48C burst capabilities and is ROAR approved. These cells are specifically developed using state of art LiPo technology for maximum power delivery and low internal resistance. Housed in a translucent black durable hardcase in order to keep the cells from being damaged during use, the sub-C bulges were eliminated from the design so it can go into models with or without slots in the chassis. Power is connected through 4mm banana connectors, while the balancer uses a 2mm version.
Source: Acorn Racing [acornracing.com]
Wednesday, May 19, 2010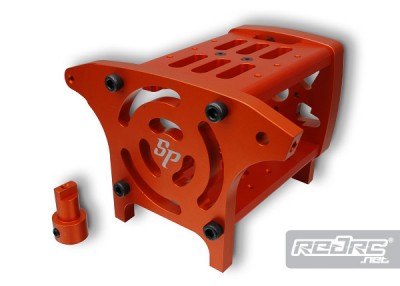 Speed Passion have introduced their new brushless power conversion kit for the HPI Baja 5. Designed and developed over the past 18 months to best cope with the stresses of powering this 1/5th scale car, the final conversion kit is a direct fit in the 5B and 5T. The motor mounting is a light, solid and strong solution for the Baja and is supplied with all the assembly and mounting hardware to replace the Baja's gas engine with an electric motor. The set also includes a 5mm shaft adapter to fit the pinion gear and the battery case design is suitable for 2 packs of 2S cell LiPos for 14.8V, 2 packs of 3S cell LiPo for 22.2V or 3 packs of 2S cell LiPo for 22.2V.
View more images of the conversion here
Wednesday, May 19, 2010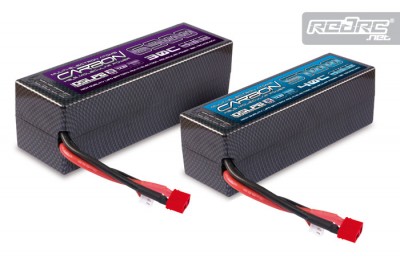 Team Orion have released the first purpose designed 1/8 scale battery packs as part of their Carbon Molecular rang, which includes high quality 4S, 5S and 6S packs. Two lines of 1/8 scale batteries are available, the extra-large purple line offers maximum capacity and runtime and is built within the maximum dimensions of ROAR, with capacities of 4300mAh (6S), 5300mAh (5S) and even 6900mAh (4S). The blue line is designed to fit most of the cars without any modifications and comes in 3200mAh (6S), 3800mAh (5S) and 5100mAh (4S) versions. All the packs come pre wired and are fitted with Deans high power connectors and a JST-XH Balancing connector.
Source: Team Orion [teamorion.com]
Wednesday, May 19, 2010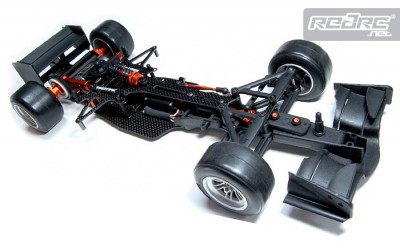 Exotek Racing have released the FX10, a high performance, super lightweight chassis conversion that takes the HPI Formula 10 to the next level. The carbon fibre one-piece top deck helps reduce tweak and allows just enough flex to maintain proper traction, while the narrowed chassis reduces chassis scrub for better handling and more corner speeds yet plenty of room to mount electronics. The new parts allows for more LiPo battery options by accepting round or square type flat bottomed 7.4v packs including Thunder Power, IB and Orion, with a max battery size of 47mm wide, 24mm tall, 137mm long. A modular battery strap design gives secure battery mounting but also quick and easy battery access. Other features include the pan car type tweak screw adjustment feature and the carbon fibre front arm brace and the set includes the orange anodized battery posts, gun metal spacers and necessary alloy steel hardware.
View more images of the FX10 here
Wednesday, May 19, 2010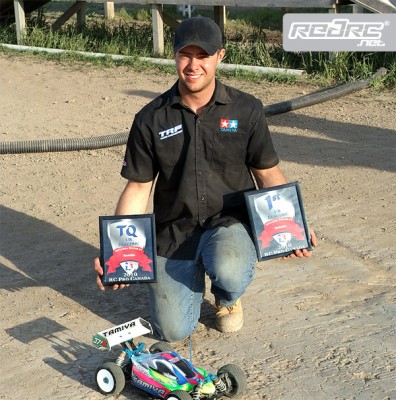 With an impressive follow-up to it's launch in Tillsonburg, Steve Bortolotti took the Tamiya 801X-e prototype to a TQ and victory in round 1 of the RC Pro Canada series in Ontario on an ever changing track. With a line-up of Canadian and US drivers representing the major manufactures in attendance, this was a good outing to see how the car handled the "outdoor" changing environment and out of the gate it locked-up TQ after four rounds of qualifying. In the main, the battle for 1st place was fierce and with a dry, blown-out racing surface, with Steve Bortolotti locking up the win for Tamiya, ahead of John Summach with a Kyosho in 2nd and Hobao racer Rob Say in 3rd.
Thanks to Martin Pillmajer for the report.
Wednesday, May 19, 2010