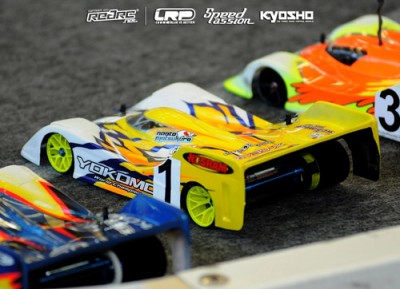 Defending World Champion Naoto Matsukura has topped the opening round of qualifying for the 2010 IFMAR 1:12 World Championship.  The Japanese star set the pace with a 37 lap run in 8:06.802 which was almost 4 seconds up on his closest rival Ronald Volker.  The only other driver to record 37 laps for the first of six qualifiers was Dutch driver Jilles Groskamp.
View our full event coverage here.
Monday, June 28, 2010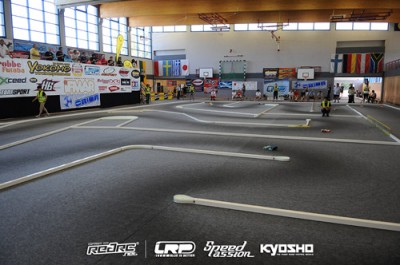 Day 2 of the IFMAR 1:12 World Championship at Burgdorf, Germany, has a new air of excitement after it was decided this morning to allow a second tyre additive to be used.  Yesterday the cars didn't look good on track and drivers complained of a complete lack of traction. Despite a full day of running on the CRC carpet no black line appeared raising concerns about the batch of controlled additive provided by the race organisers.  Following a team managers meeting IFMAR made the decision to allow the use of a second additive and immediately the results could be seen with a black line appearing after just two groups of drivers completed 4 minutes each on the track.
View our full event coverage here.
Monday, June 28, 2010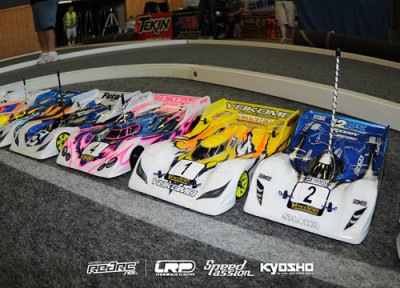 Defending 1:12 World Champion Naoto Matsukura has ended the opening day of the 2010 IFMAR World Championships here in Burgdorf in the perfect position by putting his new Yokomo at the top of the time sheets ahead of Touring Car World Champion Marc Rheinard.  Both drivers really upped the pace in the final round of controlled practice recording 3 consecutive laps in 40 seconds.  Having set the pace in the opening controlled practice Marc Fischer failed to improve on his time but made three different cars in the Top 3.
View our full event coverage here.
Sunday, June 27, 2010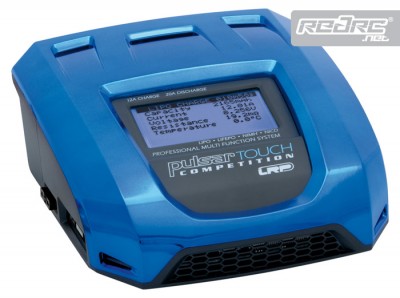 LRP have released their Pulsar Touch competition charger at the Worlds in Burgdorf, Germany. This completely new developed charger shines with its revolutionary features, such as a special touch screen with graphic user interface and high-quality components. This puts the 4th generation Pulsar charger in a class of its own. Another special highlight is the integrated high-performance LiPo/LiFe balancer, that detects differences in the cells and automatically starts balancing, resulting in longer lifetime and even better performance of the cell.
View the full feature list here
Sunday, June 27, 2010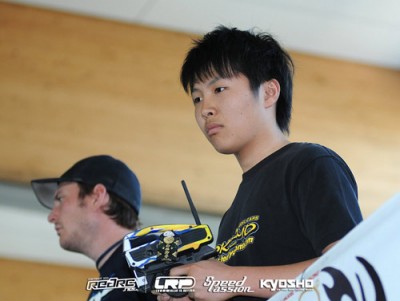 Two years of waiting to lay claim to the greatest crown in the sport are over for the World's top electric drivers with the 2010 IFMAR Electric Track World Championship having just got underway here in Burgdorf, Germany.  Kicking off the event is the 15th running of the 1:12 World Championship with 8 of 10 Finalists from Thailand including reigning Champion Naoto Matsukura present.  The now 16-year-old Japanese protege of r/c legend Masami Hirosaka, is very relaxed despite having the huge weight of defending his title on his shoulders and this has been further increased by the fact he is debuting Yokomo's first competition 1:12 chassis.
View our full event coverage here.
Sunday, June 27, 2010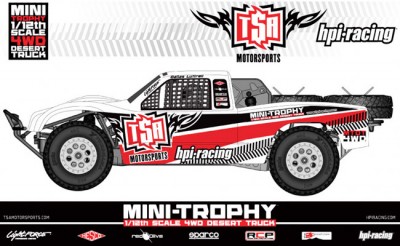 HPI Racing is teaming up with full size desert racing team TSA Motorsports to work together on the company's new Mini Trophy 4wd Desert truck. The truck will be 1/12th scale chassis and of course be based on the desert racing truck you see above.
View the full press release here
Saturday, June 26, 2010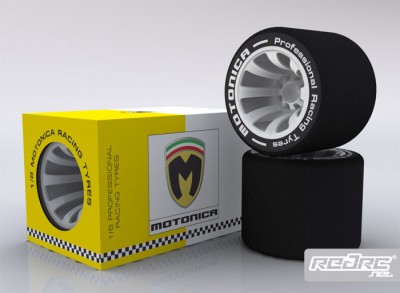 Motonica have announced a new dedicated line of 1/8 scale on road tires. After a year of research on the material of the rims and having finally obtained the right lightness and stiffness, they are ready to release a top range product in terms of performance and quality. Moreover, Motonica' s special care in research and product development designed the possibility to use a 24 mm pin, already included in the pack, in order to grant a perfect fit without compromising the functionality of the rim itself.
Saturday, June 26, 2010
The latest addition to Fastrax's growing range are the new 'Turf Ripper' grass and astro turf tires for 1/10th off road buggies. Suitable for all popular racing 2wd and 4wd buggies, they are molded in Fastrax's T1 compound and feature a lightweight carcass and firm spike design for all round speed and handling performance. Sold as a pair without inserts.
Source: Fastrax [fastrax-rc.com]
Saturday, June 26, 2010