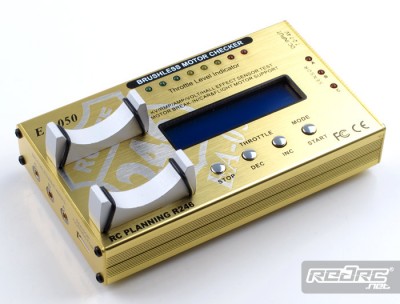 The EA-050 brushless motor checker from Route 246 is a precise instrument to measure the KV rating and RPM, as well as Voltage and Current, of brushless motors. It also checks existing hall effect sensors for correct function, with a 16 x 2 digit LC display indicating the different parameters. The motor checker is powered by a 7.2 to 7.4V power source and the package contains power cables for the motor checker as well as connecting cables for easy and swift monitoring of the motor's performance.
Monday, September 20, 2010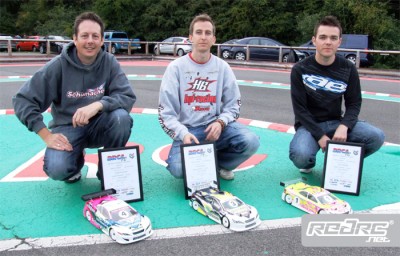 Andy Moore put a disappointing domestic season behind him to take the final round of this season's BRCA national touring car championship ahead of Olly Jefferies and Chris Grainger. Going in to the final round Chris Grainger was already crowned champion but second place was looking close between Olly Jefferies for Associated and Tamiya star Elliott Harper, Olly got off to the best start taking TQ and a new West London track record with his TC6, Elliott would line up behind Olly for the three leg finals with Andy Moore waiting to pounce in third. After three close fought legs Andy took the win for Hot Bodies ahead Olly Jefferies and Chris Grainger. The result meant a points tie in the series for Jefferies and Harper, the pair could not be split on number of A finals won or second places, in the end it came down to the number of third place finishes in the series and Elliott was given the decision over Olly.
Continue reading the report here
Monday, September 20, 2010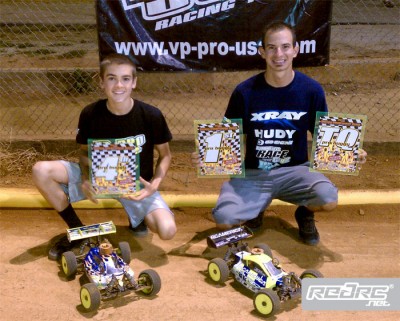 Racers from all over Georgia showed up to race at the all new HCRCR Track last weekend for the 6th round of the Georgia Championship Series. Go Engines/VP-Pro USA driver's, Ryan Lopez and Cole Ogden, battled early for the TQ spot, with Ryan Lopez eventually winning that battle with Cole Ogden taking 2nd. From start to finish, Lopez lead the race, taking the victory by two laps over second placed finisher Tim Smith, with Shannon Amos taking 3rd and Ogden eventually finishing in 4th.
Source: VP Pro USA [vp-pro-usa.com]
Monday, September 20, 2010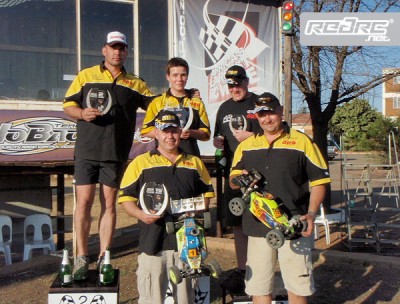 Last weekend saw the annual 1/8th scale off road African Cup held at the TRAP circuit in Pretoria, South Africa. After four rounds of qualifying on Saturday Miguel Haasbroek driving a Mugen was top qualifier with Danie van Rooyen driving a Hong Nor in 2nd and Andy Podrenek with a Mugen in 3rd. The semi finals on Sunday saw Miguel hold first position to put him on pole for the main event. The one hour final saw Miguel once again take off at a blistering pace to take a well deserved win with Danie van Rooyen in second and Andy in third to complete a top 3 for Sweep tires.
Source: Hobby Warehouse
Monday, September 20, 2010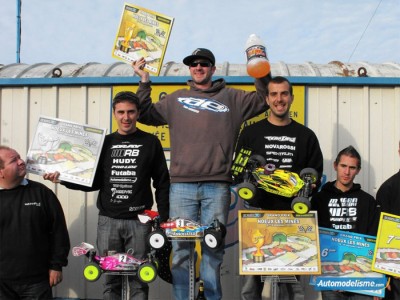 The GP Noeux Les Mines was held last weekend at the CARCA track in the north of France and it attracted a big foreign contingent particularly from the UK. The race catered for 1/8th buggy, truggy and electric buggy, with the both buggy classes running triple mains, which made for some interesting racing. In the gas buggy class it was Associated team driver Neil Cragg that emerged victorious in front of the French pairing of Jerome Sartel and Yannick Aigoin. In the truggy class the win went to Renaud Savoya, with Yannick Aigoin only 5 seconds behind in 2nd, with Jerome Sartel completing the podium. Finally in the electric buggy class it was Jerome Sartel that took the win from Sebastian Wartelle and Mickael Bouvier.
Source: Automodelisme [automodelisme.com]
Monday, September 20, 2010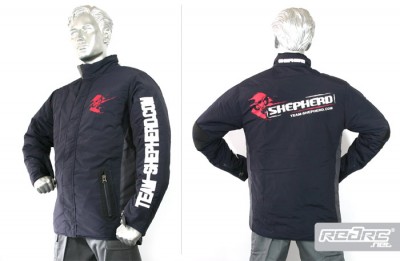 Shepherd have announced the arrival of their all new Shepherd team jacket. Made of high quality water-repellent and wind proof material it's the perfect choice to keep you warm on cold and windy race days. Sporting printed logos on the chest and on the back as well as embroidered logos on the left sleeve and the collar it's definitively an eye catcher. With a hood conveniently integrated in the collar it protects you from even the roughest weather conditions. Big-size side pockets and a special mobile phone pocket on the inside complete the jacket. Available in M, L, XL & XXL.
Source: Shepherd [team-shepherd.com]
Monday, September 20, 2010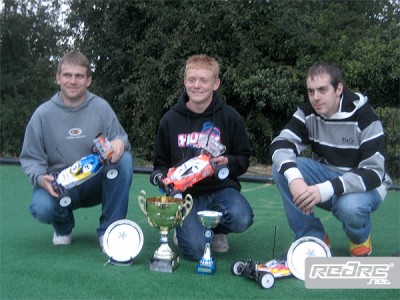 Overcast weather greeted the competitors at the annual BRCA F345's 4wd Championship at the astro turf track in Silverstone, England. The event was full with 120 drivers and more on the reserve list such is the popularity of the event. At the end of round 1 Charlie Ware was the fastest of the round with the only 14 lapper, he followed this up with another TQ run in the 2nd run and would eventually secure pole position. Other fast drivers were Ashley Caunt and Eugene Galley who would line up 2nd and 3rd on the grid. In A final leg 1, Charlie led and was quickly followed hard on his tail by Ashley, for 4 laps Ashley tried to get past but Charlie defended very well with close controlled driving, eventually Ashley tried a bit too hard and rolled it giving Charlie the gap he needed to cruise to victory with a 14 lapper which proved to be crucial. Leg 2, Charlie rolled it on the 2nd corner and Ashley took the lead only to lose it quickly with Adam Mackman taking the lead and leg win. Leg 3 and with 4 drivers still in the hunt for the overall championship it would a tough one to call. Charlie led for 3 laps and then rolled it with Eugene Galley taking over at the front with Charlie in hot pursuit, despite others trying hard to catch that's how it finished with Eugene winning and Charlie 2nd in leg 3. Charlie and Eugene were both tied on points but with Charlie having a faster leg win the Championship was Charlie Ware's. Eugene Galley took 2nd with Adam Mackman in 3rd.
Monday, September 20, 2010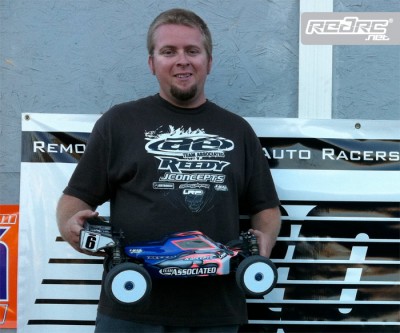 Team Associated sent us a brief update to say that their team driver Ryan Maifield had TQ'd the ROAR electric 1/8th buggy Nationals taking place this weekend in Nor-Cal Hobbies in California. Ryan lines up his Reedy powered RC8Be on the grid ahead of Jesse Robbers and Austin Blair, while in the electric truck class it is Mike Truhe in front ahead of Austin Blair and Jesse Robbers.
Source: Associated [rc10.com]
Sunday, September 19, 2010