November 13, 2006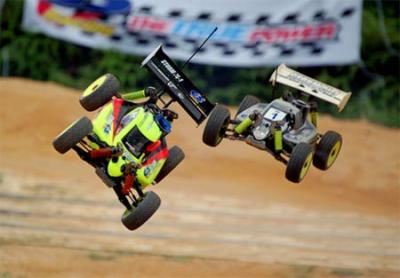 Just last weekend, the GS Cup for off road was held in Malaysia and attracted a large attendance. In the main buggy final it was Scott Yang driving a GS that took the win ahead of 2nd place finisher Ah M with a Hong Nor and David Lim with a Kyosho back in 3rd. The truggy class was won by Hengster with a Hong Nor followed by Ah Leng with his GS in second and just ahead of fellow GS racer Pegan who finished 3rd.
View the final results after the jump…
Buggy Final
1. Scott Yang – GS
2. Ah M – Hong Nor
3. David Lim – Kyosho
4. Ian Haley – OCM
5. Chris Sze – Kyosho
6. Yang Shao Ming – GS
7. Kelvin Ngow – Mugen
8. Ong Chee Yong – GS
9. Kenny Chua – Kyosho
10. Chester Kid – Xray
Truggy Final
1. Hengster – Hong Nor
2. Ah Leng – GS
3. Pegan – GS
4. Scott Yang – GS
5. Pason Phua – Hong Nor
6. Lester
7. Yang Shao Ming – GS
8. Derek Foong – GS
9. Nasir – Hot Bodies
10. Alvin Sim – Hot Bodies
You can view more pictures and the full rundown of results here.
Source: RC Tech [rctech.net] via Buggy-Sport [buggy-sport.info]
---