November 11, 2006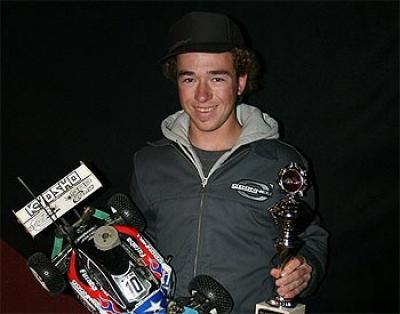 Jared Tebo (old pic) has made the very last minute decision to switch over to the Jammin X1 buggy at this weekends RC Pro finals, being held in Rockford Illinois, and go on to take TQ in the Pro Buggy class at the event.
Jared Tebo picked-up Taylor's Jammin X-1 back-up buggy to run in the R/C Pro finals. I quess Tebo, not being in the winners circle the last year, opt for the best buggy for the job. Tebo literally threw the car together just prior to qualifying and set the best combined times to take TQ honors. Taylor qualified third, Matt Gosch qualifies fifth, and Chad Bradley also getting in the A final.
In the Pro Truggy class it was Chad Bradley to took the top qualifying spot ahead of Futaba Nitro Challenge winner Taylor James. With both drivers winning 2 qualifiers each, Chad took it by having the fastest 3rd time.
Source: OFNA [ofna.com]Â 
---