December 10, 2006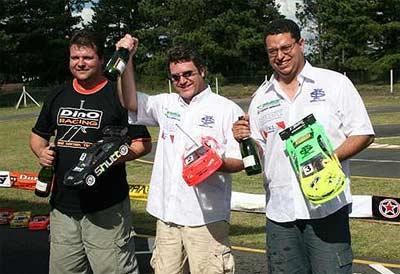 Under a sunny December sky Fabiano Franco, driving an Xray T2, has won the 2006 Brazilian National Championships held last weekend. Having qualified in second position for the finals he had some good luck in the first final when pole man ….. had esc problems allowing Fabiano to take the lead and the win. Battling with Flávio Salinet for the other 2 finals Fabiano managed to fend of the attentions of his Xray team mate the win the 2nd and 3rd finals to take the overall title.
After the start, Fabiano was in 1st and Flávio was in 2nd … this was the order to the end. Flávio tried to pass Fabiano but his tires cooked when he forced his car, so Fabiano Franco won with Flávio Salinet on 2sec behind.
You can read the full report with pictures and a video here.
Source: Xray [teamxray.com]
---