December 5, 2006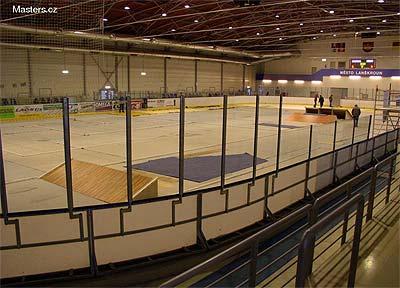 We received details of 2 events coming up soon and not so soon. The first race is the Czech International Indoor Event (6th – 7th Jan) that takes place on an ice rink in Lansroun City (see above) but doesnt take place on ice unfortunately, the track is covered in carpet. The second event to be announced is the 1/18th Indoor Off Road Nationals (13th – 15th Apr) that takes place at the RC Madness indoor dirt track in Conneticut.
View the full details about each event here…
What: Czech International Indoor Event
When: 6th – 7th January 2007
Where: Lansroun City, Czech Republic

More:
Race will be be for 1/8th Gas buggy class in Ice Stadium on carpet, which will be on the ice.
– There will be many plastic jumps.
– The race will be supported by National RC organization RCACR, Hobbyteam company and also RC Cars as a main media partner.
– Contact jooohnny@seznam.cz if you have any further questions.

You can find full details of the event here.
What: 2007 1/18th Indoor Off Road Nationals
When: 13th – 15th April 2007
Where: R/C Madness in Enfield, CT

More:
$35.00 for the first class (includes a race shirt)
$30.00 each additional class

Top ten in ALL Mains receive awards
Top three in all other mains receive awards
– Main sponsors, Team Associated, R/C Driver & Castle Creations
– Handout motors in specified classes provided by Reedy
– Friday Open practice until 7:00 Club Race starts at 7:00
– Saturday 2 rounds of IFMAR qualifying
– Sunday one round of last chance IFMAR qualifying followed by mains
– Don't forget the Super Main following the Mains where the best drivers & vehicles will compete together for the Manufactures Cup!
– TQ awards sponsored by R/C Driver magazine
– Best Paint competition on Sunday sponsored by www.radiocontrolentertainment.com
– Xtreme Performance awards provided by Xtreme R/C Cars magazine

You can find sign up details here.
---