January 23, 2007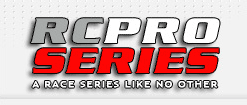 Our friends at the RC Pro Series have asked us to announce this upcoming promotional slot on Race Talk Live to promote the Homestead Miami Fuel Challenge.
Doug McNeely from Serpent USA will be the guest on the RC Pro segment of Race Talk Live Wednesday night at 8:40pm eastern time. Doug and Carlton will discuss the upcoming Homestead Miami Fuel Challenge. Call in questions are welcome and encouraged. Use the buddy name RCRadio2006 for AOL and on Yahoo Messenger. Send emails to the crew at rcradio2006@yahoo.com or call the TRD Hobbies Hot Line (1-877-899-RACE [7223]). Listen live on Wednesday night www.racetalklive.com
Doug McNeely works in Serpent USA and is also heavily involved in team matters and Carlton Eppes runs the RC Pro Series so if you have any questions please send them in, it should be an interesting discussion.
---