January 10, 2007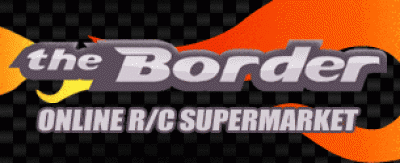 I am delighted to welcome on board, our very first advertiser – 'The Border, Online R/C Supermarket'. As some of you are aware, 'The Border' is one of the largest online R/C shops on the internet and carries a huge range of stock, mostly focussing on competition products for both off road and on road racers as well as slot cars. We are a relatively new site and i find it a great compliment, and shows that we must be doing something right, to have such an established company like 'The Border' put so much faith in us. You can see their advertising banner on the right side of the site and this will be updated every few weeks with different special offers and promotions so keep watching.
The Border are currently running a really great Special Offer. Up until January 31st, if you purchase a Serpent Kit from them you will receive FREE SHIPPING. Contact them at sales@the-border.nl and ask for your personal code that you can enter during checkout to avail of this offer.
If you wish to advertise on Red RC, please contact us and we can send you our rates card.
---