February 25, 2007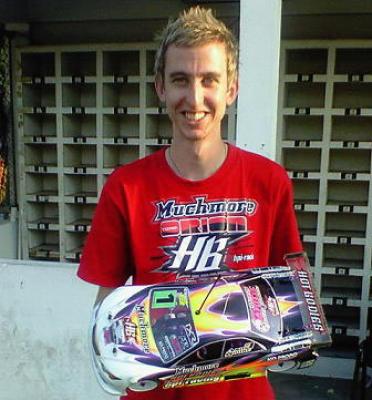 Top qualifier and current World Champion Andy Moore driving his Team Orion powered Hot Bodies Cyclone has the won the 2007 Thailand International Touring car Championships, the TITC. Fastest in qualifying thanks to a blistering run in the fastest 4th of 5 rounds of qualifying the British racer seemed that he may be in for a bad day after being elminated in the scrappy first A-main final which saw fellow HB racer Ronald Voelker take the win. Ronald was followed home in that final by Tamiya racer Hupo Hoenigl in 2nd and another HB racer Thomas Pumpler in 3rd.
In the second final Andy put it all right and despite some mechanical issues with his car lead from start to finish to take the leg win ahead of Hupo Hoenigl in 2nd and Jilles Groskamp for Xray in 3rd. Atsushi Hara had been in 2nd position until a cooling fan failure put and end to his run with little over a minute left, leg 1 winner Voelker had similar bad luck having inherited the 2nd position after Hara's exit came into contact with Pumpler dropping both drivers back.
The third and deciding final was once again dominated in fine style by Moore taking the win ahead of a pushing Voelker who concolidated his 2nd position in the overall with this 2nd place finish. Jilles Groskamp once again came up to 3rd after a battle with Hoenigl who dropped back from an early 2nd in the race to end 5th, passed in the latter stages by Meen Veajrak who took 4th. All this left Moore with the overall win with Voelker in 2nd ahead of Hupo Hoenigl in 3rd.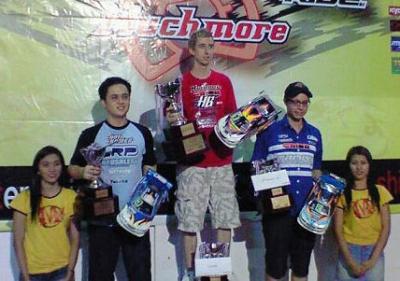 Final Top 10 results:
1. Andy Moore – Hot Bodies
2. Ronald Voelker – Hot Bodies
3. Hupo Hoenigl – Tamiya
4. Jilles Groskamp – Xray
5. Meen Vejrak – Xray
6. Thomas Pumpler – Hot Bodies
7. Olly Jeffries – Hot Bodies
8. Shin Adachi – Kyosho
9. Atsushi Hara – Hot Bodies
10. Marc Rheinard – Tamiya

Source: RC Tech [rctech.net]
Image: Team Novi [teamnovi.blog.drecom.jp/] / Mirage Japan [www13.ocn.ne.jp/~mirage-j]
---