April 17, 2007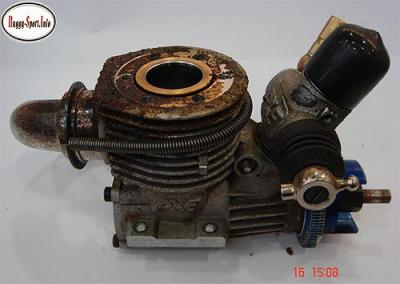 Last week we wrote about a piece we saw on Neo Buggy stating that Richi Gomez could be brought to court by Axe Rossi for breach of contract. Today our other site partners Buggy Sport received the exclusive manifesto from Ricardo Gomez, father of Richi, in which he states (in my understanding as its difficult to read) that they have upheld their side of the agreement and that Axe have not lived up to theirs. What it essentially comes down to is that Axe Rossi have not supplied them with sufficient product support and that what they have recieved has been of substandard quality and definitely not worthy of a top international racer who needs to compete at the highest level. Problems like leaking in both the combutsion chamber and carburettor, to poorly made exhaust systems, these motors have been unusable and replacements have not been forthcoming and thus to fullfill his obligations to his other sponsors he has had to source other engines, which seems fair enough.
Read the full statement below…
In relation to the article published by AXE Rossi last April 13, 2007, in the web page http://www.neobuggy.net, I meet in the obligation to expose in my defense the reasons that have given place our disagreement with the manufacturer.

Before the breach of several points of the contract on the part of AXE Rossi, and sight the impossibility of the same ones to provide engines with the minimal qualities for the development of the competitions, we have met in the obligation to change manufacturer of engines to be able to continue realizing our activity to the awaited level, so much on my part(report) as(like) of the rest of sponsors, to whom also I owe and on whom I have to answer with results.

The day of the signing of the contract in Valencia (Spain), AXE's direction Rossi compromised itself of word, being present all the components of the equipment(team), to giving, in the course of one week, in the shape of material and modifications, everything necessary to take to end the project. Spent(passed) two months of the above mentioned commitment nothing has been received in fulfillment of the above mentioned commitment. This fact puts in interdiction the veracity of the word the board of AXE Rossi and his(her,your) commitment with the pilot who signs.

After the first tests(proofs) with the products given by AXE Rossi it was possible to verify that his(her,your) functioning was "basic".

There decided later the lacks and limitations that it was necessary to correct; on not having had received the necessary material with the modifications we could not have developed it and for this reason we could not have done what we wanted.. " A GREAT ENGINE ".

To support these affirmations there appear images that put in evidence the lacks of the manufacturer: engines that lose fuel for several of his(her,your) parts(reports), housing, candlestick(spark plug), front bearing, etc. …

The material with muflers the leaks are made is of very low quality, with any minimal blow they break.

To these engines they lacking speed top and they consume in excess, besides we have had to use candlesticks(spark plugs) of other manufacturers, with AXE's express authorization Rossi, since the own(proper) ones do not work well.

Since clear reference to the quality of these engines we have the first test(proof) of the Spanish championship, the current champion of Spain had several problems with his(her,your) engine and could not go out in the second round for which his(her,your) engine was not possible to start(extract) it, all that under the attentive look of AXE's components Rossi.

The receipt of AXE's order(request) Rossi, it(he,she) was turning into a mystery, if we were receiving five engines, two was coming complete and the rest incomplete, without butt(breech) and without carburetor. In it never any marry we have received everything what we were asking and needing.

It is necessary to clarify that the Spanish importer SILCAR IMPORT, has neither part(report) nor fault(sin) of everything happened. That we have had a cordial treatment(deal) with all his(its) equipment(team) and by means of these lines we want to express our gratefulness to them.

Please forgive for my bad use of the English and the possible mistakes in the draft of this writing.

Signed. Ricardo Gómez
Click here to see more pictures of Richi's Axe motor.
Source: Buggy Sport [buggy-sport.info]
---