April 11, 2007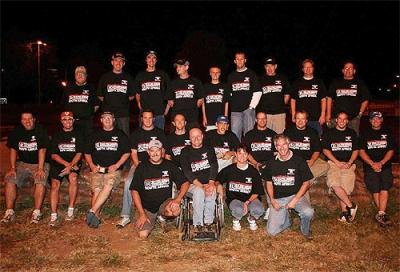 A while ago we announced on our site the creation of the South African RC Pro Series, and even prior to that announcement the first round of that championships was won in which Jonathon Ment won the buggy class and Carl Hein Fommann won the truggy. Just over a week ago was round 2 of this series and it took place at Avion Raceway in Kempton Park South Africa and 70 racers were in attendance. Below is a report from the organisers from this event.
Read full race report here…
The organizers had prepared an awesome track, there were very tight technical sections, jumps that tested even the pros ability to build hot suspensions the traction was amazing and the track did not break up any where, there was absolutely no dust, the surface was as good if not better than we had ever seen any where in the world. The track builders had prepared a track which had the drivers guessing until the end of the first qualifier.
We had decided to run an invitational event and the best local racers were invited as well as a host of drivers from other provinces, we were confident that Pro Series Had What it takes to draw the best that the country has to offer. As anticipated that is exactly what happened, the absolute best entered prior to entry close, we were set to have one of the most exciting race meetings ever to be hosted in South Africa. Our number of invitees/ racers were 50 we ended up accepting 70 entries and then closed the register,the most prolific drivers from across the country were now set to take part in this momentous occasion.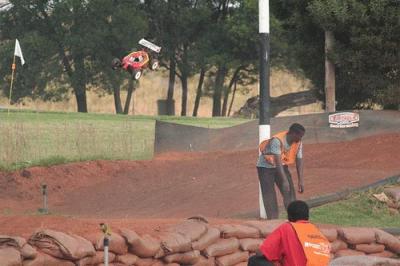 The event started at 12:00 and we went straight into open practice which ended at 13h00 registration was completed at 13h30 and the buzz was electric in the pits, every competitor had proudly placed a pro series logo on their car as proof of entry and we were all set to go.
The 1st race hooter sounded and racing begun at 14h00 sharp, first up was the intermediate class followed by the expert and pro classes, the truggy invitational was fourth on the program. We offered a R500 cash prize for the driver who put in the fastest lap in each class, this initiative crated some awesome, the commentator had his hands full as the drivers in every class kept on going quicker and quicker. We saw the track lap record smashed by 2 seconds the pro class which was previously set by our country's no 1 driver at our national event in September 2006. The record then was 46.56 seconds.
Qualifiers were run at a very hot pace which saw the top 5 qualifiers all running sub 46 second laps. The qualifying was over by 18:h00 and we saw a few unseeded drivers featuring in the A mains.. Top qualifier in the pro buggy was our own RC Pro sponsored driver Mark Remken followed by Carl-Hein Frommann and Jonathan Ment in third place, the fastest flying lap was a 44.47 posted by Hein Van Schalkwyk, we were now set for a mains race of note.
In the expert class top qualifier went to Johan van der Linde, Andy Podrenek and Charl McGregor. Currently Johan is leading the point standings in this class. In the intermediate class top qualifier was Hugh Coetzer followed by Fernando Rodriques and Cliffy Swanepoel in 3rd, (cliffy is one of the Rc Pro directors from Newcastle). In the truggy class top qualifier went to Carl-Hein Frommann followed by Gary McDonogh and in 3rd Jason Raths.
The main races started at 18:30 hours and were all 30 minute mains. On the 12th lap Carl-Hein was leading when a coming together with a back marker forced him into early retirement. This race was won by Gary McDonogh in second place was Mark Worms and in 3rd Jason Raaths. It is the first time we have seen Mark and Jason finishing this high up in an A mains their commitment was just amazing. The expert class was won by Andy Podrenek followed by Kieth Busby and in 3rd Johan van der Linde. The intermediate class was won by Gerrie le Grange followed by Jurie Nel and in 3rd Peers Bailiff. The pro class was a real crowd pleaser here we saw Mark Remken, Jonathan Ment, Carl-Hein Frommann, Hein Frommann and Hein van Schalkwyk tussling for the lead this race hard turned into a five way duel,the race was won by Mark Remken in second Carl-Hein Frommann and in 3rd Hein van Schalkwyk all three these drivers are all embers at the hosting club.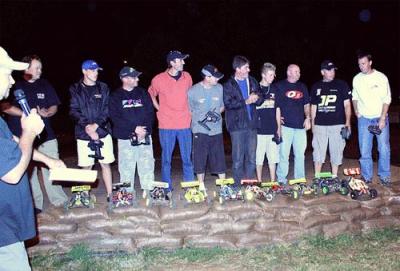 The overall positions in the Pro class for the event are as follows:
1. Mark Remken – Mugen/JP
2. Hein van Schalkwyk – Jammin/OS
3. Sean D'Arcy – Mugen/RB
4. Micheal Gibson – Mugen/JP
5. Carl-Hein Frommann – Mugen/JP
6. Gary McDonogh – Team magic
7. Charl McGregor – Kyosho /RB
8. Warrick Furgusson – Jammin/OS
9. Steve Smith – Mugen/JP
10. Jason Green – Jammin/OS
Source: RC Pro Series [rcprosites.com]
---