June 10, 2007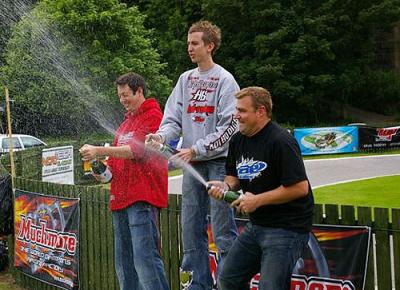 Andy Moore has not put a foot wrong this weekend, after winning yesterdays 19T class, the World Champion dominated todays modified class at the Much More UK GP held in Stonehaven, Scotland. Qualifying saw the Hot Bodies racer take the pole position from yesterdays runner up, Chris Grainger, racing for Yokomo, while 3rd position went to Team Associated driver Graig Drescher. Something to note was that the 4th placed qualifier was Niels Koenekoop, from the Netherlands, who was racing the soon to be released Serpent S400 and who seems to have made the car more to his liking for todays run, after only qualifying in 11th yesterday. In the final the race order didnt change in the top half of the field with Moore winning the 2 finals to take the win followed home by Grainger in 2nd, Drescher in 3rd and Niels Koenekoop in 4th.
Click here for the full results…
1. Andy Moore – 2 [1,1] Hot Bodies Cyclone
2. Chris Grainger – 4 [2,2] Yokomo BD
3. Craig Drescher – 6 [3,3] Team Associated TC5
4. Niels Koenekoop – 8 [4,4] Serpent S400
5. John Pape – 10 [5,6] Yokomo BD
8. Ryan Lee – 16 [8,5] Xray T2'007
6. Alan Bickerstaff – 12 [6,7] Team Associated TC5
7. Stephen Creswell – 14 [7,8] Yokomo BD
9. James Hart – 18 [9,9] Schumacher Mi3
10. Jimmy Maddison – 20 [10,10] Schumacher Mi3
View a full race gallery here.
Source: RC Race Chat [rcracechat.com] / SDRCC [sdrcc.co.uk]
---