June 23, 2007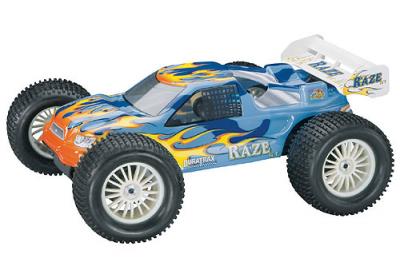 DuraTrax have announced the release of the new Raze ST RTR stadium truck, which is based on the companies popular Raze nitro buggy. This 1/8th scale 4wd truck boasts lots of upgrades included as standard that make it a terrific value with plenty of option parts for even greater performance. The Raze ST includes a SuperTigre G-27CS 4.4cc racing engine with adjustable engine mount, race-legal (150cc) fuel tank with flip-top and built-in filter, heavy-duty 4mm aluminum shock towers, pre-glued soft off-road tires with foam inserts, molded chassis side guards and an aluminum racing tuned pipe.
Click here for the feature list…
Features:
– A complete bearing set (20) for smooth driving, high-speeds and long-lasting performance. Front and rear center supporting braces, a 3-shoe racing clutch assembly and two brake discs with adjustable front and rear bias are also included.
– The metal front steering knuckles hang touch in collisions and the 17mm drive hex is compatible with all other 1/8 scale wheels available. A steel universal front drive shaft (to reduce friction and backlash) and a 3mm blue-anodized aluminum chassis are part of the package.
– Adjustable, sealed differentials are in the front, center and rear. Each include four internal spider gears which, like the ring and pinion gears, are made of durable metal. The front and rear diff cases remove easily for maintenance.
– The sealed receiver box keeps radio gear free of dirt and debris and the pre-painted body features a dual-element rear wing and clear windows, and is available in six aggressive colors!
Specifications:
• Length: 20.1 in (530 mm) • Width: 16.5 in (420 mm) • Height: 8 in (205 mm) • Weight w/on-board electronics: 9 lb (4.1 kg) • Includes: DuraTrax 2-channel FM radio w/RX301F micro receiver, SuperTigre G-27CS 4.4 cc racing engine, glow starter, fuel filler bottle, Kwik-Pit Super Start, engine tuning/race prep DVD • Requires: 12 "AA" batteries, 1 "C" battery, fuel
Source: Hobbico [hobbico.com]
---