July 4, 2007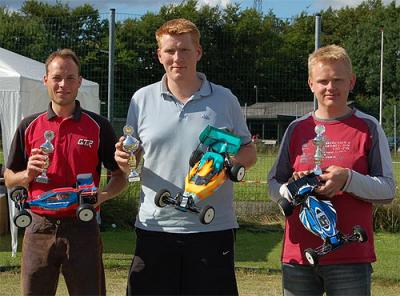 The Aviators RC Club, in the north of Denmark, played hosted the 4th round of the Danish DRCMU Off-Road Championships, which were held last weekend. The grass surfaced track layout was very tight and narrow and most of the practice took place in very wet conditions and this lack of practice had a great influence on the performance of many of the drivers in the dry qualifying rounds.
Read the full race report here…
In the Stock/Beginner class it was again 8 year old youngster Jesper Rasmussen, driving a Kyosho, that was the man (boy) to beat, he was followed up by Martin Christensen with his Losi, but in the finals Martin ran into electric problems which dropped him in to 4th place. Jesper won all three finals and was followed by Eli Lundgaard who ended the race in 2nd position while race debutant Dennis Jensen took the 3rd spot.
In the 2WD class it was Lasse Nielsen who was very fast with his X6, Lasse had been away from RC for nearly 2 years and made his comeback to the sport at the second round in Odense, he was followed up by Bo Dissing in the qualifying. Third round winner Christer Rasmussen had a very poor qualifying which put him into the last spot in the A-final, but a very strong performance in the second final, with a 2nd place, and a win in the third final, put Christer into second place overall with Lasse Nielsen taking the overall win and Bo Dissing in 3rd. Rising Touring Car Star Soeren Eskildsen was racing in the 2WD class, and found himself in 6th position after qualifying and finished in 7th after the finals, and said after the race that "it will not be his last off-road meeting".
The 4WD class was up and down for many drivers, Losi driver Freddy Nielsen put in a safe run in qualifying to take the pole position in front of another Losi driver, Allan Thyme and the Kyosho driver Ulrich Rasmussen, while the winner of the 3rd round, Kim Nielsen, was to find himself in 6th at the end of qualifying. With a clean run in the three finals Ulrich Rasmussen took the overall victory and a strong race put Kim Nielsen into 2nd place ahead Michael Goehns in 3rd.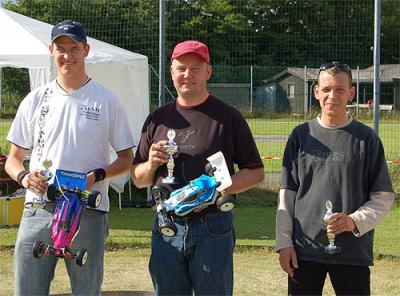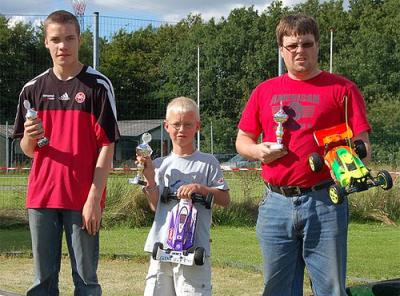 View the full event gallery here.
Source: Race Gallery [racegallery.dk]
---