July 28, 2007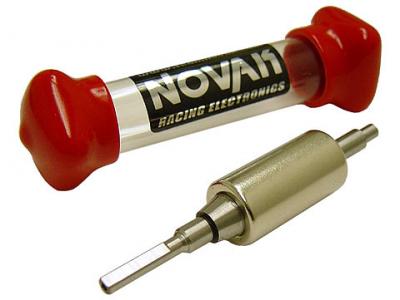 Novak have introduced this sintered 13mm tuning rotor that has been designed to alter the feel and experience of driving a Novak motor, and offers a new dimension of tunability. With a slightly larger diameter and improved magnetic material, the rotor can withstand a higher temperature threshold, improving its durability while also increasing the natural drag brake and opening up the motor's gearing window to improve drivability. The Sintered 13mm Tuning Rotor is compatible with the Novak Velociti-series, SS Pro-series brushless motors and any Novak 540-size brushless motors with an oversized front end bell bearing.
Read the full product release here…
With its larger diameter, the new Novak Sintered 13mm Tuning Rotor cuts down the air gap in the motor to improve the motor's initial throttle response and natural drag brake. The new magnet material also performs better under extremely hot conditions and high loads.
The Novak Sintered 13mm Tuning Rotor excels in on-road applications because of its affinity to high-traction surfaces and is ideal for racers who want an edge in touring car, oval or 1/12-scale applications. Because each user has different driving needs, this tuning rotor may work well in other applications. In addition, gearing changes and lowering the speed control's drag brake setting may be needed.
The Novak Sintered 13mm Tuning Rotor features an identifiable groove on the shaft bevel to differentiate it from other Novak rotors. It also meets all ROAR and IFMAR specifications.
Features:
– Optional tuning rotor for Novak Velociti-series and SS Pro-series brushless motors or any Novak 540-size brushless motor with an oversized end bell bearing (#5919/#5920)
– Ideal for touring car, oval and 1/12-scale applications, and other high-traction surface applications
– Improves the motor's initial throttle response and natural drag brake
– Exotic-material, Sintered Neodymium rotor provides the maximum temperature-handling capability and provides the maximum magnetic strength available
– Nickel-plated for a stronger surface and resistance to corrosion
– Reduces the operating temperature of the speed control
– Identifiable groove on the shaft bevel to differentiate it from other Novak rotors
– Meets all ROAR and IFMAR specifications
Specifications:
Diameter: 13mm
Weight: 31.0 g (1.09 oz)
Magnet: Nickel-plated, high-strength Sintered Neodymimum
Maximum Operating Temperature: 200 degrees C
Shaft Diameter: 0.125" (3.2 mm) [accepts all existing pinion gears]
Source: Novak [teamnovak.com]
---