August 21, 2007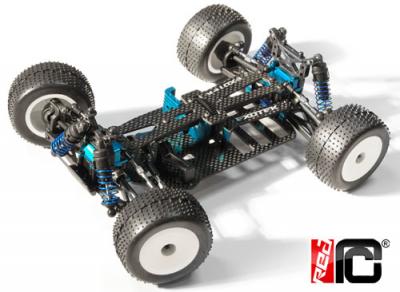 Back in the middle of July we showed you CAD images of the Exotek TEK18 RC18 Chassis conversion Kit. Today we were contacted by Exotek with photographs of the final car and from the pictures it looks good. Billed as a no holds barred race chassis conversion for the hugely popular RC18 line of Associated kits, the kit features a number of changes including slotted rear biased 6 cell battery mounting in a 2mm carbon chassis.
Click here for more pictures and the full feature list…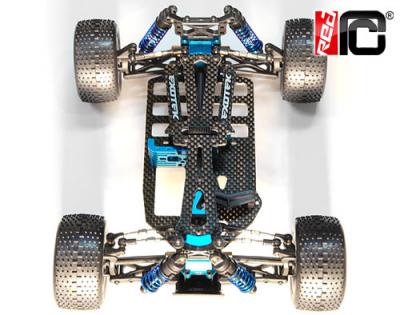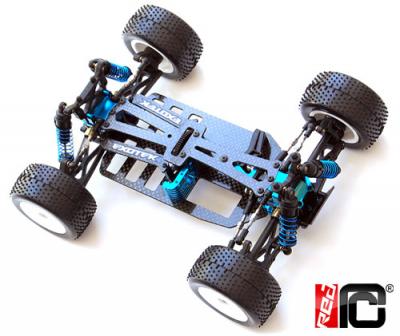 Features:
– Slotted rear biased 6 cell battery mounting. Shifts the battery weight to the rear of the car for better rough track handling. Alloy battery posts and carbon fiber straps included.
– 2mm USA Quasi weave carbon fiber bottom plate , top plate and battery straps.
– Re-engineered alloy/ carbon fiber bearing supported mono bell crank steering for precise control.
– Accepts the stock size servo perfectly but designed to work with the 2 best servos on the market- the superb digital Airtronics 94091 or the slightly larger more durable digital Airtronics 94761.
– 1 piece carbon top plate keyed to alloy diff covers for tweak resistant operation.
– Easy 1 screw (from the top- no dirt clogging) motor mount removal and pinion/spur gear mesh.
– Lowered motor mounting for lower CG and vented and contoured heat fins for optimized motor venting.
– Carbon fiber drive shaft for excellent acceleration and reliable drive line performance.
– Maintains the stock geometry of the proven RC18 suspension including the front kick up for perfect off road handling.
– Aircraft grade T6 aluminum throughout with 7075 aluminum for the front kick up for greater strength.
– Alloy steel hex hardware included to install the conversion.
Source: Exotek Racing [exotekracing.com]
---