August 19, 2007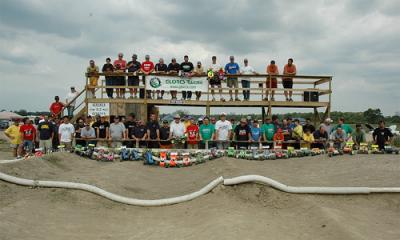 We received a report from round 5 of the Great Lake Championships held at Niagara RC in beautiful Welland Port, which is 40 minutes from Niagara Falls. The Niagara track offered a very technical center race area with tight 45 and 90 Degree turns with challenging rhythm sections that provides some very competitive racing to watch. The track also wound out a large straight which measured at a little over 200 feet.
Click to read the full round 5 report…
After 4 rounds of qualifying (and a small tornado) the preliminary results were in.
In Monster truck Martin Petre driving a Revo sporting a stock traxxas 3.3 edition motor held a strong lead over Ron Prinzen and Chuck Leon. Truggy held Dave Henry as TQ holding only a six second qualifying difference then fellow Losi teammate Gareth Houben. Dave Henry once again held strong in Buggy as TQ over home track favourite Matt Devries. After the shuffle in Qualifier 3 the racing got very interesting.
Mains were a different story. Some very hot battles were fought in the lower ranks. Truggy B main John Bakker, Andrew Phillipe and Daryl Denny took turns at the lead until Daryl pulled away holding on to a 11 second lead to win and make the bump to Truggy A.
However mother nature had bigger plans. At about the start of the B mains, the clouds let loose, and the rain started. Considering the hot weather that preceded it was a welcomed change. The track sucked up a great deal of rain and although not a hard down pour it was consistent. The track started to become increasingly sticky as the mains progressed. At the beginning of the Buggy B main the rains increased in strength. What transpired can only be seen to be believed. The clay became sticky and as vehicles traversed lap after lap, the buggies picked up more and more of it. By the half way mark it was evident that this race would be a mere battle of endurance and not racing prowess. Pit team strategy changed as vehicles pitted more frequently to have sludge removed from wheel and arm areas. However in the end only a few survived. Kevin McNerney took the win, followed by Abiye Birku making only 28 laps in a 30 minute main!
The weather continued, Glorcs and Track representatives called the race. The track was becoming increasingly slippery and uninhabitable by marshals.
The B main was completed and A-mains were awarded based on Qualifying positions. However Monster trucks WERE made to run in this atmosphere so for bragging rights and trophies Monster Truck A competitors took the field for an exhibition race. A field of brave volunteers marshaled the track. In the end the exhibition battle came down to Martin Petre and Chuck Leon driving Revos. Martin held his lead to take the win. Craig Brister driving a Losi LST2 stayed tight. I witnessed pit crews using brushes and buckets of water to clean wheel areas during very frequent pit stops.
It was a wonderful weekend, and the host Niagara RC made the event inspiring. Mother nature did not co operate but given the nature of offroad those are the breaks.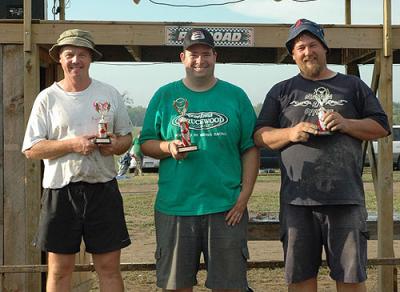 Buggy A main winners
1. Dave Henry
2. Matt Devries
3. Mike Burr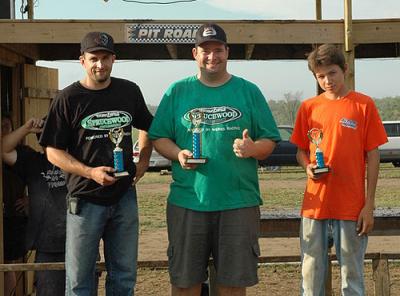 Truggy A main winners
1. Dave Henry
2. Ben Wheeler
3. Gareth Houben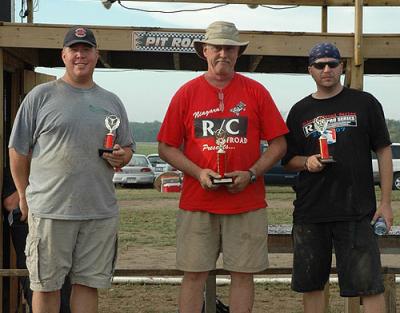 MT winners
1. Martin Petre
2. Chuck Leon
3. Craig Brister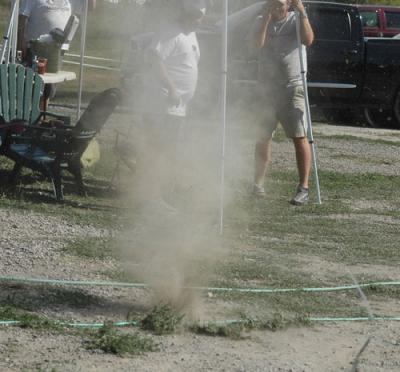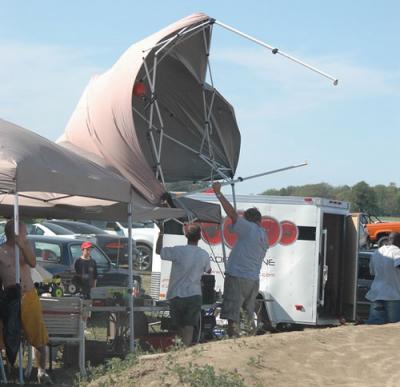 Full results can be found here while more photos can be found here.
Source: GLORCS [glorcs.com]
---