August 21, 2007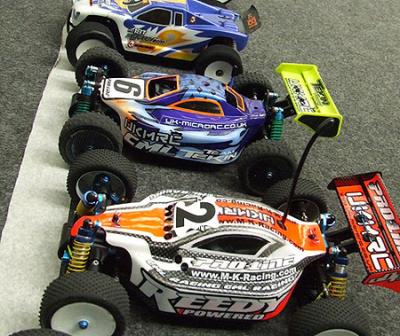 We received a full report from the Hereford Micro Open event that took place two Sundays ago on the 12th August and which had some of the UK's best micro off road racers in attendance. The track was a challenging mixture of rumble strips, polished floor drift sections, small kicker jumps, bumpy gym mats, a HUGE 45' wall ride and equally big table top jump right in front of the rostrum! The track would certainly test car setup and drivers abilities.
Read the full race report here…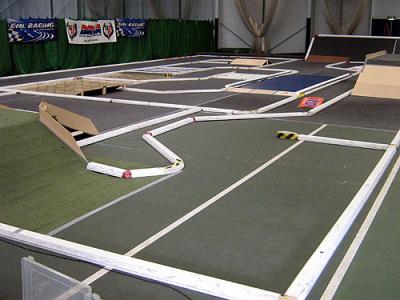 The event was run with 3 classes, Open, Modified and Pro-stock and, as with the previous UK Micro Challenge events, the FTX Blaze once again took the title of 'Most cars within an event' proving that even out of the box the Blaze is a force to be reckoned within the air and on the carpet.
Modified
UKMRC/Tekin driver Dan Osborne showed his skills with a strong performance battling for FTD with CML's Stuart Harlow, winner of the UK Micro Challenge 3 Brushless class, who looked super fast all day. Stuart would go on to set TQ in the Modified class with a time of 15laps/5m13secs followed by Dan Osborne (15laps/5m19secs) and Tom Hudson (14laps/5m9secs).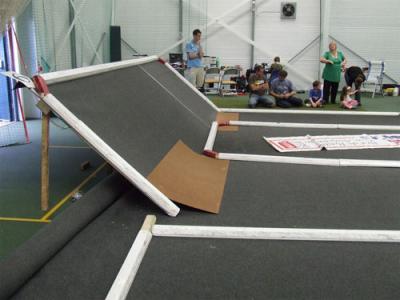 With his Venom powered FTX Blaze Stu Harlow looked on for a comfortable win in the final but a stripped spur gear would put paid to his efforts though and he retired afew laps into the race. Although struggling for a set up during qualifying Tom Hudson and UKMRC/Tekin's Chris Hudson took the lead after Stu's retirement closely followed by the smooth and consistent Bill Pier. A mistake from both of the brothers allowed Bill to take the lead mid race before servo failure saw him pull over and retire.
Dan set off strong but got wiped out twice in lap 1. Battling from nearly a lap down he put on a strong performance and took 1st place from the Hudson brothers afew minutes before the end of the race!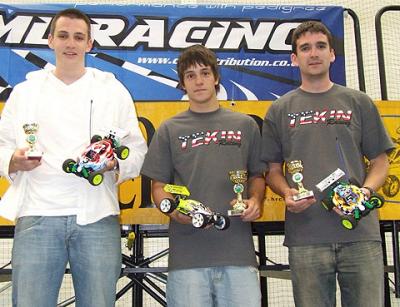 1st – Dan Osborne – FTX Blaze
2nd – Chris Hudson – FTX Blaze
3rd – Tom Hudson – FTX Blaze
Open
The Open class saw a dominance of Carl Venter and his Kyosho Mini Inferno. His time of 11laps/5m00secs was over a lap faster than Adrian Bagley who qualified 2nd (9laps/5m9secs). 3rd place was a hard fought battle between Duncan Greer and Harry Green, with Duncan taking 3rd position into the final (8laps/5m10secs).
The Open final was a simple affair with the drivers finish in the same order they lined up! Carl Venter dominated the class from start to finish with Open Class FTD and the eventual win from Adrian Bagley and Duncan Greer.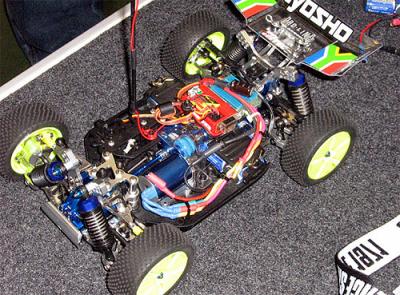 1st – Carl Venter – Kyosho Mini Inferno
2nd – Adrian Bagley – Kyosho Mini Inferno
3rd – Duncan Greer – Kyosho Mini Inferno
Pro-Stock
With 4 heats Pro-Stock was the most popular class by far. Multi UK Micro Challenge winner Chris Hudson was in attendance, as was UK Micro Challenge 3 winner Steve Davis, CML's very own Wes Myles, Hereford Hotrod legend Chris Bottle, UK Micro Challenge 3 Brushless winner Stuart Harlow and UK-MicroRC's Cris Oxley.
Round 1 FTD was taken by a hugely surprised Cris Oxley (15laps/5m15secs) who had entered the meeting hoping for at least a B final win! In round 4 Stu put on a faultless show of driving to take FTD with a time of 15laps/5m3secs in front of Wes Myles (15laps/5m8secs) and Steve Davis (15laps/5m9secs).
After a 12 year break from racing, and with only 2 meetings at the very popular Weston-Super-Mare W.O.R.M club under his belt, Jamie Curtis fended off a strong challenge from Rob Chalmers to claim the B final win. Mark Dicks came home in 3rd place after starting 6th on the grid, with the top 3 separated by only 6 seconds!
With lap times tumbling throughout the day the Pro-Stock A final was the one to watch. After the tone Stu Harlow came out in the lead closely followed by Chris Bottle and an ever improving Chris Green. After a small mistake dropped Stu down into 3rd place Chris Bottle showed great composure and skill, for the duration of the race, to pull away from 2nd place Steve Davis. Not only was Steve trying his best to catch Chris back up for the top spot but he also had Stu breathing down his neck in 3rd! 1/8th Rallycross ace Wes Myles landed hard on the huge tabletop and managed to bend 2 shock shafts which ended his chance of fighting back for a podium position and handed 4th place to Chris Green. After getting tangled in the first corner crash Cris Oxley finished 6th overall, his best result to date and one he hopes will help him out at the upcoming BRCA Micro National Series that starts on September 9th.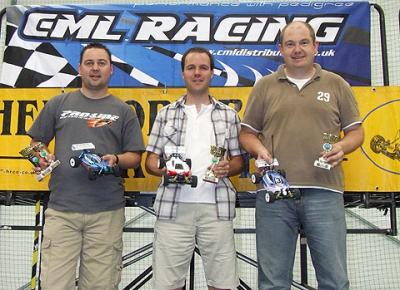 The event was a huge success and proved beyond doubt that the UK off-road micro racing scene can be as entertaining to watch as any other off-road scale!
With cars ranging from 'out of the box' standard to pure bred racer the micro scene welcomes drivers of all abilities and ages and is good fun to boot. All the top drivers on the day were very friendly and approachable. I saw many of the A finalists helping not only the younger kids with setup tips and advice but also helping their fellow A final racers prepare their cars ready for the finals!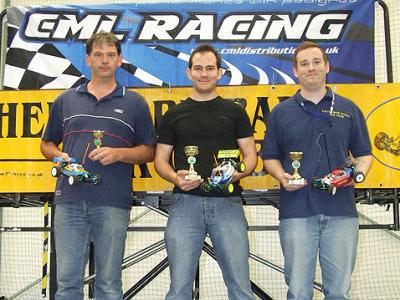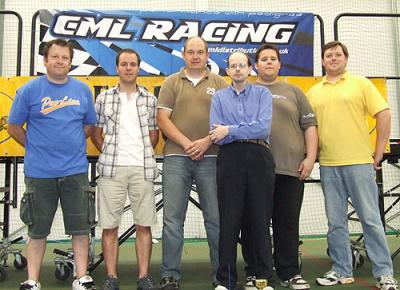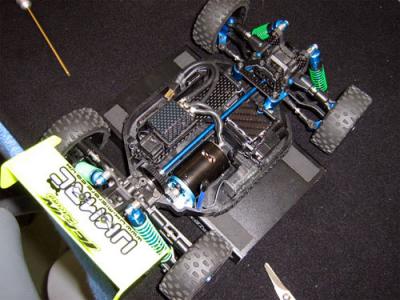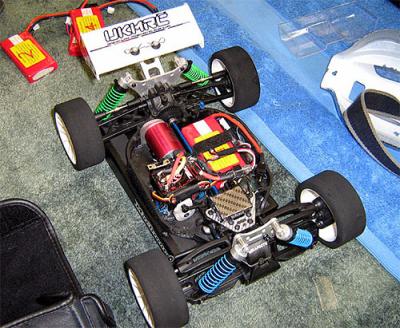 Source: UK Micro X [ukmicrox.co.uk] via CML [cmldistribution.co.uk]
---