August 10, 2007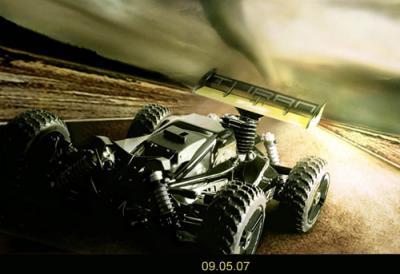 Team Magic have announced that the 5th of September will be the release date for the M1B Turbo, the replacement for their under performing M1B 1/8th scale buggy.
It's here, the revolutionary buggy just got lighter, stronger and faster. Team Magic presents to you, the M1B Turbo, features a numerous of advanced upgrades worth over US$ 300. Include the advanced front & rear gear box, bevel gears, steering block carriers, flying wing suspensions arms, ST Steel universal joints…and more. Many K Factory parts will also be included in this new kit, including the water resistant air filter, ST Steel differential outdrives, Alum. 7075 steering linkage set and the Alum. front chassis stiffener rod set. … Available Sept. 5th, 2007.
Read on…
Team Magic is proud to announce the lucky Golden Card & Sticker competition. Among all of the M1B Turbo packages, there will be one and only one lucky golden card and special M1B Turbo Sticker set in gold color. The winner of that card will join Team Magic's team of test drivers for Team Magic's up and coming new chassis (TBA). They will receive an exclusive, pre-production chassis for their own use. The details are secret but it certainly is a very exciting opportunity. The lucky winner please show the card and contact Team Magic right away. Please note that due to the sensitivity of this product, there will be terms and conditions assigned to this prize.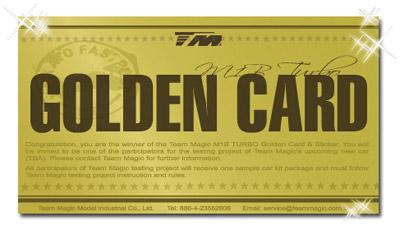 Source: Team Magic [rcview.com]
---