August 25, 2007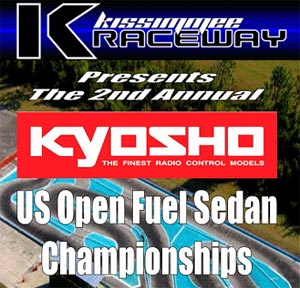 We have another announcement from our partners at the RC Pro Series, this time its to tell you that Kissimmee Raceway will host the 2nd Annual Kyosho US Fuel Sedan Championships, an event sanctioned by RC Pro, on the 26th to 28th of October. This event is open to all 200mm sedan racers and membership of RC Pro is not required.
Full details of the event can be found here…
Details of event
The event is composed of 200mm sedan class and 200mm Masters Class (40+ age)
– 200mm Sedans consists of a 200mm sedan powered by a .12 3 port engine with .75 cc tank and 4 door sedan body shell. . All IFMAR rules apply
– Rule deviations are at the sole discretion of the Race Director and will be held to a minimum and only necessary in the case of a race day dilemma.
Details of Qualifying
– The rounds of qualifying will follow the IFMAR Worlds format.
– The Separation rounds for 200mm Sedan goes as follows: The top thirty drivers in qualifying after 2 rounds, will be separated into a Factory class and racers falling in the range of 31-90 will be setup to run the Open sedan class. The next 4 rounds will establish the position of all drivers in the mains using rocket round.
– Wild card spots: The open class has 4 wild card spots. These spots are allotted for drivers who did not pre-qualify for the Factory class and through qualifying in the open class have a possibility of racing in the Factory semi-finals. The guidelines for a wild card spot to bump-up into the Factory semi-finals are as follows: The time of the wild card spot has to be faster than the time of a driver qualifying in the Factory class bumping out the slowest racer in the factory class down to the Open class spot of the wild card. The wild card spot can only bump-up as high as the A and B Semi finals.
– The Qualifying rounds will be a minimum of 4 rounds with a maximum of 6 rounds used to position drivers using fastest round for the IFMAR Christmas tree mains. The standings will be decided by rocket-round (time based). There will be a re-sort after Friday's qualifying to establish the next day's racing order.
– The six fastest drivers of each class automatically make it into the final. The following 6 racers to make up the Final come from each of the two semi-finals.
Finals
– IFMAR rules will be used and the Christmas tree finals will be the format.
– The fastest 6 drivers automatically make the final and the remaining 6 drivers will race in the 2 semi's (3 bump from each semi) to participate in the final.
Trophies
– All A-main Factory and Open class participants will receive trophies
– Top qualifiers for each class will also receive an award
– Top three open class drivers will receive RRR Kits and Motors
Event Schedule
K Raceway will also host a Florida gas state race the weekend before on October 20-21. Check out the details on www.forgass.com
Wed. Oct. 24th – Open practice
Thurs. Oct. 25th – Open practice
Friday Oct. 26th – Morning practice – 2 separation rounds – 2 rounds of qualifying
Sat. Oct. 27th – 4 rounds of qualifying
Sun. Oct. 28th – Mains – Christmas Tree Format
Source: RC Pro Series [rcprosites.com]
---