September 7, 2007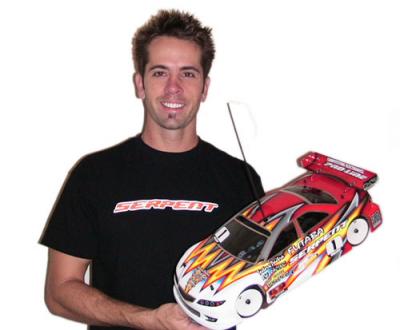 Following on from their announcement last week that they would re-enter off road racing again Serpent have anounced top American racer Billy Easton will join their R&D and race team. Easton joins fellow American Jeff Cuffs and young German Jörn Neumann will each play a big role in the Dutch companies future plans.
Read full Serpent release on Easton signing…
Billy Easton has joined Serpent. The top class electric racer joins as product-developer/engineer and will also compete for the Dutch company as a team/test-driver. He will be involved mainly in the Serpent 1/10 electric car on and offroad projects, but will also be part of the 1/8 offroad plans.

Billy, who has raced for the likes of AE and Yokomo, will share the vast experience from his long racing career with the Serpent R&D team. Being based in the USA, Billy will be the perfect source for information on how to develop Serpent products more towards the American market. He will cooperate with Gerd Strenge on the offroad projects and also with the Holland based engineers on the 1/10 onroad cars.

Billy will take part in all the major on and offroad races in the US and beyond. With the WC 1/8 offroad taking place in the USA in 2008 we are excited to have such a famous driver joining our team. Next week Billy will race the Serpent 1/10 4wd prototype offroad car at the World in Japan together with his team-mate Jörn Neumann.
Source: Serpent [serpent.com]
---