September 26, 2007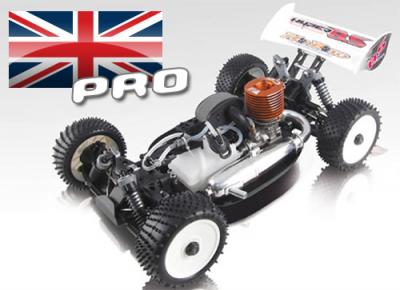 CML Distribution in the UK have introduced the new Hyper 8.5 Pro UK competition 1/8th scale buggy. This new special version brings the European Championship winning Hyper 8.5 together with additional optional set-up accessories all inside one box. This version is centred around the UK's mix of grass, dirt, astro style tracks that all differ considerably from those around the world. The optional FR2 chassis is standard with an additional 2mm extra length at both the front and rear for improved handling, jumping and general driveabilty. Larger, big bore shocks result in more constant and less oil changes during hard long finals. All 5 optional roll-bars are included, along with CNC aluminium suspension arm holders, servo horn, engine/chassis brace, lightweight wheel hubs and wheel dust proof nuts.
Click here to read more…
The clutch area is further improved with the use of lightweight machined clutch bell, flywheel and CNC aluminium clutch shoes. the virtual bomb proof Spider diffs are exclusively included for the UK as well as new racing dish wheels and the only tyre for grass racing, Angle Spikes.
Features
– 6-Gear Spider Diffs
– FR2 Extended Main Chassis
– FR2 Extended Chassis & Engine Brace
– CNC Aluminium 43mm Engine Mounts
– CNC Aluminium Arm Holders Front & Rear
– CNC Aluminium Servo Arm
– CNC Aluminium Lightweight Wheel Hubs
– CNC Aluminium Dust Proof Wheel Nuts
– CNC Hard Aluminum Big Bore Shocks
– CNC Aluminium Clutch Shoes
– CNC Aluminium Lightweight Flywheel
– Machined Lightweight Clutchbell
– Titanium Turnbuckles
– Airfilter Support
– All 5 Available Anti-Roll Bars
– Dished Racing Wheels
– Angle Spike Tyres
Source: CML [cmldistribution.co.uk]
---