November 14, 2007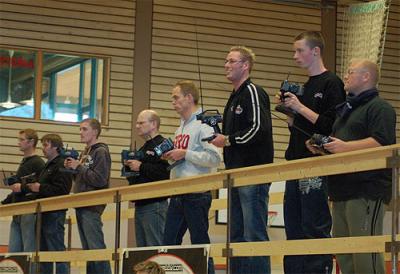 We received reports from both the 1st and 2nd round of the Danish DRCMU indoor championships held in Tinglev and Fakse. Round 1 was held in Tinglev near the German border and a few German racers were competing at the event. The drivers were greeted with a high speed track with a very good flow, and many drivers liked it a lot.
In the 27T Stock class was Frederik Larsen and Brian Lage pushing hard from the start of the race and was followed up by female racer Emma Lundgren, in the three A-mains Brian Lage was very stable and fast and could win the race ahead of Frederik Larsen and Emma Lundgreen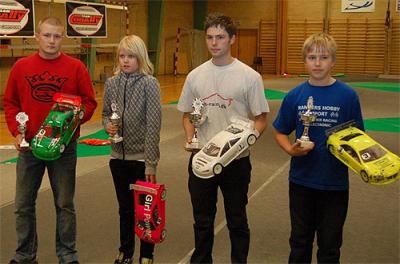 1. Brian Lage – Yokomo
2. Frederik Larsen – Schumacher
3. Emma Lundgreen – Yokomo
In the SuperStock 19T is was the Corally drivers that were fastest, local racer Rasmus Callesen and Mike Hansen were very fast on their homeground and the Yokomo driver Nicolai Nielsen right behind them. Rasmus won both the 1st and 2nd A-main with Mike Hansen in 2nd position and Nicolai Nielsen in 3rd spot, Mike Hansen was winning the third A-main after Rasmus made and error that let Mike past.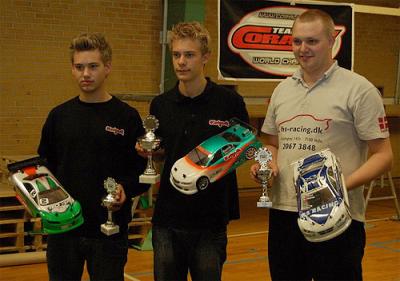 1. Rasmus Callesen – Corally
2. Mike Hansen – Corally
3. Nicolai Nielsen – Yokomo
In the modified class it was again a Corally driver the was the man to beat, Jonas Kaerup was in his own class this weekend, Johnni Andersen was battling hard to follow but there was nothing he could do and he came home 2nd in front of Palle Hornum in 3rd position.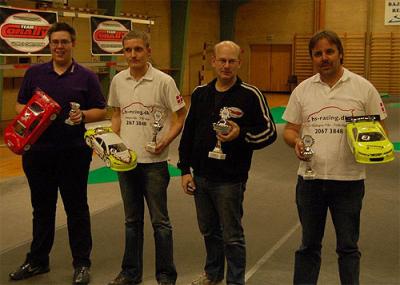 1. Jonas Kaerup – Corally
2. Johnni Andersen – Yokomo
3. Palle Hornum – Xray
Round 2 was located in Fakse about 75 kilometers from Copenhagen, the track for this event was very twisty with many low speed corners and chicanes, which gave a lot of troubles for many of the drivers and in morning practice rounds the grip was very poor, so a good set-up was hard to find.
In the 27T class there was not so many racers in attendance but again it was Brian Lages who was looking good and he could take Pole Position after the second round followed by Emma Lundgreen and Jesper Rasmussen.
In A-finals it was Brian again in good shape and he could win the three A-finals in the front of Emma and Jesper, in the third final Jesper had a very good run and pushing Brian very hard in the end of final and they was split by 0,03 second at the finish line.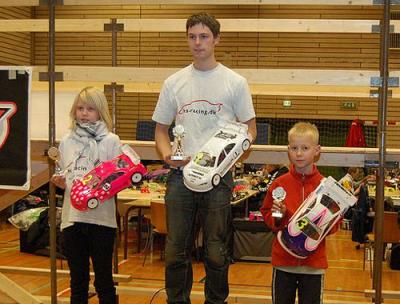 1. Brian Lage – Yokomo
2. Emma Lundgreen – Yokomo
3. Jesper Rasmussen – Schumacher
In SuperStock 19T qualifying it was Nicolai Nielsen that was the man to beat on his homeground with Schumacher Cup winner Mike Hansen very fast and close to Nicolai, the HB driver Jesper Hoyer could again find himself in top three after qualifying. The big loser in qualifying however was Soren Jeppesen, a very poor performance found him in the B-final, not a result was he has expecting.
In the first final leg Mike Hansen was able to put a pressure on the polesitter Nicolai Nielsen and could pass when Nicolai hit a barrier gifting Mike the first leg win. Second leg saw Nicolai back in front and he could take a lights to flag victory with Mike right behind his rear spoiler in 2nd. The 3rd A-final saw Nicolai and Mike once more battling very hard and Mike was able to push very hard on Nicolai with what seemed to be a quicker car, Mike was eventually able to get passed Nicolai and take his Corally to the victory and overall win followed by Nicolai Nielsen and Jesper Hoyer.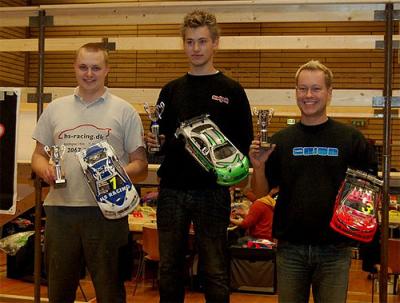 1. Mike Hansen – Corally
2. Nicolai Nielsen – Yokomo
3. Jesper Hoyer – HotBodies
Jonas Kaerup was again in his own class in the Modified class and winning the A-finals , he was followed up by Johnni Andersen and Emil Rath.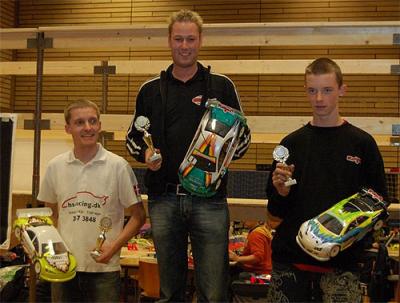 1. Jonas Kaerup – Corally
2. Johnni Andersen – Yokomo
3. Emil Rath – Corally
Source: Race Gallery [racegallery.dk]
---