November 5, 2007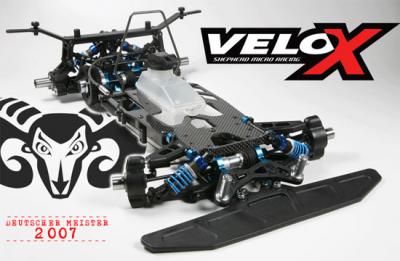 As we have published several times before, including an in depth report from the World Championships in Argentina, Shepherd Micro Racing will release their latest 1/8th scale, the Velox, very soon.
After an extensive test stage Shepherd are proud to offer a sophisticated and well-engineered product soon. It was always important for us to develop a model that suits both the hobby driver and the pure competition racer. The potential of this car has already been on both a national and international setting with a 3rd and a 4th place obtained by Robert Pietsch at this years Lostallo and Grenoble EFRA GPs. Also at the European Championship in Lostallo Robert just missed out on the final with an 11th place, while at the World Championship in Cordoba he also just missed the final, placing 15th overall due to being bumped from the track while in third position in his semi-final. The biggest success so far however has been the victory of Robert Pietsch and the 6th place of Patrick Schäfer at the 2007 German 1/8th scale National Championships.
Continue reading about the Velox…
All the parts are optimized for racing conditions although the handling is also very easy for beginners. The combination of aluminium bulkheads and plastic wishbones and uprights provides a strong but also nice looking model with good handling and many set-up possibilities.

Some features of the kit are:
– Blue anodised bulkheads made of 7075 T6 aluminium
– Easy to adjust roll centre in the front and the rear
– Easy to adjust ackermann at the front servo saver
– Adjustable servo saver position to compensate changes at the wheelbase
– New direct-V-brake system directly on the rear solid axle
– Tweak-free symmetric slim chassis
– New fuel-tank cap for a more constant pressure
– Wheel axle prepared for optional wheel nuts
Source: Shepherd [team-shepherd.com]
---