December 2, 2007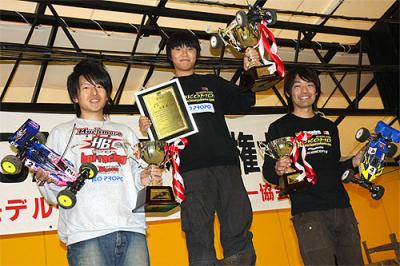 This weekend saw the indoor Yatabe Arena once more play host to the Japanese Nationals, this time for electric off road buggies, with the event open to both 2wd and 4wd classes. In 4wd it was Yokomo racer, and current 12th scale National Champion, Naoto Matsukura that took the TQ spot ahead of current 2wd World Champion Hayato Matsuzaki, racing for Hot Bodies in 2nd and Shin Adachi for Kyosho in 3rd. In 2wd qualifying it was Hiroshi Suzuki that took pole position in front of Akira Suzuki in 2nd and Hayato Matsuzaki in 3rd. The 4wd final saw complete domination for the young Matsukura who took wins in the first 2 finals, the second final seeing a winning margin of 12 seconds, to take the overall title ahead of Hayato Matsuzaki, who won the 3rd final, while Yokomo racer Hiroshi Suzuki took 3rd. In the 2wd finals Yokomo team driver Hiroshi Suzuki took 2 clear wins in the first 2 finals to secure his 2wd title, ahead of Tamiya racer Satoshi Maezumi in 2nd, who took the last final win, while Hayato Matsuzaki wrapped up a great day with 3rd overall.
Click here for the 2wd podium picture…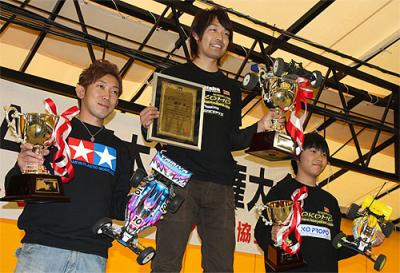 The final results (in Japanese) can be found here.
Source: Mirage [y-trail.de-blog.jp/maruyo]
---