February 24, 2008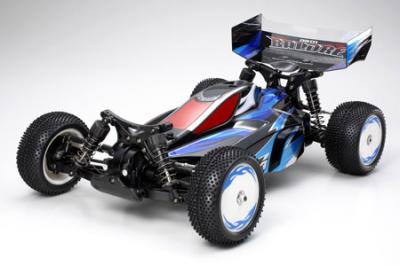 Following the recent successful launch of the DB01 chassis buggy Durga, the designers at Tamiya are now preparing the 2nd release called Baldre, which is pronounced as "Baldur" as in the diety in Norse mythology. While the body parts set was previously introduced, Tamiya now officially announce the complete assembly kit. With fully-enclosed twin belt drivetrain and other innovations developed from the race-proven TRF501X, this buggy puts TRF racing features in the hands of everyday racers.
Click more to see the cars features…
Features:
– All-new DB01 chassis locates heavy components such as battery and motor near the center for optimum weight distribution.
– Race-proven and reliable 2-belt driven 4WD system features equal-length drive belts and is completely enclosed with ABS resin covers to prevent dirt and debris from interfering with drivetrain operations.
– Chassis features integrated bulkheads, which reduces the number of parts and simplifies maintenance.
– Tough ABS resin 4-wheel double wishbone suspension system features the same configuration as the race-proven TRF501X and provides a wide range of settings options.
– Full ball bearings to reduce friction loss for enhanced efficiency.
– New buggy body with rear wing is made from lightweight polycarbonate material.
– Wheels, tires, and Type 540 motor are included.
– 2-channel transmitter, ESC, running battery & charger are separately required.
Requires:
– Radio: 2-Channel with servo(s)
– Battery: 6-cell flat with standard Tamiya connector
– Charger: AC/DC timed or peak for 6-cell battery
– Paint: PS for Polycarbonate/TS for ABS
– Misc. Items: Building and track equipment
Source: Tamiya USA [tamiyausa.com]
---