February 8, 2008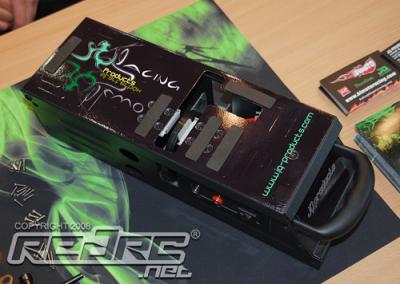 JQ Products is present at the Himoto stand and Joseph Quagraine is on hand to tell everyone about his new project and the new products already developed. The main current product is the new starter box that has a convention shape and design, but the unique part is the alignment of the car on the top plate. Using 2 adjustable plates coming out of the starter wheel area of the box, these can be adjusted to clamp the outer edge of the flywheel hole on the chassis plate. This aligns it, while the use of foam/rubber pads on the on the plate stop it from moving around. I have tried it and it really seems to work, finding the proper alignment easily.
Read more…
Also new from JQ products, is a new line of gold anodised machined aluminum parts for the Hobao Hyper 8.5. Included is a front and rear shock tower, lower suspension brackets and a number of other parts. Finally on the stand from JQ is a new conventionally designed glow plug spanner with his new branding.
View more images in our gallery.
---