April 6, 2008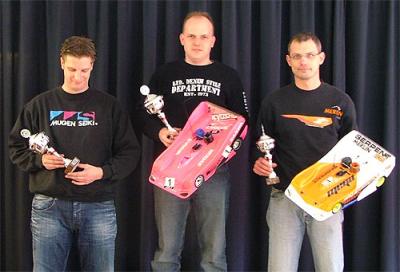 The first round of the Dutch 1/8th scale Nationals took place today at the AMCA track in Apeldoorn under dry but cold conditions. Qualifying for the NK class saw the pole position go to Kyosho racer Ilia van Gastel, nearly 3 seconds in front of Mugen racer Rick V in 2nd, while in the Nomac class it was Jordy Blok clear out in front with Jeroen Janken in 2nd. The NK class final was won by pole man van Gastel, while Rick maintained his 2nd position from qualifying with Serpent racer Danny Leewis bringing his car home in 3rd. The Nomac class final was again a repeat of the qualifying positions with Jordy Blok winning from the pole in front of Stefan Koenders in 2nd, moving ahead of 2nd placed qualifier Jeroen Janken who finished 3rd.
Click more for the final results…
NK Class results
1. Ilja van Gastel
2. Rick Vrielinck
3. Danny Leewis
4. Daniel van der Drift
5. Marcel Schjouten
6. Joey Sorber
7. Rik Veenma
8. Luigi Pili
9. Maurice van IJssel
10. John Ermen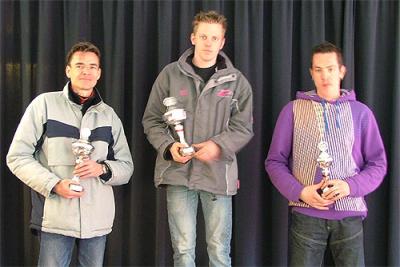 Nomac Cup
1. Jordy Blok
2. Stefan Koenders
3. Jeroen Janken
4. Martin Zevenhoven
5. Roelof Tooms
6. Dennis van Lammeren
7. Ronald van den Bergh
8. Peter van Marion
9. Michel Nijman
10. Dick Doorn
Thanks to Roelof Tooms for the news.
Source: AMCA [amcaracing.nl]
---