August 20, 2008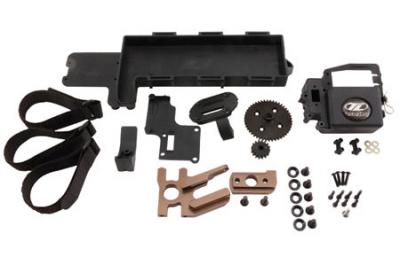 Electric-oriented modelers eager to drive Losi's renowned 8ight or 8ight-T are going to love this new Electric Conversion Hardware Kit . The kit converts the nitro-powered 8ight family of products into an electric-powered ride. The hardware kit includes a molded battery tray and straps for up to a 5 cell LiPo pack, radio tray, aluminum motor mount, 2 pinion gears (1 for buggy, 1 for truggy), spur gear and all screws and washers needed to mount the components to the chassis. Also released from Losi is their new 1/8-scale 1700Kv Xcelorin Sensorless Motor and Electronic Speed Control Combo will convert any 8ight-based race or RTR vehicle into an electric vehicle.
Click here to read more about this system…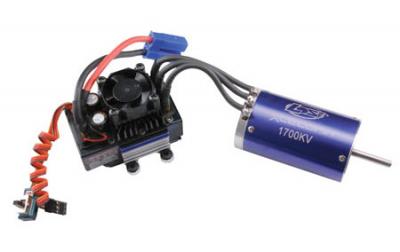 1/8 Sensorless Motor – The powerful 720-sized Xcelorin Sensorless brushless motor offers performance designed features like a sintered neodymium rotor, precision motor ball bearings, and is virtually maintenance free.
1/8 Sensorless ESC – The feature packed Xcelorin Sensorless Electronic Speed Control features a high-speed cooling fan, pre-wired Losi EC5 power connector, accommodates a 3-5 cell LiPo battery pack, forward/brake with reverse or forward/brake settings, two preset drive profiles with unlimited potential with a PC and much more. The ESC also includes a Quick Programming Card, which allows adjustments to the ESC without the need for a computer, and included three pre-programmed profiles for convenience.
Features
– Powerful, 720-sized brushless motor
– No motor maintenance required
– Precision motor ball bearings for smoother operation
– Sintered Neodymium rotor
– Longer run times
– 150A continuous current with 720A peak
– Prewired Losi EC5 power connector
– Accommodates up to a 5-cell LiPo battery pack
– High-speed cooling fan for lower running temperatures and protection
– Optimized for Spektrum or legacy radio systems
– Adjustable low-voltage cutoff to protect your battery investment
– Forward/Brake with Reverse or Forward/Brake settings
– Forward and reverse throttle limiting available
– Four LEDs to indicate functions
– Two preset drive profiles with unlimited potential with a PC
– Quick Programming Card allows adjustments to the ESC without the need for a computer
– Includes three pre-programmed profiles for convenience
– PC setup software CD included for complete configuration of profiles
– Software interface allows for unlimited profile settings and tuning
– Adjust brake and throttle curve settings with the simple-to-use graphical interface software
Source: Losi [losi.com]
---