December 1, 2008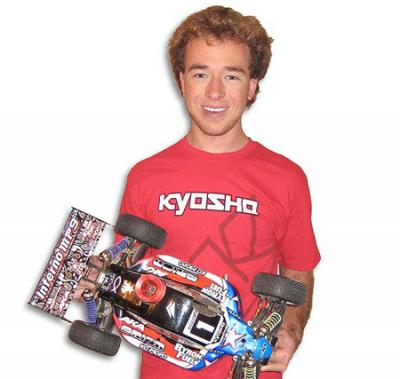 After a three-year hiatus, Jared Tebo who left O'Donnell earlier this year, is returning to Team Kyosho. Tebo will be running all off-road classes for Kyosho, including 1/8 buggy and truggy, 1/10 2WD buggy, 4WD buggy and 1/10 electric truck. He will also be running AKA Tires, Team Orion motors, batteries and electronics, KO Propo radio gear, and Byron's fuel. Tebo achieved great success during his previous tour with Kyosho, winning most of the major 1/8 off-road races for nearly two seasons. His dossier includes an IFMAR off-road World Championship title, seven ROAR National Championships, and some 16 other championships at national-level events.
Click more to read what Jared has to say about the deal…
When asked for his thoughts about re-joining Kyosho, Jared said the following:
Thanks to all members of Kyosho Japan and Kyosho America for making this new opportunity possible – I have raced for Team Kyosho in the past and had great success. Now I am very pleased to be returning to the team and to regain the racing strength I had before. I will be racing all Kyosho vehicles this time, 1/8 nitro off-road and 1/10 electric off-road. I am looking forward to working close with the company and team to have great success for all. I think a great team and good people are essential to winning races and gaining support of the racing community. With Teammates like Mark Pavidis and Cody King; Guidance from Gil Losi Jr.; and Team support from Joe Pillars we are going to be a great team. I am very proud to be a part of this and look forward to many great years and building a great relationship with Kyosho. I have a lot of racing left in me and can't wait to start a new chapter in my career. See you all very soon. Thanks again to all that made this possible!

Jared also added the following regarding AKA and Team Orion: "I will also be joining AKA and Team Orion. I think that AKA is really turning heads in our industry with new designs and great ideas. The more I have looked at their tires, the more I am excited to go racing. Working with Mark Pavidis, Joel Johnson, and Gil Losi Jr. will be great. The grip and feel of the tires is very good and like nothing I have had before.

My Kyosho cars will be powered by Team Orion. On the electric side I will have Team Orion Lipo batteries and Team Orion Brushless motors. I love the feel of the motors and look forward to many great races. My first race with Team Orion was a victory at the 2008 Truck Race of Champions. My 1/8 nitro cars I will be running Team Orion CRF engines. The CRF was very impressive and had a great feel around the track. I feel that I have all my ducks in a row and have been given a chance in a lifetime to really elevate my racing to that next level.
Kyosho is very happy to have such a seasoned and skilled veteran back on the team, which will showcase the quality and performance of its products, and also help the rest of its US-based team to improve by learning from someone with such vast international racing experience and success. Jared is also a class act and a good person, which is exactly the type of person it desires to represent its products and Kyosho looks forward to many years of success and a long-term relationship that will help its goal to continuously improve the quality, performance and value of Kyosho products.
---