December 25, 2008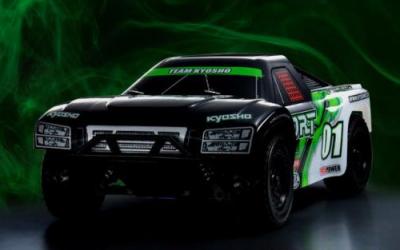 Kyosho have released their entry into the CORR series class with the introduction of the new 1/10th scale DRT, Desert Race Truck. The latest spec .18 powered race truck brings home the goods in this new era of off-road action, with the advanced chassis design promising real racing performance while superior handling allows it to be easy to drive. The stable stance lets you power through the dirt even on blown out 1/8th buggy tracks and takes on big jumps without missing a beat. Under the advanced engineered body is an optimized chassis layout with the DRT sharing many of its parts, option parts and performance with the DBX and DST. Kyosho knows what you want and so the DRT comes fully assembled and ready to hit the dirt.
Click more to see the feature list…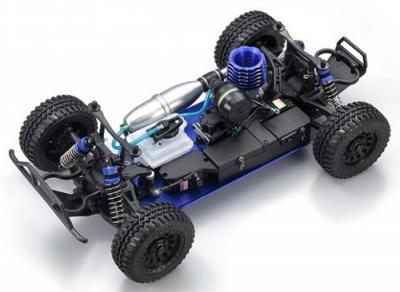 GXR .18
New GXR .18 now delivers monster torque and power with Kyosho?s proven reliability.
Massive 105cc Fuel Tank
Includes newly designed 105cc fuel tank to supply the large 18-size engine. Delivers stable fuel supply even under severe driving conditions. Can deliver run times of more than 10 minutes.
Compatibility
80% of DST/DBX parts and option parts are compatible with the DRT.
No Guess Work
Lower suspension arms are both the same front and rear, this takes out all the guess work with part numbers.
Fully Interchangeable
Front / rear and left / right suspension arms, front / rear knuckles and front / rear shock stays are all interchangeable. Newly designed suspension with maintenance-friendly ball connect system.
Dirt Proof Radio Box
Dirt-proof radio box protects the receiver and battery box from the outside elements. It can be attached or removed from the chassis with just four screws for easy maintenance.
Fully Digital Servos
A new two-channel radio is included with the GT2. The radio features throttle and steering trim adjustments, dual-rate to simultaneously increase or reduce left and right steering travel, and servo reversing switches for both channels. The servos are the digital variety for superior response.
Shaft Drive
The drive shafts run through the center for chassis to give you better lower CG and optimum weight balance.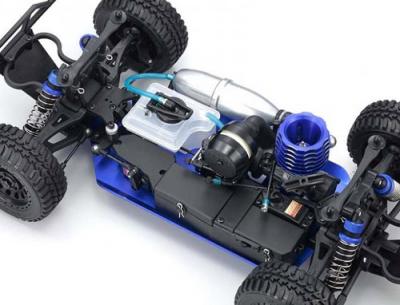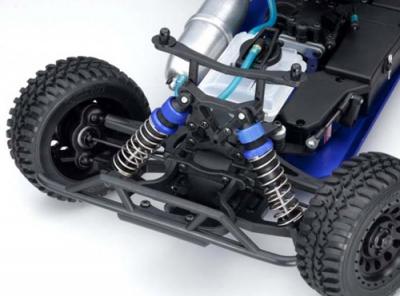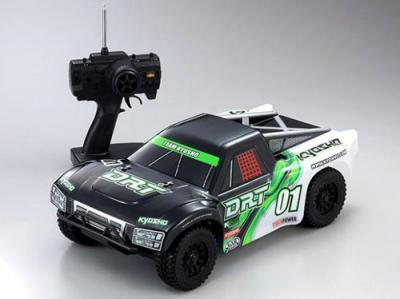 Source: Kyosho [kyoshoamerica.com]
---