January 28, 2009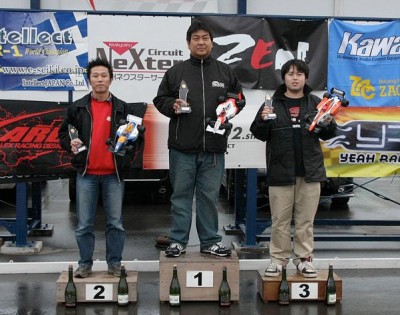 Formula 1 racing is big again in Japan and so top Japanese racer Hideo Kitizawa organised a 10 round Championship for the class called F1 RCGP. The first round took place last weekend at the Nexter Circuit in Fukuoka and the drivers were greeted with snow, which actually prevented a lot of the racers getting to the track so instead of the 68 racers that had booked in, only 37 made it to the circuit. The series open to 2 classes, one with Mabuchi 540 (F1) motors and one with 30T motors (F1 GP), wile both classes use the control Zen F1 foam tire. Qualifying was held over 4 minute runs with the finals made up of 8 minutes and only the F1 GP class would be counting towards the final standings, with 5 from the 10 rounds counting. In the F1GP class it was Daiyu Kobayashi, who started from 2nd on the grid, who managed to cope with the wet conditions best to beat the pole man, and former Japanese 1:10 2wd buggy champion, Shinya Kimura to become the winner of the 1st round of the F1 RCGP race. Shimonabe Jyunichi took 2nd while Shinya Kimura dropped back to third by the end of the race.
F1 GP Class
1. Kobayashi Daiyu (Tamiya/PRO2.stn)
2. Shimonabe Jyunichi (Kyosho/TEAM-48)
3. Kimura Shinya (Tamiya/Futaba F-1 Racing)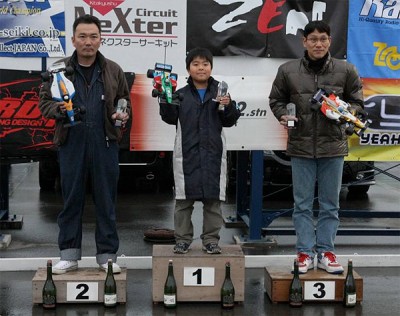 In the F1 class using the Mabuchi motors, it was some impressive driving from young Ryusuke Yamamoto who came from behind in the final to beat all the adults to take the win. Shou Matsuhura took 2nd spot in front of Shintarou Motokawa in 3rd.
F1 Class
1. Yamamoto Ryosuke (Tamiya)
2. Matsuhara Shou (Tamiya)
3. Motokawa Shintarou (Tech)
Source: F1 RCGP [www2.odn.ne.jp]
---