January 12, 2009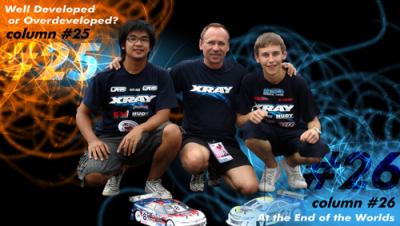 The 25th and 26th installment in the Xray column from Xray owner and chief designer Juraj Hudy is now online. In this months column, Juraj talks about the development of their touring car platform as well as their recent trip to Thailand for the on road Worlds.
At the last minute we decided to participate at the 1/12 Worlds which meant we needed to push development and production to the limit. The final pre-production car was tested at our factory tracks as well as at private sessions in Bangkok just before the Worlds. After the final design changes and final tuning of small details, we produced the team kits some of which were shipped directly to the drivers but due the time pressure some of the drivers got their first car at the Worlds.
Read the full column here.
Source: Xray [teamxray.com]
---