February 26, 2009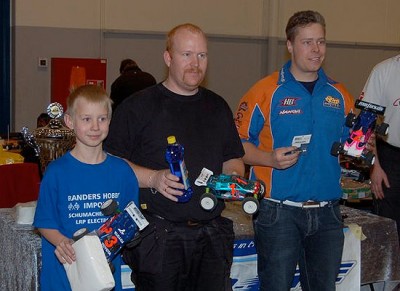 We received a report from the Proline Cup which took place last weekend in Vejle, Denmark, the first time in many years there was a buggy race held indoors at a sports centre. There was 5 classes in total 1/18, Monster Trucks, Stock/beginners Starter, 2WD and 4WD. The track was a combination of carpet and smooth cement floor which took the competitors a little while to get used to, but was a fun challenge and the jump was built in wood and was a little squared and not quite natural, but worked well without crashing the cars.
In 1/18, local Ronny Andersen running pretty well in both qualifying and finals.
1/18th finals results
1. Ronny Andersen
2. Rene Jespersen
3. Jesper Rasmussen
4. Christian Williams
The Stock/Beginner class had Jesper Jakobsen from Odense RC Mini Race his Off-Road debut and was the fastest from the start with his new Tamiya Durka which is a cheaper version of 501X which Sebastian Sørensen is running, he tried everything he could to hang on Jesper, but he was fastest on the day. Jacob Jeffers took the third place ahead of Monique Williams.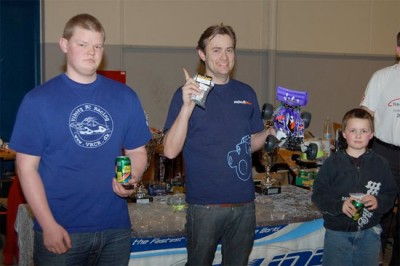 Stock final results
1. Jesper Jacobsen
2. Sebastian Sørensen
3. Jacob Jeffers
4. Monique Williams
2WD … Lars Alex again again again again … Lars Alex is untouchable in the 2WD class on time and again has Lars luck on his part, qualifying Lars made a mistake just before the finish line and still got the car to finish line without time-wasting, perhaps helped by God's hand! Lars wins all 3 finals in superb style in front of Thomas Mikkelsen, who was the close battle for third place between Lars Kristensen and Christer Rasmussen, Lars drew the longest straw and could take third place in the debut with his new car.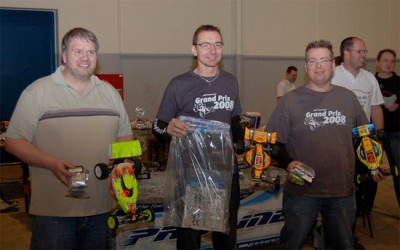 2wd final results
1. Lars Alex
2. Thomas Mikkelsen
3. Lars Kristensen
4. Christer Rasmussen
5. Pallet Hornum
6. Bo Dissing
7. Rene Jespersen
Kim Kristensen is back again in the Off-Road and he drove safely home victory in the B-finals in front of Peter Stein
In 4WD started Kim Nielsen and Ulrich Rasmussen out where they left off in the summer, Kim continued with his Losi XX4 and Ulrich has switched from Kyosho to the new Schumacher. Jan Larsen was in third spot in round one and he was also switched to Schumacher. Torben Nielsen drove some very nice laptimes and be able to start from third position in the A-finale with his new HB. Jesper Rasmussen, who won the Stock class in the summer have change classes to more competitive modified class and made the seventh best time in round one. Ulrich had trouble in the second round and must stop the car at the last lap was otherwise to secure second place in qualifying and had to retire again in the third round with a poor soldering of a solder tab and second spot in the A-finale was switched off with the start location as No 5 Jan Larsen was in 2 position in the front of Torben Nielsen and Joakim Larsen. Palle Hornum started 6's with his new Yokomo.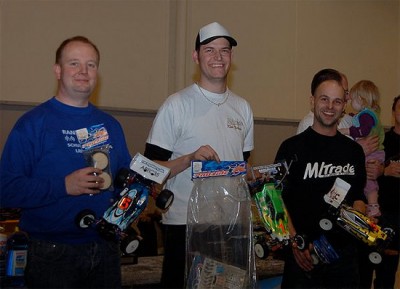 4wd final results
1. Kim Nielsen
2. Torben Nielsen
3. Ulrich Rasmussen
4. Jan Larsen
5. Pallet Hornum
6. Joakim Larsen
7. Konrad Berger
Jesper Rasmussen won the B final after the close matches between Freddy Nielsen and Christian Williams. Ove Lundsgaard won the C final.
The audience-friendly class Monster Trucks was a fun gadget where Traxxas E-Maxx and Traxxas Slash racing against each other along with a few other types of monster trucks. Ronny Andersen was again quick and Søren Jeppesen struggled with Slash'en soft chassis setup and could start from second spot followed by Lars Hansen. Soren was able to overtake Ronny in the first finals and could keep Ronny behind. Ronny could win the following two finals and could thus ensure the overall victory.
In the break between qualifying and finals was Soren Jeppesen made a Stunt show with his Traxxas Slash and a few skateboard ramps that were present in the hall was the perfect setting to create a some action. After a little cautious start, with Peter Stein as "anticipates" Soren was more courageous and the most insane Slash'en trials was very high up and was dangerously close to the ventilation pipes. See pictures they speak for themselves and although the car countries draw iron and other hard-hitting articles was only a shock absorber popping off and after a small repair could again return to the track.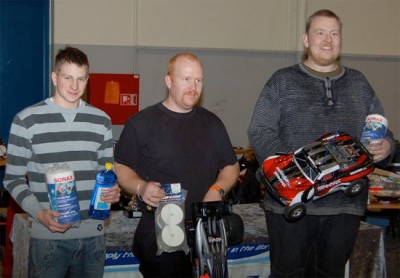 Monster Truck final results
1 Ronny Andersen
2 Søren Jeppesen
3 Lars Hansen
4 Kim Gundorph
6 Frederick Hovgaard
7 Carsten Andersen
A beautiful meeting of Vejle Minirace club well managed by Rene Hougaard and Tjørk Andersen and their helpers. The club are working on course to become a recurring event, so it's something to look forward to the next winter season.
Source: Race Gallery [racegallery.dk]
---