February 24, 2009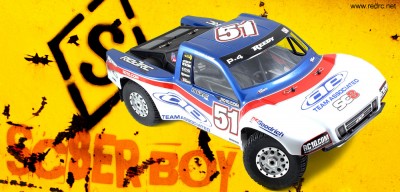 After publishing the review of Traxxas' Slash CORR racing truck last week now it's time for an even madder machine: the Team Associated SC8. Developed during 2008 at Team Associated's so called 'Area 51' and released towards the end of the year the SC8 is probably the most authentic race truck so far. Based on the Associated RC8T chassis it not only offers a very scale looking CORR truck body but also (according to Team Associated) "… scale specifications of the full-size short course race trucks. It's all there, from the scale suspension travel, to the roll-cage tube diameter, to the functional mud flaps."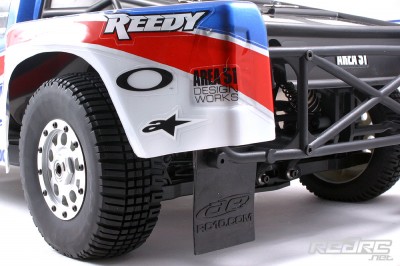 Looking at the truck they might be right but how does this affect the truck's performance on the track. Is it still a proper RC truck or just a high tech toy? We are here to find out.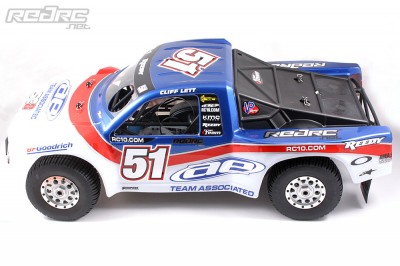 Front
Like we said, the SC8 is heavily based on AE's own RC8T truck. Looking at the front differential set-up one can notice the presence of the superb sealed spiral cut 4-gear differentials, also in the rear. They come equipped with 10k silicone oil and are housed in fully enclosed gearboxes. A nice touch are the universal CVA bones that route from the middle differential to the front and rear diff housings. They not only last long but also make for a super efficient drivetrain. Universal CVD's can also be found going from the differential to the wheels. A testament that AE only had one goal: to build the best and toughest 1/8 scale racing truck on the market.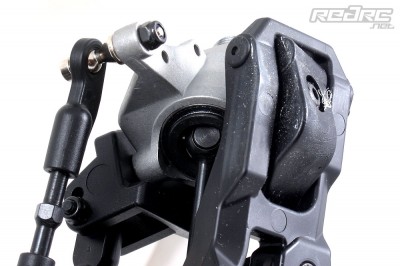 The SC8 shares many parts with the RC8 buggy and truggy like the front caster blocks with adjustable caster inserts. Out of the box the truck is equipped with 16 degree caster but a small bag supplied with the truck also includes inserts with 14 and 18 degrees of caster. In theory less caster gives the car/truck better turn in into corners while more caster makes the car more forgiving over the rough sections of the track and gives more steering on corner exit. This can further be adjusted by the three different inserts for the kick-up of the front wishbones. Additional adjustments of the suspension set-up are possible by the inserts for the upper wishbones which change the roll centre of the chassis. Unfortunately no information about the complex suspensions settings are given in the manual but you can find a very comprehensive online version on the Associated website here and here.
The main difference between the RC8T and the SC8 is the length of the wishbones. The SC8 utilizes the wishbones of the RC8 buggy. Also the 3 millimetre alloy shock tower is of a different shape although it sports integrated body posts like the RC8T ones.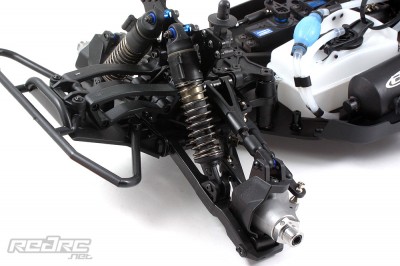 The double bellcrank steering set-up comes straight from the RC8 platform. It offers a build-in servo saver plus three different Ackermann settings in the aluminium steering rack and is of course ball raced.
---