February 4, 2009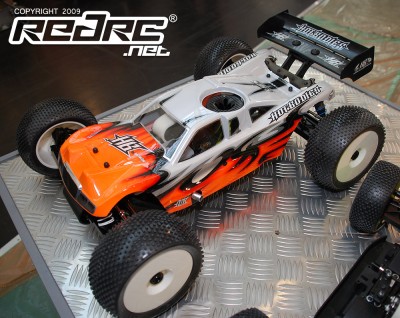 We have arrived at the annual toy fair in Nuremberg, Germany and even though it is set up day we were kindly shown around the HPI Racing/Hot Bodies stand on which we found the new, yet to be released HB D8T. This new truggy is making its debut here at the show and definitely looks the part, with an agressive looking bodyshell and forward mounted engine, staying with the trend of the current crop of cars in this class. Mounted on the D8T are new wheels the company are producing, and while they are currently mounted with Pro-Line tires we are assured that a similar line of tires are on their way under the HB brand in the next few months.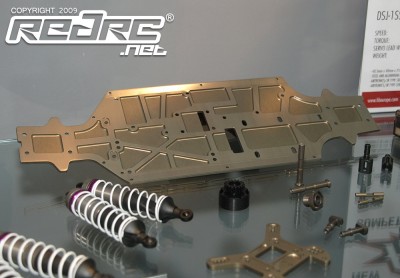 Also on the stand, close to the still dirty D8 of World Champion Atsushi Hara, are some new option parts for the car. Some we have covered before, including the lightweight transmission parts and anodised aluminium parts for other areas of the car, and some we havent such as the new machined chassis plate pictured above.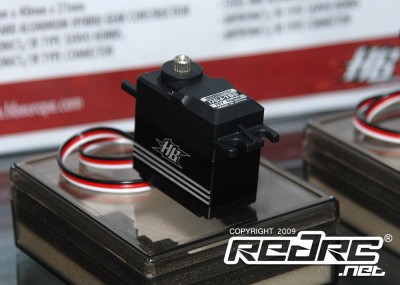 In the same cabinet we were shown, only through glass, the company's new range of competition servos (above) and 2 new bodyshells. These Moorespeed touring car bodies are still only in the prototype phase but show promise.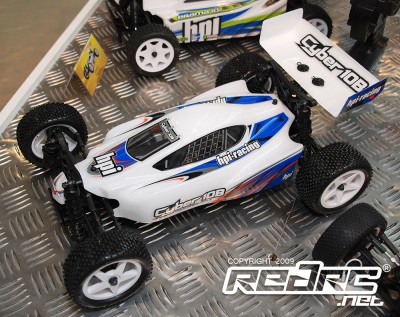 Under the HPI brand, the company is proudly showing the Cyber 10 EP buggy that just won last weekends EBOR 24 hour race, and beside it the much cleaner show car we chose to photograph. The car features a molded plastic chassis, shaft drive and space to mount a stick pack perpendicular to the centre driveshaft.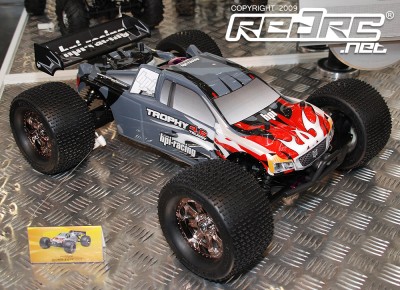 Also on display for the first time is the Trophy 4.6 truggy, following along the same lines as the Trophy 3.5, using an older chassis designed which is combined with some bling parts such as wheels and anodised parts together with a pull start engine for a great cost effective entry into this class.
Check out our image gallery embedded below.
---