March 16, 2009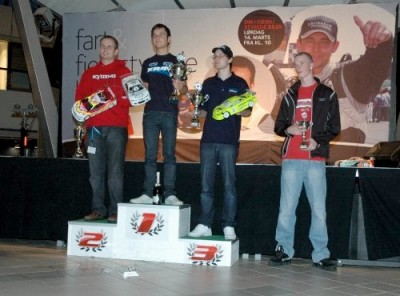 Last Saturday, Broendby Racing Club in Denmark organised the 6th round of the Danish championships, which took place in the middle of a big shopping centre, just outside Copenhagen. There were 50 drivers in attendance in both SuperStock and Modified 1:10 Touring Car Classes. The venue was right in the middle of the center, and with all the shops open, there were a lot of spectators throughout the day making it a a perfect showcase for the sport.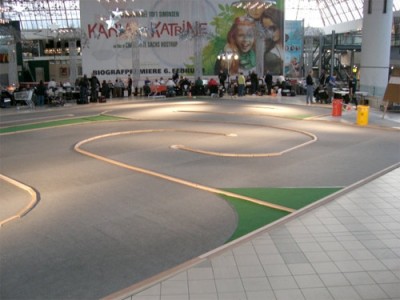 The carpet track was really good, very smooth, with an ok grip level and a nice flow, and no corner markers at all, only barriers to separate the lanes. In the modified category 3 Swedes attended, and they gave good competition to all the fast Danes. Alexander Hagberg, Niclas Nilsson and Magnus Vässmar, all with Xray cars, were all fast right from the start. The qualification was very close but no one could touch Hagberg, he was always two seconds ahead of the pack. Everyone else where fighting for tenths of a second, to make it into the A final.
Modified A final line-up
1. Alexander Hagberg
2. Magnus Vässmar
3. Steen Graversen
4. Jonas Kaerup
5. Niclas Nilsson
6. Soeren Boy Holst
7. Danni Eyde-Nielsen
8. Michael Praest
In the lunch break between qualifying and the finals, there was a celebrity race, with Danish 1:1 scale racers, who were driving with 1:10 Touring Cars. That was a lot of fun, and the audience really enjoyed it. Off course they also liked that they could get autographs after the race :0)
The finals was a close battle, but once again Hagberg was untouchable. He took the win in all 3 finals, securing the overall win, the trophy and the nice extra prizes. Second place was the Danish driver Steen Graversen, and third was another Swede, Magnus Vässmar. Steen and Magnus had some really good and clean fights during the race, a thrill to watch for the spectators.
Modified A final results
1. Alexander Hagberg – Xray
2. Steen Graversen – Kyosho
3. Magnus Vässmar – Xray
4. Jonas Kaerup – Tamiya
5. Niclas Nilsson – Xray
6. Soeren Boy Holst – Xray
7. Danni Eyde-Nielsen – Xray
8. Michael Praest – Tamiya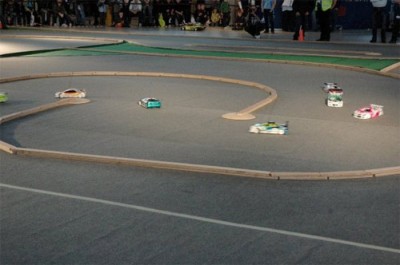 In the SuperStock category it was a close battle as well. Only Danish drivers attended in this class, but a lot of the best drivers in the class attended, and gave a good show. Carsten Madsen have been flying this season, and he could secure the TQ spot for the finals, in front of his closest rival in the championship, Michael Johnsen.
SuperStock A final line-up
1. Carsten Madsen
2. Michael Johnsen
3. Dennis Hassing
4. Nicolai Lindegaard
5. Alex Moeller
6. Caspar Morgen
7. Steven M. Olsen
8. Martin K. Soerensen
The finals were of course very close, and full of close racing. The spectators got really good value for their time, and could see how exciting the sport of Radio Controlled cars can be. Carsten and Michael won 1 final each, so everything was open until the third and deciding final. Carsten made no mistakes at all in the last final, so Michael didn't have any chance to take the win. Winner of the biggest trophy, the honor and the nice extra prize, was Carsten Madsen with his Xray T2'009.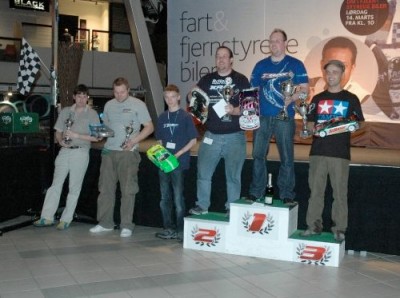 SuperStock A final results
1. Carsten Madsen – Xray
2. Michael Johnsen – Xray
3. Dennis Hassing – Tamiya
4. Alex Møller – Tamiya
5. Nicolai Lindegaard – Xray
6. Caspar Morgen – HB
7. Steven M. Olsen – Serpent
8. Martin K. Sørensen – Xray T1R
Thanks to Soeren Boy Holst for the report.
---