March 22, 2009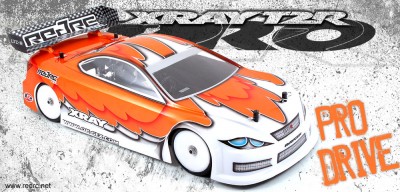 The T2R Pro is the third incarnation of Xray's successful Raycer series of budget touring cars. It's based on the T2 '008/'009 platform and combines their racing pedigree with less expensive materials like glass fibre and aluminium to form what the Slovakian company think is the ultimate budget ra(y)cer.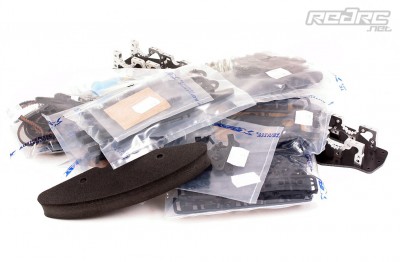 The Xray T2R Pro comes in kit form within the beautiful, as usual, Xray packaging. It not only contains the multiple bags for the rolling chassis (no wheels or tyres are supplied) but also a comprehensive manual, the very helpful Xray set-up booklet, Xray and Hudy catalogues and many more. Unfortunately our kit came without the new T2R Pro stickers – we only ran across a T1R sticker sheet. Well, anyway.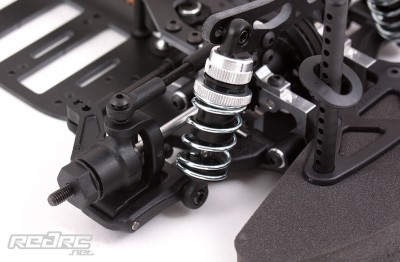 Front
When you compare the Xray T2R Pro with the current T2 '009 you will notice that actual differences between both cars are very limited. Both share the same basic set-up with hard front wishbones, medium hardness C-hubs and short oil-filled shocks. These are equipped with silver springs and offer the option of using either the fixed shock pistons we did in our T2 '009 review or the externally adjustable pistons like Xray suggest as an initial setting. As with nearly every 'sport' touring car, no anti-roll bars are supplied with the kit but that's not much of a problem as we found out during our test.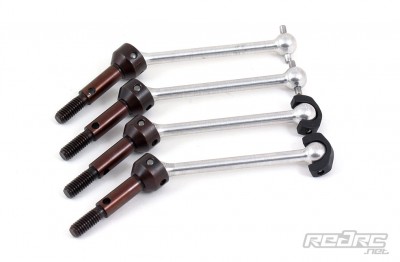 The T2R Pro shares its drivetrain layout with the '009 and therefore the 'R' is equipped with Xray's plastic solid axle/spool with 34T pulley. Different from the '009 set-up the budget racer comes with the normal weight spring steel wheels axles, not the lightened ones. You also get a pair of natural colour alloy 52 mm driveshafts.
The shock tower is made out of black 3.5 mm fibreglass and offers the same geometry as the '009 items. Turnbuckles are supplied as threaded rods but optional L/R turnbuckles are available and share their dimensions with the '009 items.
Just behind the front drive pulley Xray's unique 'Quick-Saver' servo saver and centre point steering is located. The servo saver offers five different steering Ackermann settings and can additionally be moved back and forth with the help of eccentric bushings giving a total of ten different Ackermann settings.
The simpler rods, glass fibre and aluminium parts are used to control productions costs without scarifying performance. They may not look as 'cool' or technical as the usual carbon fibre and Hudy spring steel parts but they do their job well.
---