March 31, 2009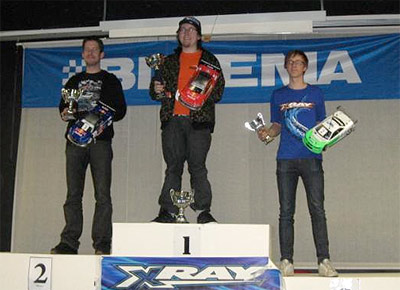 The final leg of the 2008-09 MSEC series was run in Eskilstuna last weekend, on the beautiful Outokumpu track. This was the last race to be run on the Outokumpu track since its contract had expired, it's been some great years on this excellent venue. In this deciding race it was a thrilling fight between DHI Cup Champion Tommy Bergfeldt and Edwin Sunesson from the first qualifying heat to the last final on Sunday. Tommy got the TQ spot with 0.6 seconds between him and Edwin, Kenneth Malkusson qualified 3rd, 5 seconds behind.
In the finals Edwin just locked on to Tommys rear end and kept right behind, he managed to pass after some confusion and contact with backmarkers in the first main and took home the first round with Tommy 0.2 seconds behind. In the 2nd final Tommy kept the door shut the whole 5 minutes, Edwin finished 0.5 seconds behind. So with both drivers on the same point the last final would be the deciding round, they took off and cruised away from the field fighting for the lead. There were never more than 1-2 meters between the cars in this round, Tommy could keep the door shut never giving Edwin a chance to pass. Tommy won the last final with 0.06 seconds down to Edwin which meant he's the overall winner of both the event and the 7 race Middle Swedish Electric Cup series.
The season has also been very good for the other JMI drivers, Kenneth Malkusson has had some great results giving him a very deserving second place in series and Niklas Flink just missed the podium, All 3 drivers in top 4 speaks for itself.
Top 10 Modified, 2008-2009.
1. Tommy Bergfeldt (Hot Bodies) – 246 pts
2. Kenneth Malkusson (Hot Bodies) – 240 pts
3. Edwin Sunesson (Xray) – 236 pts
4. Niklas Flink (Hot Bodies) – 223 pts
5. Thomas Ek (Xray) – 207 pts
6. Lars Hägerman (Associated)
7. Stellan Rask (Hot Bodies)
8. Mikael Hedin (Xray)
9. Gustav Back (Xray)
10. Isak Bylock (Xray)
Source: JMI Motorsport / Images: Pererik Nordman
---