April 27, 2009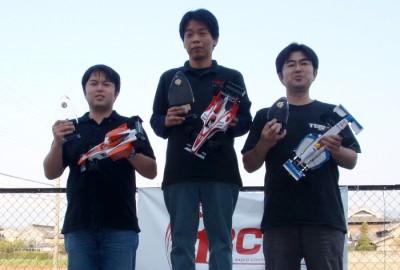 The 4th round of the Japanese F1 RCGP series was held at the RC Stadium Seiki indoor circuit recently. This indoor track allows drivers to concentrate on setting up the car without worrying on the weather conditions which had caused problems at previous rounds. For this round of the championship Japanese gas racing Champions Tadahiko and Yuya Sahashi entered the race. In the F1 GP class pole sitter Kamibayashi Hiroshi took the 1st corner and led the race followed closely by the Sahashi brothers. Tadahiko started to put pressure on the leader but was passed by brother Yuya after he made a mistake at the chicane. The tail to nose battle between Kamibayashi and the Sahashi brothers lasted for a while with Kimura Shinya sitting in 4th. Kimura waited his time and then sensationally got passed both brothers and almost managed to take the lead but for a small mistake in the last corner of the last lap. So Hirosho Kamibayashi took the win from Kimura Shinya in 2nd and Tamura Hideki in 3rd driving the brand new Tech F125.
F1 GP Class
1. Kamibayashi Hiroshi (Zen)
2. Kimura Shinya (Tamiya)
3. Tamura Hideki (Tech F125)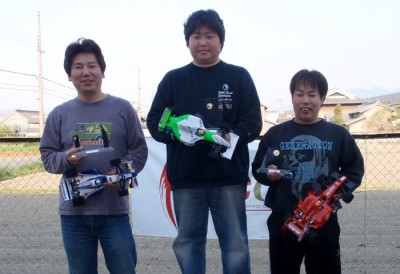 In the F1 class Nishiguchi Ryuuji took the lead after pole sitter Sawamoto Takahiro and Yamamoto Asahi, who started from 3rd, crashed together. Nishiguchi continued to lead the race but Sawamoto, who had fought back to 2nd began putting pressure on the leader and eventually took the lead after laps of nose to tail action with Nishiguchi, and then went on to win the race by almost a lap.
F1 Class
1. Sawamoto Takahiro (Tamiya)
2. Nishiguchi Ryuuji (Tamiya)
3. Satake Yoshiaki (Tamiya)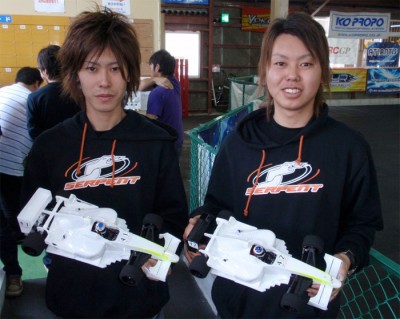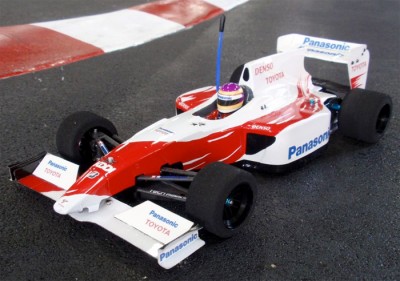 Source: F1 RCGP [www2.odn.ne.jp]
---