May 19, 2009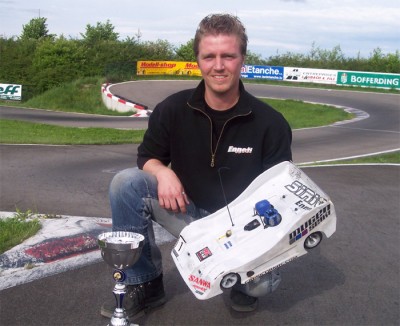 The 2nd round of the 1/8th & 1/10th IC Track Belgian National Championships took place over the weekend at the Mini circuit "Ville de Luxembourg". On Saturday during the practice the weather conditions where quite good, windy and cold but dry, but during the night there where thunderstorms so the track was wet on Sunday morning meaning a lot of drivers didn't drive the first qualifying round. In the 1/8th class it was Steven Cuypers with his Mugen/Sirio that took the pole followed by Gunther Van Staey in 2nd place, Tom Smolderen in 3rd and Daan Haling taking the last direct spot in 4th.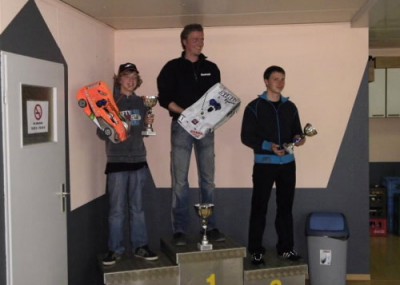 The 1/8 drivers where lucky the start the final in dry conditions and it was Steven Cuypers that take the lead from start till finish. The winner of last weekends German regionals drive the whole weekend with 16% Capricorn fuel for better fuel economy, without sacrificing much power. Steven won by 4 laps from Serpent driver Daan Haling in 2nd and Gunther Van Staey a lap further back in 3rd.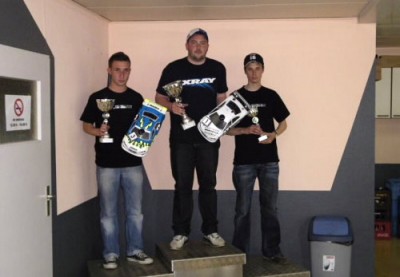 In the 1/10th scale 200mm class it was Xray racer Jerome Renaux that took the top qualifying spot frm Maxim Claes in 2nd, with Jonathan Sanza in 3rd and Marc Tebaldi 4th. In the final Jerome take the lead and look never back despite that after 15 minutes it started to rain lightly causing a lot of stress in the pits. Behind Jerome it was Jonathan Sanza that finished 2nd, 5 laps back, while Michel Tomagra rounded out the top 3 in 3rd.
Thanks for Franky Noens for the report.
---