May 6, 2009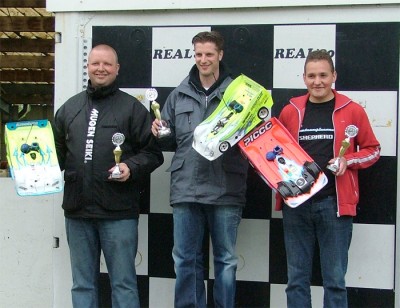 Last weekend saw the 2nd round of the Dutch championship run, this time it was on the very bumpy track of REAL80 in the far north of Holland, in Groningen. The first laps of training on Friday showed high wear on the tires but during the weekend a layer of rubber was put down which helped reduce the wear. The weather forecast was not looking good, with rain predicted n finals day and so people had to take care with the possibility of rain. On Sunday the first 2 rounds of qualification were in good weather  conditions but after wards it started to rain but during the sub finals the rain stopped and during the first main final of the day the track was drying up. In the NK class it was round 1 winner Rick V taking the pole with a stunning 22 laps in 5:16.456 followed by Jordy Block, Rik Veenma and Daniel vd Drift. In the final which took place on a dry track, it was again RickV taking the lead until the finish of the race finishing 2 laps ahead of Rik Veenma while on 3rd spot was Arie Manten.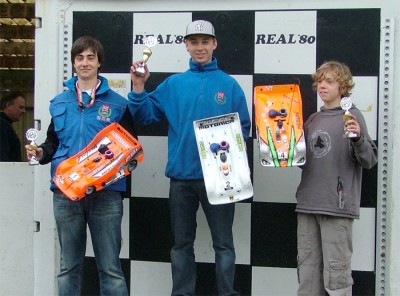 In the NOMAC class it was Robin d'Hondt taking pole with 21 laps in 5:11.8 followed by Nico Boeren, Frank Baggen and Daan Haling. The main final was the run first and so these guys had to deal with a drying track. At the end it was Nico Boeren taking the win folowed by Daan Haling and Robin d'Hondt. The next race will be on the famous MACH track in Heemstede, see you there.
Thanks to Roelof Toems for the report.
---