May 16, 2009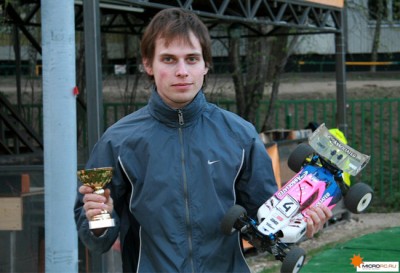 The first round of the EP Off-Road Cup took place at the MRCmodels track in Moscow at the beginning of May. With 49 drivers in attendance, this years competitions will be held over 2 days, with the 2wd buggies, including the Slash, on the first day and the 4wd classes on the 2nd day. Saturday saw competitions held in 3 classes for 2wd buggy and two classes of Slash, Sport for stock out of the box models and Pro for drivers with optional parts, motors and batteries.
The buggy 2wd races won by (TQ) Malyshko Dmitry (X-Factory X-6).
Buggy 2WD results
1. Malyshko Dmitry (TQ) (X-factory X-6 / MRCmodels / JConcepts)
2. Gribov Dmitry (Asso B4 FT)
3. Plahotnik Ilya (Team Losi XXX-CR / MRCmodels / JConcepts)
Slash Sport and Pro classes compete together and as a result it was Slash Sport driver (Emel`janenko Aleksandr) that took 1st place in qualification, but the winner is Slash Pro driver (Malyshko Vadim).
Slash Pro results
1. Malyshko Vadim (Slash / MRCmodels / JConcepts)
2. Volkov Konstantin (Slash / MRCmodels / JConcepts)
3. Blinov Aleksey (Slash)
Slash Sport results
1. Kyzaev Denis (Slash)
2. Emel`janenko Aleksandr (TQ) (Slash)
3. Eristavi Konstantin (Slash)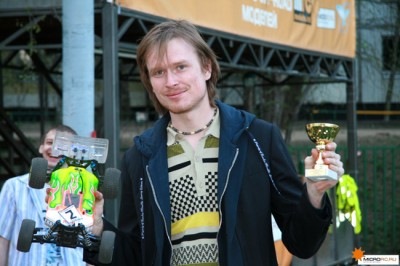 On the Sunday, the 4wd classes compete in 3 classes: stock (stock motor), super stock (19T brushed or 10.5 brushless motors) and modified (no limits). The TQ was Larkin Roman (JC BJ4 WE), but Lopukhin Artem (AE B44) was lucky to take the win in the 1st and 2nd finals and as a result won the race. Gribov Dmitry (AE B44) finished on the 2nd place and Malyshko Dmitry (Yokomo B-Max) in 3rd.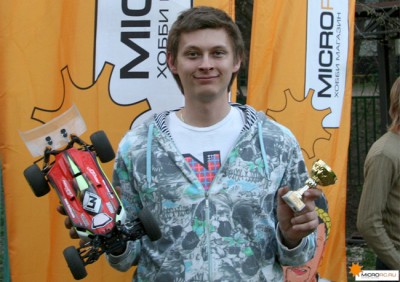 Buggy 4WD results
1. Lopukhin Artem (Asso B44)
2. Gribov Dmitry (Asso B44)
3. Malyshko Dmitry (Yokomo B-max / MRCmodels / JConcepts)
Buggy 4WD Super Stock results
1. Golyshko Aleksey (HB D4)
2. Timoshenko Evgeniy (Team Losi XXX-4G+ / MRCmodels / JConcepts)
3. Kalendjan Andrey (Tamiya Durga DB01 / MRCmodels / JConcepts)
Buggy 4WD Stock results
1. Kyzin Vasiliy (Kyosho Lazer ZX-5)
2. Timoshenko Ulia (Team Losi XXX-4G+ / MRCmodels / JConcepts)
3. Gavrilenko Nikita (Kyosho Lazer ZX-5 SP)
Source: Micro RC [microrc.ru]
---