June 29, 2009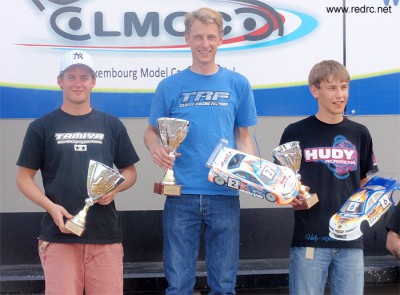 Last weekend the official Warm up race for the EP TC European Championships was held at the large and tricky Mini Circuit "Ville de Luxembourg". Following practice it was Marc Rheinard who was setting the pace, getting the only 17 Lap run seen so far on the track. In qualifying it was Viktor Wilck who would set the early pace with a fast 16 Lap run in round 1, but rain showers would ruin any chance to improve for the rest of the day despite some drivers managing some more dry running later in the afternoon. With 3 more rounds of qualifying on Sunday morning, and Marc Rheinard now absent due to a prior commitment, Viktor Wilck would take the TQ spot ahead of Jilles Groskamp and Alex Hagberg, with Wilck, Groskamp and Yannic Pruemper sharing a round win each on Sunday. The 3 leg finals would see International TC race winner Groskamp win the first leg from Hagberg in 2nd and Wilck 3rd, while in the 2nd Leg it was Wilck from Marc Fisher and Elliot Harper, to set up a show down in the final leg. Unfortunately it again started to rain and with Wilck electing not to go on track and Groskamp taking the leg win, the Dutch man would claim the overall win from Tamiya team mate Wilck in 2nd, with Elliot Harper taking 3rd for Xray. A lot of the racers will now continue to test on the track for the next few days in order to fine tune their machinery even more in preparation for the Euros at the end of July.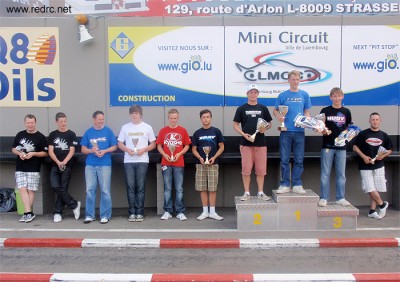 Final results
1. Groskamp Jilles (NL) –  1:1, 3:1 [2:6]
2. Wilck Viktor (SE) – 2:1, 1:3 [3:10]
3. Harper Elliott  (UK) – 3:2, 2:3 [1:7]
4. Fischer Marc (DE) – 2:2, 1:4 [3:4]
5. Hagberg Alexander (SE) – 1:2, 3:6 [2:7]
6. Krapp Christopher (DE) – 3:3, 2:5 [1:9]
7. Hofer Martin (DE) – 1:5, 3:5 [2:9]
8. Grainger Chris (UK) – 1:6, 3:7 [2:8]
9. Prümper Yannic (DE) – 2:4, 1:10 [3:10]
10. Pumpler Thomas (A) – 1:8, 3:8 [2:10]
Full results can be found here.
Thanks to Uwe Rheinard for the report and images.
---