July 9, 2009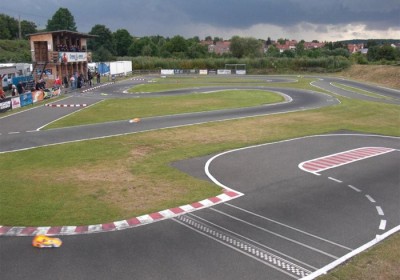 This coming weekend the German Nationals 1/8 on-road will take place at Hildesheim starting officially on Friday (heats on Saturday, finals on Sunday) with two days of free practice since Wednesday. A total of 88 drivers, 47 in class 1 and 41 in class 2, have made their entry for the one-event decision on the 260 meter track of the AMC Hildesheim located south of Hanover. Unfortunately the weather forecast isn´t the best. practice day one when already most of the drivers were present was an extreme mixture of rain and sun – when the track had tried up already and the first cars went out for some laps rain came back.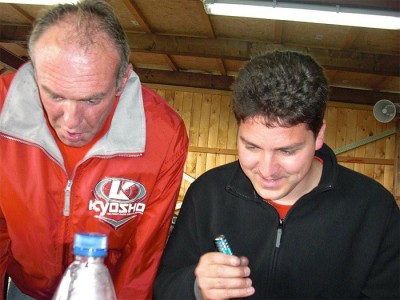 The drivers had to qualify in their regional championship, in Western, Southern, Northern, Eastern and Mid-German series. A short look into the class 1 affair of the 2008/09 qualification: In the West with the most drivers in the ranking it was two-time winner Tobias Hepp leading after six races in front of Frank Schewiola and Steven Cuypers (2 wins). With only two races Michael Salven is found on the lower end of the result sheet. In the South Christian Schmidkonz finished first after eight rounds ahead of Norbert Mayrhofer and young Dominik Maier with Robert Pietsch on eleventh and Sabrina Lechner on 14th position. Andreas Giesa led the pack in the North region followed by Merlin Depta and Lars Hoppe. In the East young Toni Gruber who surprised at the E.C. (B) in Cassino making it into the finale won at all six races to lead the ranking in front of Holger Ritter and Torsten Müller. Reigning champion Stefan Hanauer who took the crown one year ago on his home play ground at Ettlingen near Karlsruhe managed to win the Mid-German series with two wins and two seconds ahead of Joerg Waeldle and Sascha Sanchez while Patrick Schäfer and Oliver Mack are found on eighth and ninth spot.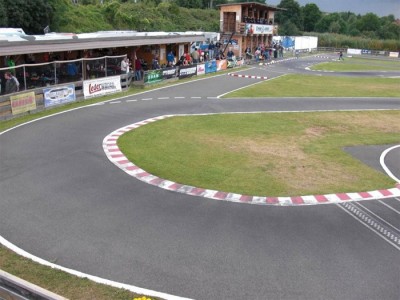 It is expected that the drivers from the Northern German Championship will have a kind of a home advantage on this fast but small track which obviously calls for lots of practice and experience.  Home advantage can play even a bigger role when rain cuts down practice time. Of course things can go different if the rain will turn this event into a lottery.
The German Nationals have a kind of an international character too with entries from Alain Levy (France) and Steven Cuypers as well as Robin D´Hondt (both Belgium).
We hope to bring you a report of all the action at the end of each days racing.
---