July 13, 2009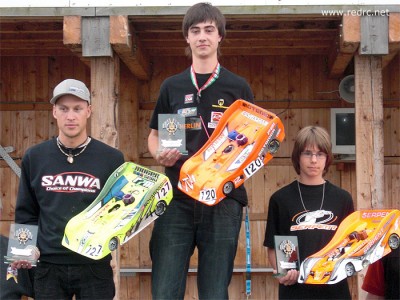 Robin D´Hondt has won the German Championship 2008/2009 1/8 nitro on-road at Hildesheim south of Hanover. In an exciting 40 minutes final the Motonica and Novarossi team driver gained a three lap advantage over pole setter Robert Pietsch (Mugen). The third place on the podium was captured by E.C. (B) finalist Toni Gruber (Serpent). In the class 2 final Mugen racer Maximilian Feldermann caught the title in a nail-biting finish with Shepherd driver Maximilian Vogl close behind. Third place went to local hero Thomas Ploeger (Serpent).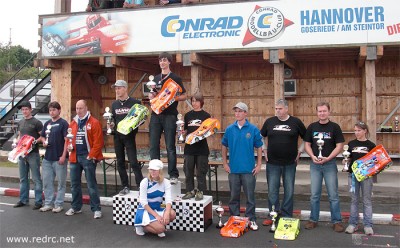 After four days of racing which have been more or less affected by rain, with little track time on the 260 meter challenging track of the AMC Hildesheim, rain was also predicted for the final day. But the total of 84 competitors was welcomed by some slight shafts of sunlight. Even the clouds were dark and low, only during the practice of the class 1 direct qualifiers and during the class 1 final a few rain drops arrived. The real shower restrained until the last checkered flag.
The day was still young when the rc community and the spectators were entertained by prominent filled eighth finals. Andreas Giesa (Serpent), Tobias Hepp (Serpent), Lars Hoppe (Shepherd) and Steven Cuypers (Mugen) were fighting among others for the three bump-up places. Giesa and Hepp were clear in the lead while Hoppe lost some time and looked like to be the first big loser of the day. But then Cuypers received a penalty and crashed – game over for the Belgian and final position 39. In the second eighth final Oliver Mack (Shepherd) was the second prominent victim when he was leading clear but was involved in a crash – final position 41 for the disappointed former champion. So it was Giesa, Hepp, Hoppe as well as Manuel Dietrich (Serpent), Christian Schmidtkonz (Shepherd) and Emil Kostadinov (Mugen) who made a first step forward. In the quarter-finals Giesa, Hoppe, Hepp and Dietrich did it again, further more Alain Levy (Serpent) and Ralf Vahrenkamp (Serpent) jumped into the semi-finals.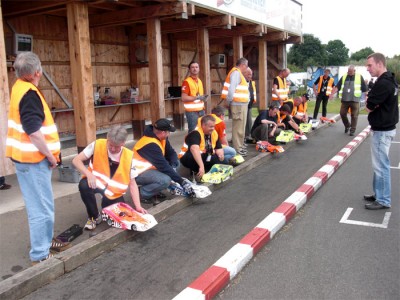 Like dominoes the favorites have fallen in the semi-final B. Hoppe had clutch problems, Giesa crashed, Hepp suffered a broken fuel tube, the brake pulley adapter of Michael Salven´s Serpent got loose (he did the fastest lap of the day with 13,133 seconds) and also the reigning champion Stefan Hanauer (Kyosho) stranded following a crash. Instead of them Sabrina Lechner (Serpent), Toni Gruber (Serpent) and Armin Baier (Mugen) moved up together with Andreas Hammerl (Kyosho), Karl-Heinz Meister (Serpent) and Lennart Skornia (Serpent) from semi-final A. These six joined Pietsch, D'Hondt, Eric Dankel and Patrick Schaefer (both Shepherd) for the final decision.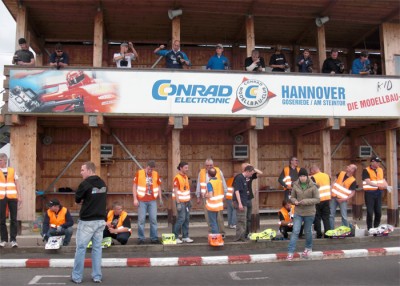 The 40 minutes final at the end of this one-event German Championship showed fine and fair rc racing. Pietsch benefited from his pole and took the lead followed by Patrick Schaefer (Shepherd) who came from fourth spot. But in lap 16 Schaefer touched the curb at the fast but narrow left-hander at the end of the straight, his Velox V8 got airborne and hit the marshal's safety fence extremely hard – the Shepherd was bent like a banana. Then Pietsch lost three laps when his engine flamed out. So it was 20 year old Belgian Robin D'Hondt who qualified with two races in the Southern German Championship for this Nationals, taking the lead which he didn't give up anymore until the end. He really showed an extraordinary performance – he was one of the few drivers who didn't make a mistake on this difficult track, his P81 was very well set up, his powerful Novarossi ran flawless and his father made pretty good refuelling and – together with Franky Noens – a quick change of the ATS tyres at the 20 minutes mark. Even Pietsch tried to catch up again with lots of fast laps, at the end Robin had a three lap advantage over Pietsch to celebrate a well deserved title win in Germany. The third spot on the podium was decided close to the end when unlucky Eric Dankel ran out of fuel with 25 seconds on the clock. Gruber could pass for third to underline his talent which he showed up in the E.C.(B) final end of May in Cassino. Behind Dankel on fourth, 53 years old Karl-Heinz Meister demonstrated with an impressive ride that he can easily keep up with the young guns. The Serpent veteran was honored once again as the German Champion 40+. One of the "young generation" is Sabrina Lechner who moved up to second for a while but suffered engine troubles at the halfway mark to finish on seventh. The car of Lennart Skornia who finished on sixth was disqualified because of underweight.
Statistics: Five different brands of chassis joined the final with a clear lead for Serpent with four cars followed by two each for Mugen and Shepherd and one each for Motonica and Kyosho. Like in the heats when five Novarossi engines covered the top 5 in the ranking Novarossi dominated the final with five engines followed by two each for Max and Mega and one for IDM. On the tyre side it was three for Xceed, two each for RPM and IDM and one each for ATS, Enneti and Matrix – or revised on manufactures it is five for ATS (including RPM and IDM), four for Enneti (including Xceed) and one for Matrix.
Result of class 1 final
1. Robin D´Hondt, 169 laps – Motonica / Novarossi / ATS
2. Robert Pietsch, 166 – Mugen / Novarossi / RPM
3. Toni Gruber, 165 – Serpent / Mega / Xceed
4. Eric Dankel, 164 – Shepherd / Novarossi / RPM
5. Karl-Heinz Meister, 161 – Serpent / Mega / Xceed
6. Armin Baier, 158 – Mugen / IDM / IDM
7. Sabrina Lechner, 156 – Serpent / Max / IDM
8. Andreas Hammerl, 135 – Kyosho / Novarossi / Matrix
9. Patrick Schaefer, 15 – Shepherd / Novarossi / Enneti
10. Lennart Skornia, DQ – Serpent / Max / Xceed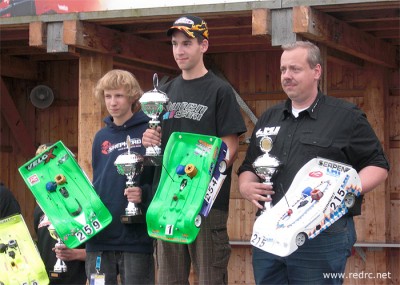 Looking to class 2 with 40 competitors: This category has once again proven that it is not only the class for the older guys but also a showcase for new talents as especially demonstrated in the final. The first winner of this racing day was Juergen Jungklaus (Serpent) taking home first place in the one and only eighth-final to step up together with Holger Schluss, Sven Mueller, Christian Roenicke, Dominik Schrumpf and Stephan Schreiter. From the quarter-finals Sascha Wettengl, Christian Schnaedter and Sven-Michael Lienhop from "B" and Christian Willert, Bodo Martens Peter Graf from "A" made it to the semi-final. The 20 minutes semi "B" was won by Alexander Mehl (Shepherd) ahead of Raphael Schiffer (Serpent), "A" was won by Dirk Drechsler (Mugen) ahead of Maximilian Federmann (Mugen) with Bjoern Moehring (Edam) and Dennis Weihert (Shepherd) following from third and fourth into the final race. The grid was completed by the direct qualifiers Nicolai Baehr (Shepherd), Michael Paetz (Serpent), Maximilian Vogl (Shepherd) and Thomas Ploeger (Serpent).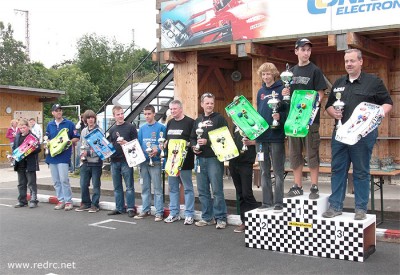 Vogl led the 40 minutes race for eight minutes than Paetz took the lead and next it was Baehr to race on the front position until Baehr was forced into a crash and had to retire. Finally a tough battle for victory was in full swing between the two Maximilian – both with similar green body shells. Vogl led in front of Federmann for most of the time but had to pit late for some additional fuel. Now Federmann led by three seconds but Vogl pressed his Novarossi powered Shepherd to the limit and closed the gap. He pushed his nose under the tail of Federmann – too close in one corner when he hit the car in front slightly and spun himself. That was the decision in benefit of Maximilian Federmann who took the class two title just in front of Maximilian Vogl with local hero Thomas Ploeger bringing home his Serpent on third.
Statistics: Four Shepherd were joined by three Serpent, two Mugen and one lonesome Edam. Also in class 2 Novarossi dominated the final by six engines with one each from GRP, Max, IDM and Mega.
Result of class 2 final
1. Maximilian Federmann, 162 laps – Mugen / GRP
2. Maximilian Vogl, 161 – Shepherd / Novarossi
3. Thomas Ploeger, 160 – Serpent / Max
4. Raphael Schiffer, 157 – Serpent / IDM
5. Michael Paetz, 156 – Serpent / Mega
6. Dirk Drechsler, 154 – Mugen / Novarossi
7. Dennis Weihert, 122 – Shepherd / Novarossi
8. Bjoern Moehring, 105 – Edam / Novarossi
9. Nicolai Baehr, 57 – Shepherd / Novarossi
10. Alexander Mehl, 39 – Shepherd / Novarossi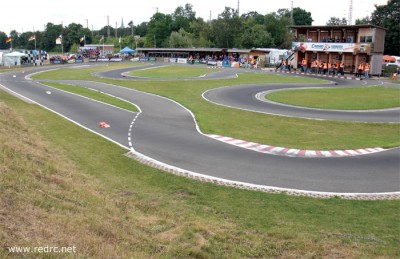 Beside the weather the 1/8 racers enjoyed a very well organised race weekend. The AMC Hildesheim offered a well prepared and high level rc arena which forced many drivers into mistakes and spectacular crashes. Both race directors Jens Buenting and Dirk Barheine did an excellent job as well as the lots of friendly people in technical inspection, time keeping, catering etc. Finally Fredy Dietrich, the new president of the German rc car association DMC expressed his thanks for the excellent realisation by the AMC Hildesheim.
For 2010 it is already decided that the championship will not be operated over two seasons/years (autumn and spring with the Nationals in July) but only in one season with the title bringing event in September.
---