September 25, 2009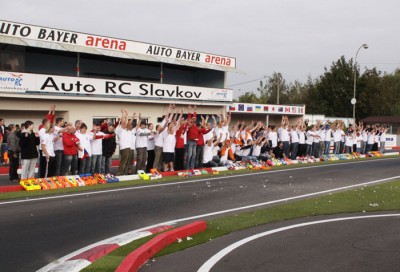 Last weekend, one of the major highlights of the racing season took place in Slavkov/Czech Rep., close to the Austrian Border. The Kyosho World Cup Final is one of the most exciting and toughest brand trophy event throughout the year in manufacturers cup racing. Now in its 13th year it is the second time after 6 years that the event takes place in Slavkov. After days of rain all teams arrived to perfect weather conditions with am almost dry race track which has been fully refurbished with a new super smooth tarmac on the Auto Bayer Arena. The race track is very exciting to drive and is also the home track of the popular Czech driver Martin Bayer.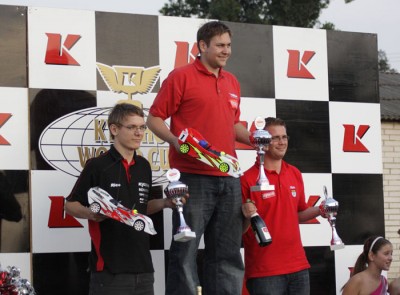 As always the event consists of 3 different categories in the 1/10 scale TC segment, GP Start, GP Sport and GP Race. Around a 100 pilots were attending the 3 categories which are very closely regulated to the standards of the DMC/EFRA. The only exception is that the Lola Bodies are allowed to take part in the GP Race section. After the qualifying on Friday and Saturday the top pilots were quickly identified and as expected Patrick Gassauer took the TQ in a tough and challenging race with Rico Kröber. Patrick took the lead from the start with his Team Orion powered V-One RRR and Rico tried to keep up with him but nonetheless Patrick controlled the race almost seamlessly. The KWC Top class is GP Sport which is a team race, the final of which was won by Holger Wittek & Carsten Diekmann in a 60 minutes race. The youngster's category GP Start was dominated and won by the 9 year old Max Hörl.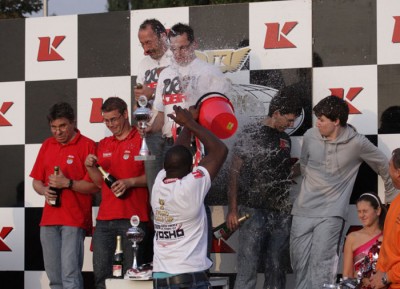 The entire event was packed with different leisure activities from a big dinner in the Slavkov castle to a large barbeque for all teams. Kyosho Germany, who hosted the event, sponsored prices amounting to over 7000 € to the participating teams.

Source: Kyosho [kyosho.de]
---