September 25, 2009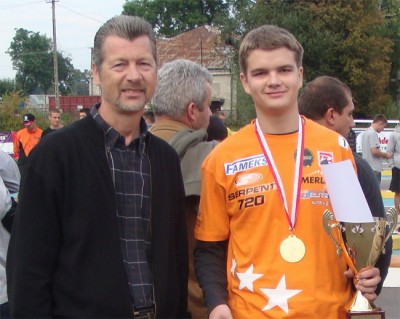 The final round of Polish Nitro On-road Championships was held last weekend in Pacanow with all titles still up for grabs. The event attracted the majority of best Polish racers from both nitro and electric classes despite it being wet and rainy throughout the whole weekend. After 4 rounds of qualifying it was Artur Dzierzecki who took the TQ with his Serpent 733 in 1/10th scale, while in National 1/10th Start class Jakub Franek, two times champion in electric classes who has swapped this year for nitro, came out on top. In 1/8th scale, excellent driver and multiple Champion Rafal Zeljas took pole position after 4 amazing qualifying heats. The fastest driver in National IC-8 40+ was Wojtek Bukryj.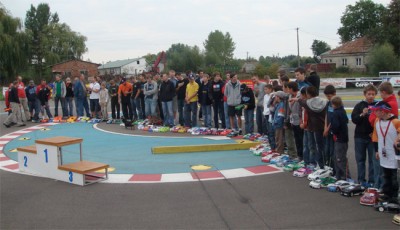 The 1/10th class was won by Arek Gajzler, following some bad luck for Artur Dzierzecki whose 733 clutch burnt out, and when another 733 driver Marcin Podrazik crashed his car. In 1/10th Start class Jakub Franek, unfortunately chose bad tires and had to change them in the final but after quick work from both him and his mechanic, could take second place 2 laps back. In 1/8th Rafal Zeljas racing also had bad luck. While driving in the 2nd place, the race was suddenly stopped due to power loss, when he was having big chance to overtake Norbert Omelanczuk, who won the race. After 30 minutes of intensive final action Wojtek Bukryj took the win in National class IC-8 40+.
Final standings of the 2009 season looks like this:
IC-10 Start
1. Jakub Franek
2. Krystian Sobala
3. Lukasz Les
IC-10
1. Arkadiusz Gajzler
2. Robert Motyl
3. Robert Okonski
IC-8
1. Norbert Omelanczuk
2. Rafal Zeljas
3. Marek Borowski
IC-8 40+
1. Wojtek Bukryj
2. Piotr Szalapak
3. Krzysztof Sobera
Thanks to Jakub Franek for the report.
---