September 30, 2009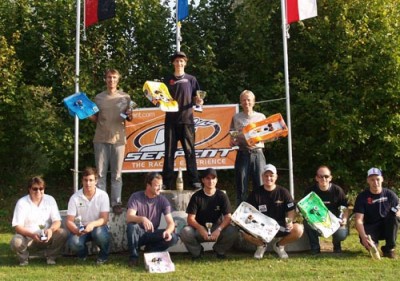 The last round of the Swiss Championship took place last weekend in Langenthal in the north of Switzerland. On Friday the track was already very crowded and the organizer prepared the asphalt with 75 liter of CocaCola to improve the grip. Nearly all expert drivers attended this last event, among them also Shepherd driver Marco Müller, who secured himself the Swiss title already in the round before. During qualifying it was young Shepherd driver Simon Kurzbuch who took TQ honors. He already showed his talent during the World championship when he reached the 19th position after qualifying. Marco Müller claimed the 2nd place in the starting grid for the final.
The four direct qualifiers were:
1. Simon Kurzbuch – 33 laps 7:03,083 Velox
2. Marco Müller – 33 lapps 7:03,501 Velox
3. Shasa Lackner – 33 laps 7:04,731 Motonica
4. Mattia Pesenti – 33 laps 7:07,652 Motonica
At the start of the final Kurzbuch could defended his lead followed by Müller. But soon Müller dropped down because of battery pack problems and Simon could increase his lead to 1 1/2 laps. Unfortunately in the middle of the race the glowplug of Kurzbuch broke and he lost some time in the pitlane. His mechanic Hans-Peter Hulliger did an excellent job and changed the glowplug along with the tyres for the last 25 minutes. 3 laps down in 9th position Kurzbuch rejoined the race. With an outstanding performance he caught up the lost time and 6 min before the end he managed to unlap himself to get back on the lead lap. 3 minutes later Kurzbuch already showed up behind the leader Shasa Lackner. When he was preparing his attack for the lead, Lackners engine blew up and the way was free for Kurzbuch's first victory of the season. After a great recovery he crossed the finishing line in first position, followed by Luca Martinelli and Thomas Henzi.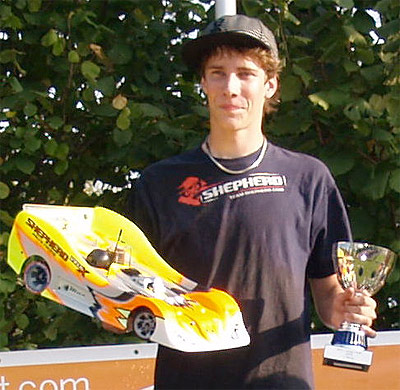 Final standings
1. Simon Kurzbuch – 202 laps 45:03,856
2. Luca Martinelli – 200 laps 45:06,407
3. Thomas Henzi – 199 laps 45:06,619
Full results can be found here.
Source: Shepherd [team-shepherd.com]
---