October 20, 2009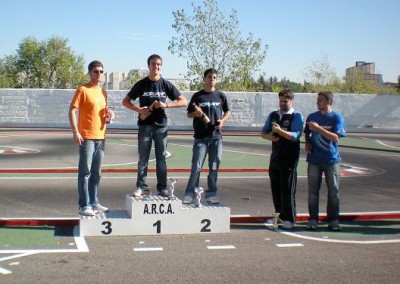 The 5th and final round for Spanish 1/10 200mm took place last weekend in Madrid at Club ARCA Track. It was an extremely interesting round, since the overall title fight was really tight involving more than 10 drivers with a real chance to win the National title. The weekend looked great for racing, sunny and over 24ºC and over 80 drivers were in attendance. The Saturday qualifying round showed a close fight for the TQ, with the Top 3 almost in the same laptime with a tight duel between the Pahissa Brothers.
Saturday Qualifying:
1. Rodrigo Pahissa – 22 laps in 7:13.346 – Xray/Merlin Fuel
2. Iñaky Pahissa – 22 laps in 7:13.395 Xray/Merlin Fuel
3. Josep Gradolí 22 laps in 7:14.744 Xray/Sirio
4. Javier Hidalgo 22 laps in 7:19:696 Serpent/Max
Coming from semi-finals Xabier Arana, Juan Hidalgo, Sergi Franch, Victor Peláez, Luis Cayetano and Toni Mur completed the starting grid, while one of the main candidates for the Spanish Championship, Johnny Pastor, finished earlier than expected in semi-final A. The main final was hotly disputed, Iñaky Pahissa dominated the first laps, while his brother Rodrigo was having some trouble after having rolled, running in last position. After the second fuel stop Javier Hidalgo was the leader and Rodrigo Pahissa was climbing up positions until he managed to reach the first place, keeping a small advantage ahead Gradoli. So finally, Rodrigo Pahissa made it and won the race by 9 seconds ahead Josep Gradolí and Juan Hidalgo completed the podium in third position.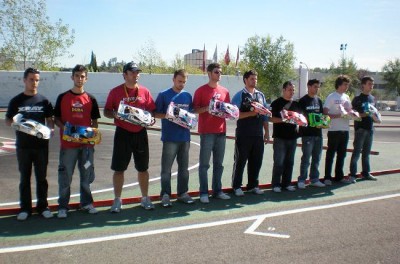 Final Result:
1. Rodrigo Pahissa – 89 laps in 30:10.238 (Xray/Max/Merlin Fuel)
2. Josep Gradoli – 89 laps in 30:19.583 (Kyosho/Sirio)
3. Juan Hidalgo – 88 laps in 30:08.346 (Team Magic/Picco)
4. Xabier Arana – 88 laps in 30:11.997 (Kyosho/Novarossi)
5. Victor Peláez – 86 laps in 29:59.568 (Xray/Max/Merlin Fuel)
6. Sergi Franch – 86 laps in 30:04.026 (Kyosho/Merlin Fuel)
7. Iñaki Pahissa – 84 laps in 30:13.455 (Xray/Max/Merlin Fuel)
8. Luis Cayetano – 81 laps in 30:02.526
9. Tony Mur Ortiz – 67 laps in 26:43.541
10. Javier Hidalgo – 53 laps in 19:12.453 (Serpent/Max)
With his Victory, Rodrigo Pahissa is Spanish National Champion, the youngest ever 1:10 winner at just 16 years old.
Source: Merlin [merlinfuel.com]
---